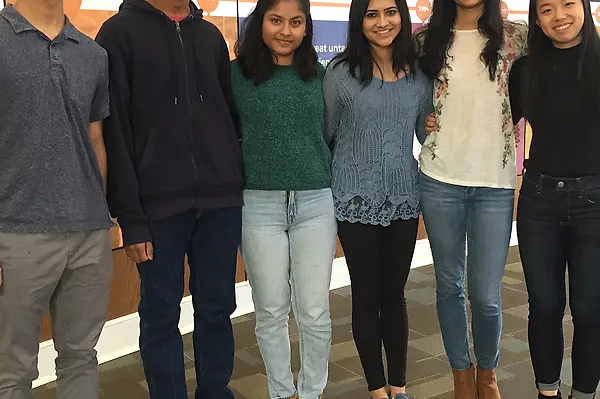 news
Six students selected as scholars in 2019 Regeneron Science Talent Search
This year's Regeneron Science Talent Search scholars from NCSSM (L-R): Albert Gong, Abhijit Gupta, Aarushi Patil, Navami Jain, Aarushi Venkatakrishnan, and Megan Wu
Six seniors from the North Carolina School of Science and Mathematics have been chosen among the top 300 young scientists in the Regeneron Science Talent Search, continuing the school's impressive multi-year run in one of the most respected science and math competitions in the country.
Founded and produced by Society for Science & the Public, the competition drew nearly 2,000 students from 601 high schools in 48 states, two U.S. territories, the District of Columbia, and seven other countries, all vying to be named one of the 300 scholars.
NCSSM students Albert Gong, Abhijit Gupta, Navami Jain, Aarushi Patil, Aarushi Venkatakrishnan and Megan Wu were among those chosen. As with their fellow scholars, they were selected for their particular promise as future scientists, exceptional commitment to research, excellence in the classroom, and innovative approach to exploring solutions. Each student will receive a $2,000 award, with an additional $2,000 per student going to NCSSM to be used for student research.
Mentoring these students in their work were NCSSM instructors Jon Bennett, Michael Bruno, Amy Sheck, Kim Monahan, and Sarah Shoemaker. Guillermo Sapiro at Duke University also mentored one of the scholars.
"The young people who participate in [the Science Talent Search] will someday uncover the solutions to our most intractable problems, like climate change, world hunger and chronic disease," blogged Maya Ajmera, President and CEO of Society for Science & the Public, Publisher of Science News, and member of NCSSM's Class of 1985. "Today, I am so pleased to be welcoming this year's Regeneron Science Talent Search scholars, the next generation of scientific problem solvers. These exceptional students are true leaders and innovators — the top 300 young scientists in our country today. They have an enthusiasm and passion for STEM that I know will inspire them to do amazing things as they head to college and beyond."
NCSSM has had phenomenal success in the Science Talent Search. In the last ten years alone the school has had 74 seniors named competition scholars.
On January 23, the field will narrow to 40 finalists who will then travel on an all-expenses paid trip to Washington, DC, in March for a final round of competition. Leading scientists and national leaders will all be there to engage with them as they present their research to judges and the public. All eyes will be on the top prize of $250,000.
"Selection as a scholar in the Regeneron Science Talent Search is a significant personal accomplishment for each student, given the incredibly high level of competition," said Dean of Science Amy Sheck. "The success of these six seniors speaks also to the commitment of their faculty mentors at NCSSM, teachers who encourage and inspire them every day."
A complete list of all scholars arranged by state, along with the titles of their research projects, may be found in the STS 2019 Scholars Book. 
Share this post.