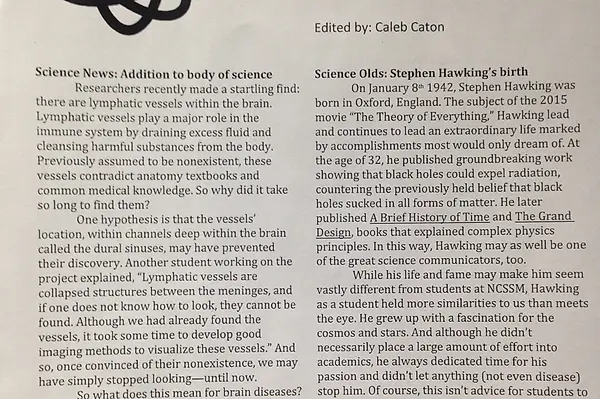 news
Sharing "the good stuff": Student group learns art of science communications
Science Communicators (clockwise around the table, from left) Joe Wiswell, Amanda Li, Caleb Caton, Ben Fawcett, and Peter Cheng) meet with their advisor, Science Dean Amy Sheck.
On the NCSSM campus, a Science Communicators' claim to fame is creating Science Weekly, that offers "Science News," a summary of a recent development, and "Science Olds," short perspective on something historic in science. Science Weekly hangs conveniently in bathroom stalls around campus, reaching a captive audience of students and staff who can, shall we say, maximize their learning time.
Off campus, a "SciCo" reach extends a bit farther, including guest blog posts on the Duke Research Blog about the work of faculty researchers at the university.
Dean of Science Amy Sheck launched Science Communicators three years ago as a leadership/work-service opportunity for interested seniors. A unique advantage of being a SciCo, she says, is interacting with professional journalists, storytellers, and science communicators. In addition to their ongoing production of Science Weekly, each student is interviewed by a science journalist. After watching their own interview on tape, they have the opportunity to interview a Duke University researcher in a field that interests them and write about that scientist's work for the Duke Research blog.
To help prepare for that interview experience, among other aims, Sheck has enlisted theater instructor Adam Sampieri to work with the students in a fall seminar, a series of improvisational workshops and other exercises. It's a concept Sheck brought back from attending the Alan Alda Center for Communicating Science, and a challenge that Sampieri welcomes as a change of pace.
"To me, the exercises are about learning how to tell a story that's interpretable to a general audience, how to be clear and effective and engaging," he says. He begins with basic exercises such as mirroring what a partner is doing, then moves to role-playing and other exercises in listening and speaking. "It's all very much in line with a lot of what I think about education and theater and our school. I've always been interested in how do we take these ideas, the craft of theater, and apply them to non-theatrical settings."
Later in the fall, Sheck introduces the students to Karl Bates, director of research communications at Duke. Bates talks with the students about how writing for the general public about science is different from academic or journal writing about research — "namely, you put the good stuff up front." The students send Bates a few scientific topics that interest them ("that's harder than you'd think for these students"), and he matches each high schooler with a Duke research scientist. The students research their assigned person, travel to Duke to interview him or her, draft a blog post for Bates to edit, run the edited post past their scientist for fact checking, and are published.
"Karl offers guidance on the right mix of interview questions that will engage both the scientist and the reader," Sheck says. "He is a light editor who honors the voice of each student."
"I was pretty nervous," says Joe Wiswell '16 of sitting down with philosophy professor Felipe de Brigard. "This is a person with a Ph.D., and I'm supposed to understand his work and explain it. What if I get something conceptually wrong? But it turned out OK, I spent a half hour with him, then checked my story with Dr. de Brigard and Dr.[sic] Bates."
The student guest posts were published on the blog in the last week of December through early January. "They're not that hard to edit," Bates says of the students' posts. "[NCSSM] students are very well-prepared for college, there's not a whole lot of difference between an NCSSM senior and a Duke freshman. Actually, if there's any noticeable difference, they still know how to write because they haven't been through four years of college," he jokes, keeping their writing free of jargon, passive voice, and other ills of academic communication.
Of the six Science Communicators this school year, most say they signed up because they know that stronger communication skills will help them in their future research work. One student, Caleb Caton '16, says writing itself interests him.
"I volunteered last summer at the Lemur Center and I got to meet their science communicator," Caton says. The position intrigued him, to learn about jobs that help interpret scientific work for grant applications, social media posts, marketing publications, etc.
"The more you do, the more comfortable you feel with it," Wiswell says. "We've been learning about narratives lately, which is helpful. But really, just writing is helpful."
Read the Science Communicators' guest posts on the Duke Research Blog:
Improving Machine Learning with an Old Approach, Grayson York
Checking in on Air Pollution with an Expert, Peter Cheng
An Unconventional Career Map, Caleb Caton
Fighting Malaria with Economics, Coordination, Ben Fawcett
Where Memory Meets Imagination, Joe Wiswell
Measuring the Mechanical Forces of Disease, Amanda Li
Of Muscles and Men: Synthetic Skeletal Muscle, Sophia Hu 
Share this post.