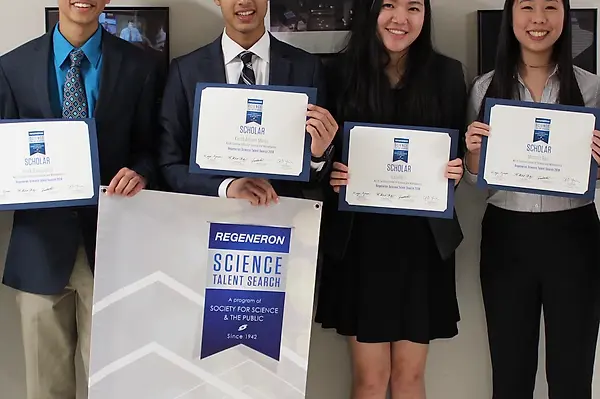 news
Seven named 2018 Regeneron Science Talent Search Scholars
Seven NCSSM seniors have been recognized as Regeneron Science Talent Search Scholars, taking home $2,000 each in prizes.
Seven NCSSM seniors have been recognized as Regeneron Science Talent Search Scholars. The students were recognized for research conducted while at NCSSM, garnering prizes of $2,000 each. NCSSM is one of five schools nationwide to have the the most scholars.
The Regeneron Science Talent Search (STS), a program of Society for Science & the Public, is the nation's oldest and one of the most prestigious pre-college science and math competitions. The program, formerly sponsored by Intel and Westinghouse, recognizes and empowers the most promising young scientists in the U.S.
The 300 Regeneron STS scholars were selected from 1,818 applicants from 555 high schools in 45 states, Washington, D.C. and Puerto Rico and six American and international high schools overseas. The scholars were selected on the basis of their exceptional promise as scientists, excellent record of academic achievement and outstanding recommendations from teachers and other scientists.
This year, each scholar is awarded a prize of $2,000. The competition also awards each school with $2,000 per scholar, to inspire more young people to engage in science.
"We are delighted to honor this year's Regeneron Science Talent Search scholars," said Maya Ajmera, president and CEO of Society for Science & the Public and publisher of Science News, and graduate of NCSSM's Class of 1985. "These brilliant students have already made remarkable scientific achievements at a young age, and we are eager to see where their scientific journeys take them next."
"With each passing year, it grows only more critical for us to help open doors for this generation of future leaders. The increasingly complex global challenges facing them appear daunting to many, but these students are ready and eager to take them on with creativity, persistence and an eye on making the world a better place. This year's scholars were selected from a pool of more than 1,800 entrants based on their exceptional research skills, commitment to academics, innovative thinking and promise as scientists."
On the list of scholars, with their project titles, are:
Michelle Bao, Apoptotic and Immunomodulatory Effects of Gemcitabine Monophosphate Delivery via Lipid Calcium Phosphate Nanocarriers for Pancreatic Cancer
Ritvik Bodducherla, Development of an Antiproliferative Drug Utilizing Ellagic Acid-Loaded Mesoporous Silica Nanoparticles
Shelby Elder, Modelling the Mutagenic Effects of Compounds Produced by Heating Amino Acid/Glucose Solutions in S. Cerevisiae
Kevin Jin, Selective Recovery of Rare Earth Elements Utilizing Novel Liquid Membrane Processes
Isabella Li, Design and Synthesis of a Novel Dual IDO/TDO Inhibitor for Cancer Immunotherapy
Sreekar Mantena, Characterization of a Neurosurgical Tumor Ablation Device and Development of a Tunable, Heat-Sensitive Tissue Phantom
Karna Morey, Scalar Radiation from a Charge in Schwarzschild Spacetime: Circular Orbits     
On January 23, 40 of the top 300 scholars were named finalists in the competition. Finalists receive an all-expenses-paid trip to Washington, D.C., in March.
Share this post.