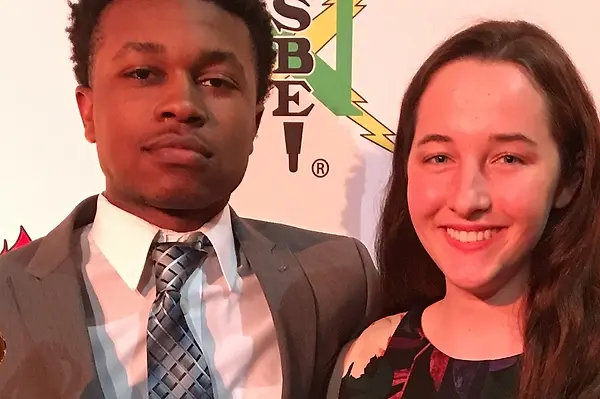 news
Seniors present football helmet research at engineering convention
Maury Jackson '16 and Sarah Morrow '16 on the red carpet with their awards at the National Society of Black Engineers national convention.
Seniors Maury Jackson and Sarah Morrow recently returned from the National Society of Black Engineers national convention in Boston, Massachusetts. The 42nd annual professional conference, "Engineering a Cultural Change," brought together professionals in the field from around the country to exchange ideas and participate in sessions—and, for students, competitions.
Jackson and Morrow travelled with 12 other students in NCSSM's NSBE Jr. chapter. The two shared their research as part of the Technical Innovations competition, winning Best Abstract and Technical Paper and taking home third place overall. We asked them to tell us a bit more about the experience, and themselves.
Maury Jackson '16
On the research that he and Morrow conducted, and the experience of attending a professional conference:  
Sarah and I took the same Fundamentals of Engineering course during first trimester of junior year. One of the problems we were assigned was to design a better football helmet. As a sports fan and former football player, I had a personal connection to this topic and knew this was a very debatable topic in sports and in society today. I had goals of taking Research in Engineering. When Sarah and I found out we both were accepted into the program, we decided to collaborate and continue research on that project.
It was neat to be around people of such high education and professionalism [at the NSBE convention]. There was a big sense of community and support for one another despite fearless, imposing competition. I gained experience in several things from conducting myself in professional settings and collaborating with others to being able to accept and learn from criticism.
NSBE is about more than competitions, it is about a sense of community and intellectual growth. As president of the chapter here at NCSSM, my goal is to inspire everyone in our club to not strictly pursue engineering because you can make a lot of money in the future, but to understand and realize the many different roads one can go down and explore through engineering.
I participate in NSBE for exposure and an opportunity to network with other engineers on varying levels to learn new things, gain insight into different fields, and possibly gain an internship while I'm at it. With the engineering skills come a sense of business and communication skills that NSBE provides, which will only help no matter whether I become an engineer or not at the college and professional level.
Hometown:
Winston-Salem  
Favorite classes at NCSSM:
Research in Engineering/AP Statistics/Environmental Chemistry  
Dream job:
Biomedical/materials research engineer, or a CIA or FBI investigative officer  
Favorite way to spend a Saturday afternoon:
Playing basketball with friends, going out to eat, or anything outdoors  
Favorite food:
Chicken alfredo  
Secret talent:
Ping pong master
Sarah Morrow '16
On the research she and Jackson conducted, and the experience of attending a professional conference:  
It was really neat to compete at the NSBE convention where people of all education levels and ages were so supportive of one another. It was amazing to see how motivated and talented other students our age are, and how hard work and dedication have paid off for people who were in our shoes 20 or 30 years ago. There were some people at the convention who had been coming since 1975, which is mind-blowing since only I found out about NSBE this year.  
Hometown:
Hendersonville  
Favorite classes at NCSSM:
Research in Engineering, Gram-O-Rama, Emergency Care  
Dream job:
Civil/environmental engineer for the National Park Service, or a Psychology Operations Officer  
Favorite way to spend a Saturday afternoon:
Anything outdoors: a picnic, wakeboarding, skiing, hiking, kayaking, rock climbing, etc.  
Secret talent:
I can bottle-feed a goat  
What book are you reading right now:
Improv Wisdom: Don't Prepare, Just Show Up by Patricia Ryan Madson
Share this post.