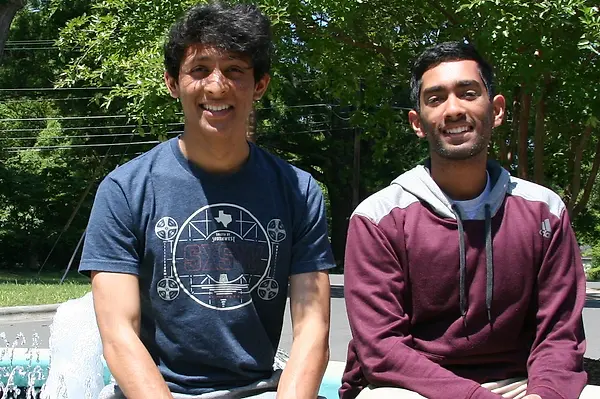 news
Seniors earn full-ride scholarships to UNC system schools
Among the $16 million in scholarships earned by the Class of 2016, a handful of seniors earned prestigious full-ride scholarships awarded by four University of North Carolina institutions. All awards cover all expenses for four years of undergraduate study.
East Carolina University, EC Scholars
Colin Johnson (Pitt County) is active on NCSSM's Drama board, helping select—and starring in—student-produced plays and musicals. Johnson also completed a molecular genetics research mentorship at the University of North Carolina at Chapel Hill, and has brought home prizes from the N.C. Science and Engineering Fair in biological sciences. He plans to major in biology and health services management at ECU, and hopes to become a hospital administrator, such as a president or CEO. Johnson's parents are Charlie and Lisa Collins of Greenville, NC, and Kurt Johnson of Ellicott City, Maryland.
Megan Moomaw (McDowell County) is a keen poetry writer and reader, and is looking forward to becoming involved with book clubs on campus and service on the LGBT student organization at ECU this fall. She enjoys traveling and has spent six weeks in China. While a student at NCSSM, she completed a mentorship research experience in the neonatal intensive care unit at Duke University that convinced her of a future in neonatology. She plans to major in public health studies or psychology at ECU. She is the daughter of William and Amy Moomaw of Marion, NC.
Nicky Quiñones (Lee County) is a leader of NCSSM's Hispanic Cultures Club and Health Occupations Students of America-Future Health Professionals chapter, and was the president of a Latin dance club named Bailamos. She plans to combine her interest in her Hispanic heritage and her interest in medicine for her EC Scholars study abroad experience. During her senior year at NCSSM, Quiñones interned at Duke University with Dr. Terry Hyslop, director of the Duke Cancer Institute Department of Biostatistics. She plans to major in clinical laboratory science. Nicky is the daughter of Fernando Ignatius and Cheryl Lynn Quiñones of Sanford, NC.
Brinda Sarathy (Mecklenburg County) is a Multicultural Peer Counselor, an editor of the Stentorian student newspaper, and co-president of the sign language club at NCSSM. Having completed a molecular biology research internship while at NCSSM, plans to major in public health (pre-med) and wants to be a pathologist or radiologist. Brinda is the daughter of Partha and Sripriya Sarathy of Charlotte, NC. 
Lindsay Locklear '14 (center), now an ECU Scholar, presents Scholar awards to seniors Brinda Sarathy, Colin Johnson, Megan Moomaw, Nicki Quinones, flanked by Academic Programs Vice Chancellor Katie O'Connor (left) and Chancellor Todd Roberts (left).
North Carolina State University, Park Scholarship
Dominick Carbone (Davie County) is president of Unis Fighting Hunger, founder and instructor of the Financial Mathematics Seminar, and a physics teaching assistant. He volunteers for the Clemmons Food Pantry, where he has led multiple food drives collecting more than 1,700 pounds of food, and he has conducted research to aid divorcing families. Dominick plans to major in applied mathematics. He is the son of Dom and Nancy Carbone of Advance, NC.
Modesty Obasohan (Duplin County) is president of the NIA Club, a women's empowerment group; co-president of the Heritage, Opportunity, Progress, and Education Club; and a student ambassador, conducting tours of the school for prospective families and visitors. She has conducted research in exercise physiology at the University of North Carolina at Chapel Hill, has volunteered at Vidant Family Medicine Wallace and Vidant Duplin Hospital, and was awarded the Harvard Book Award. Modesty plans to major in human biology. She is the daughter of Austin and Uyiosa Obasohan of Wallace, NC.
Belton Moore (Robeson County) is an executive officer of Akwe:kon Native American Culture Club, secretary and treasurer of Health Occupations Students of America, and a student ambassador in the admissions office. He was a World Food Prize Borlaug-Ruan International Intern at an agricultural research center in Chennai, India during the summer of 2015 and volunteered at the North Carolina Indian Housing Authority. He plans to major in economics. He is the son of Eddie and Tyra Moore of Red Springs, NC.
Chancellor Roberts (left) and Katie Westmoreland Vuocolo '00 (right), NC State graduate and Park Scholar alumna, present the Park Scholar award to seniors Dominick Carbone, Modesty Obasohan, and Belton Moore.
University of North Carolina-Chapel Hill, Morehead-Cain Scholarship
Vikram Aikat (Orange County) serves as NCSSM's student body president, leading both the student senate and executive board. He helped found AquaVerum, a company that has conceptualized a cheaper method of cleaning water polluted by hydraulic fracturing, and has conducted research into protein hydration at UNC-Chapel Hill. Aikat's academic interests include physics and computer science. He is the son of Deb and Jay Aikat of Chapel Hill, NC.
Kunal Lodaya (Orange County) is captain of the mock trial team and has twice won the Best Attorney Award at regional competitions. He is also band officer of the marching band; captain of the school's Raas and Broad Street Bhangra teams; and serves as a residential life assistant. Lodaya enjoys learning about physics and the humanities. He is the son of Mayur and Rita Lodaya of Chapel Hill, NC.
Kunal Lodaya and Vikram Aikat are roommates at NCSSM, and are looking forward to being roommates next year as Morehead-Cain Scholars at UNC-Chapel Hill.
University of North Carolina, Charlotte, Levine Scholarship  
Don Christian Chavis (Robeson County) has enjoyed a variety of classes at NCSSM, specifically acting classes such as Gram-O-Rama, Shakespeare in Performance, and Theatre Performance Workshop. Outside the classroom, he serves as an executive director for the Akwe:Kon Native American Culture Club, has worked for Dance Marathon, and has been heavily involved with NCSSM's YoungLife organization. He also created his own clubs such as the League of Legends Club and Volleyball Club. Christian plans to double major in computer engineering and electrical engineering and minor in computer science, and hopes to work at a major computer manufacturing company likeIntel, NVIDIA, or Google. Christian is the only son of Don and Angel Chavis of Pembroke, NC. 
Share this post.