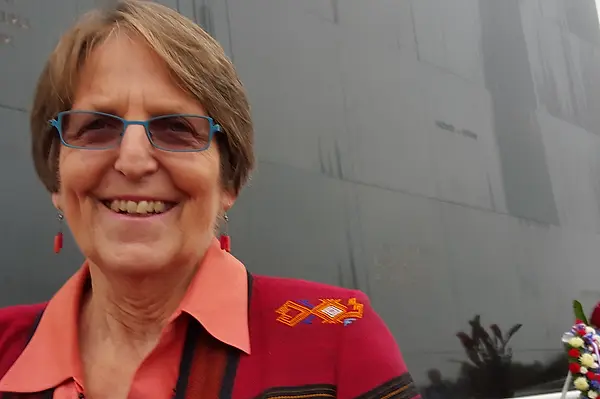 news
Senior pays tribute to inspiring instructor Myra Halpin in N&O feature
Myra Halpin will retire this spring after 47 years of teaching. Senior Elizabeth Yang published a tribute to Halpin's inspiring career in the News & Observer.
Chemistry Instructor Myra Halpin has taught at NCSSM since 1989. This month, she was highlighted in a feature story written by NCSSM senior Elizabeth Yang and published in the News & Observer. The story, highlighting the impact of Dr. Halpin's career and how she has inspired so many students, was written by Yang after her experience in Halpin's Research in Chemistry class.
"It has been a privilege to count myself as one of the thousands of students Dr. Halpin has taught in her lifetime, but I am also going to be one of her last students," writes Yang. Halpin will retire this spring after 47 years of teaching, 27 of which have been at NCSSM. Yang traces Halpin's journey from growing up on a farm with no real aspirations of becoming a teacher, to taking on teaching, first in Virginia, then South Carolina and finally North Carolina.
Halpin's passion for science and teaching is clear, and Yang shares the impact that dedication has had on her as a student. "When I ask her what she likes most about teaching," Yang writes, "she tells me that she loves 'seeing students have their "aha" moments.' As a student, I can attest to the feeling of triumph that results from reaching a profound understanding."
Halpin has spent decades advocating for students both in the classroom and out, mentoring chemistry students at NCSSM and across the state, and as a vocal advocate for women in science. "The few women involved in science in the South when I was growing up had limited opportunities for careers and career advancement," Halpin told Yang. Her own experience as a woman in science, including as part of NASA's Teacher in Space Program, among other accomplishments, is partly what makes Halpin "a pioneer" in Yang's eyes, and will make her sorely missed when she retires.
"Dr. Halpin's tenacity and commitment to education are deeply admired by all who have known her," writes Yang. "When she leaves Science and Math, she will be dearly missed by her students and the school community at large. But she will not be missing, for her impact as a teacher will endure."
Read the full story from the News & Observer here.
Share this post.