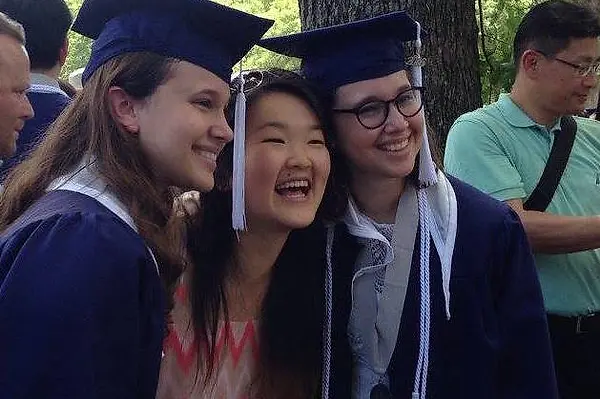 news
Sending off 'gifted' Class of 2016
Admissions Director Letita Mason gave dozens of hugs on stage to the newest graduates.
Fortunate. That's how Joe Knott, representing the University of North Carolina's Board of Governors, described the high school seniors sitting before him on Watts Lawn for the 35th Commencement ceremony of North Carolina School of Science and Mathematics on Saturday, May 28.
"You are extraordinarily gifted naturally, and you are extraordinarily fortunate," Knott told the 307 graduating members of the Class of 2016, who hail from 70 North Carolina counties and 173 home high schools. "For more than 30 years this school has nurtured gifted students like yourselves from across the state. It's an experiment that has already paid huge dividends." Reminding the students that what they've learned here, from extraordinary faculty members, will help them throughout life, Knott urged them to take their gifts and skills and do good things in the world. "Don't live your life on idle."
NCSSM Trustee Maya Ajmera '85, as commencement speaker, urged the students similarly. Ajmera traced her career path and how it was sidetracked by a trip to Southeast Asia after her undergraduate study. Witnessing childhood poverty and also grassroots efforts to solve it, she steered away from a career in medicine and earned a graduate degree in public policy, then started the Global Fund for Children. Since 1997, when the organization made its first investment, Global Fund for Children has awarded $40 million to grassroots organizations in nearly 80 countries, touching the lives of nearly 10 million children. Ajmera now serves as president and CEO of Society for Science and the Public, which publishes the award-winning Science News magazine among other activities.
Drawing on her life and work experiences, Ajmera offered the Class of 2016 six pieces of advice:
1. Surround yourself with people who believe in you.
2. Embrace diversity and change.
3. See failure as a learning opportunity.
4. Collaborate, collaborate, collaborate. 
5. Be comfortable with ambiguity, "as your NCSSM education has taught you."
6. Consider alumni as your extended family. "Your degree today makes you part of a prestigious network," Ajmera said. "Our alumni are a ready source of advice, collaboration, networking and more. Don't be afraid to reach out."
As student speaker for Commencement, Rachel Gopichand '16 of Jacksonville, NC, shared some of the lessons, big and small, that she and her classmates have learned over two years. Mostly, she told them, they should remember and "embrace the title of nerd. It's an important title, it will always bring you back to your two years here." Gopichand is headed to University of North Carolina – Chapel Hill and hopes to become a reconstructive surgeon.
Fortune has indeed shone on NCSSM's Class of 2016 through its many accomplishments, from state athletics titles to academic competition awards, successful research endeavors, and earning more than $16 million in college scholarships. "Today we celebrate all that you have accomplished," Chancellor Todd Roberts told the students. "But it's who you are that you'll carry with you. I've been so impressed with the resilience of this class. The campus community is a place that you helped create, a place where you collectively make each other better than you would have been on your own."
Seniors honored for leadership, community commitment
Browse more photos from Commencement
Share this post.