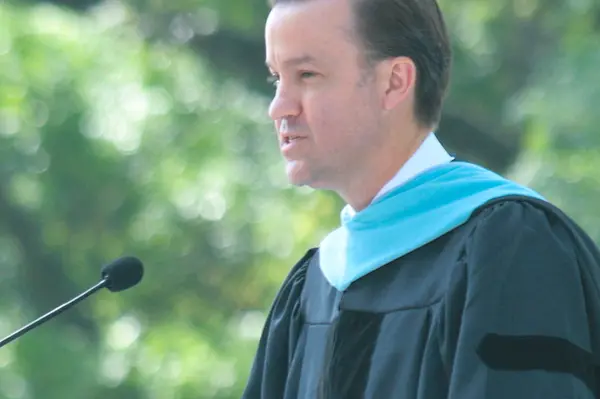 news
Sending off Class of 2015 to lead and help others
Featured Speaker, UNC President Tom Ross, tells the new grads, "Don't just live, lead. The world needs leaders, and you are ready."
Under bright sun and a gentle breeze on the front lawn of the school's historic Durham campus, North Carolina School of Science and Mathematics graduated its 34th class of residential students today, June 6. The 338 members of the Class of 2015 represent all of North Carolina's congressional districts and 71 of the state's 100 counties.
Thomas W. Ross, president of the 17-­member University of North Carolina, addressed the graduating seniors, reminding them that have received an "unusually strong pre­collegiate education" at "one of the nation's premier high schools." Offering lessons he has learned over the years — as a judge, director of the Z. Smith Reynolds Foundation, and president of Davidson College as well as the UNC system — Ross urged the students to "seize opportunities to serve others and make a positive difference in the lives of others." His final advice to NCSSM's newest alumni: "Don't just live, lead. The world needs leaders, and you are ready."
Student speaker Thomas Andrews '15 of Hayesville, NC, also offered advice, drawing his inspiration from Arnold Schwarzenegger's six rules for success: trust yourself, break the rules, don't be afraid to fail, ignore naysayers, work your butt off, and give something back. "There's no getting around hard work," Andrews told his fellow classmates. "It doesn't get any easier, but you get better at it."
NCSSM Chancellor Todd Roberts told the Class of 2015 that he especially appreciates the way they have accepted, supported, and encouraged each other as they created a true sense of community. "You have helped each other become your best," Roberts said.
Roughly 65 percent of this year's NCSSM graduates plan to attend college in North Carolina, with 56 percent enrolling at a University of North Carolina constituent school.
View photo album of celebration
Where Class of 2015 is headed: 
Share this post.