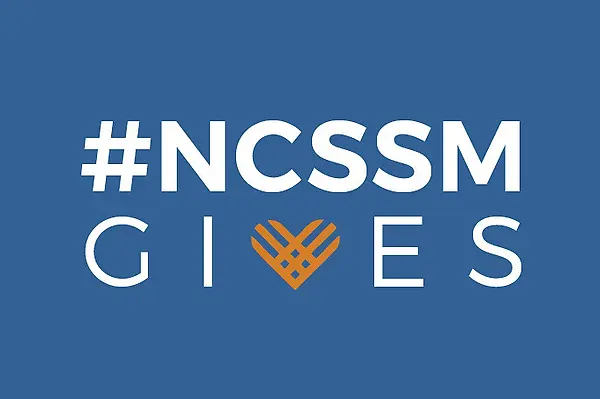 news
Second Giving Tuesday tops participation goals, drawing support, engagement
#NCSSMGives, the school's Giving Tuesday campaign, garnered support from a wide-ranging audience, including former employee Cathy Cousins Veal, who shared why she gives to NCSSM on social media.
On November 29, NCSSM held the second annual #NCSSMGives campaign as part of Giving Tuesday, an international day of giving. The effort brought in over $36,000 in charitable gifts in support of the school, and drew wide-ranging support from alumni, families, leadership, friends, and more.
This was the second year of the school's participation in Giving Tuesday. Falling on the Tuesday after Thanksgiving, the day follows popular shopping days Black Friday and Cyber Monday and was created to celebrate generosity and kick off a common season of giving. The day kicked off with the first gift shortly after midnight, with donations coming in all throughout the day, until well into the night. After 24 hours of giving, the school had brought in more than $36,000 in support.
But the big growth came this year when it came to participation. "Giving Tuesday is largely a participation campaign," says Lauren Carr, development director at NCSSM. "It's really about the interaction we see happening on social media, and realizing that gifts of any amount, whether $5 or $500, have a positive impact on the school." This year saw participation numbers grow by nearly 25%, with 198 donors participating, up from 159 last year.
This year's donors represented a wide range of constituents, with alumni, alumni parents, students, parents from the residential and online programs, grandparents, current and former employees, friends of the school, and leadership all participating. All but three of the school's alumni classes had members donate, with 32 out of 35 classes, or 91% participating, up from 82% of classes last year. The Class of 2007 increased their support thanks to the generosity of an anonymous donor from the class, who offered to double match all donations from the class on Giving Tuesday. The match brought in an additional $2,351 dollars.
The day also helped in building the school's base of support, drawing in 47 new donors, up from 33 last year, in addition to 6 new recurring gifts, which allow us to receive consistent support throughout the year.
In addition to the statistics, one of the best parts of the day is seeing the engagement that happens throughout the day, says Carr. The campaign is largely social-media-based, and many donors shared their thoughts on why they choose to give to NCSSM on platforms like Facebook, Twitter, or Instagram. Parents spoke of the impact the school has had on their children, students and alumni shared stories of the role NCSSM has in their lives, from careers to friendships.
"I just made a donation to a school that, over only two years, managed to shape who I am as a person today," writes Rebecca Alderson '15 in a post on Facebook. "I donated to ensure that students in the future will have access to the same (if not better!) opportunities, so that they too can learn and grow as I did."
NCSSM parent Renae Gregoire shared via Twitter, "So glad NCSSM is there with fantastic classes, passionate instructors, and opportunities unlike anything our kids could get at home." Marcie Carnes, parent of two NCSSM alumnae, echoed the sentiment, posting on Facebook, "I have many organizations that I support, but probably none more impactful on the life of my family than NCSSM. It was bittersweet to send my girls here for 11th and 12th grades (4 hours away from home) but they received the education that they needed and this decision opened doors for them that they wouldn't trade for anything."
Many acknowledged the broader influence NCSSM has on the state of North Carolina and beyond. Michael Martine '87 and parent of a current student wrote, "The Martine family gives for the opportunities NCSSM has provided us personally & for advancement of STEM in NC." Director of Distance Education Kendall Hageman agrees, and shared why she chooses to give to NCSSM in Twitter-ready shorthand: "Helping 2 expand access 2 high quality STEM ed across NC is why I LOVE & give 2 NCSSM."
Some chose to designate their gifts to a particular endowment or to make gifts in honor of someone who had a particular impact during their time at NCSSM. This year, 34 honorary gifts were made. Constituent Relations Director Kim Logan '97 made her gift both in honor of classmate Stacy Smallwood '97, and chose to support the Dr. Joan Barber Endowment to Support Underrepresented Minority Student Success, saying, "I so appreciate programs like the Colours Gospel Choir, which helped me find community and a home away from home while I was a student at NCSSM. It warms my heart that Colours and clubs like NSBE, H.O.P.E (Harambee for us more seasoned alums:), NIA, and Legacy are still here for our current students! Join me in support of such meaningful opportunities!"
The day was an all-around success, according to Carr. "With a primary goal of exceeding last year's donor participation, I am thrilled by all the support and activity we saw from so many individuals on #GivingTuesday," she says. "Roughly a 20% increase over last year in participation is definitely worth celebrating!"
#NCSSMGives by the numbers
$36,340.81 raised on November 29 from donations and pledged matching gifts.
34 tribute gifts made in honor of someone
198 donors participating, including:
98 alumni (32 of 35 classes participating!)
45 parents
20 employees
47 new donors
Share this post.