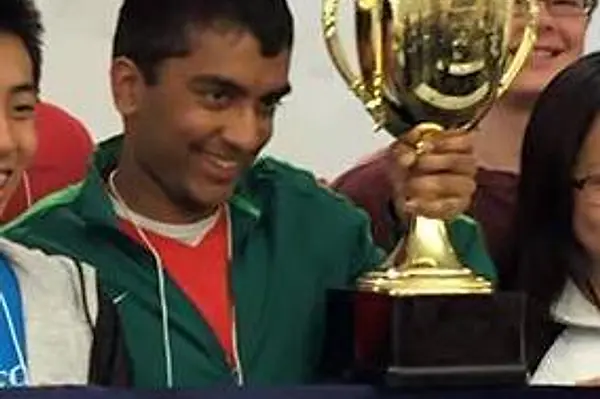 news
Science bowl team wins regionals, headed to nationals
NCSSM's science bowl team captured the 2016 regional title in January. Pictured, from left: Co-coach Leslie Brinson, Vinit Ranjan '16 (Cary), Raymond Gao '17 (Chapel Hill), co-coach Sam Wheeler, captain Rishi Sundaresan '16 (Cary), Dylan King '16 (Walnut Cove), and Angela Deng '17 (Cary). Photo courtesy of Niranjan Thakur.
The "A" team of science bowl contestants from North Carolina School of Science and Mathematics won the Regional Science Bowl Competition on January 30 at North Carolina Central University. With their win, team captain Rishi Sundaresan '16 (Cary) and teammates Angela Deng '17 (Cary), Raymond Gao '17 (Chapel Hill), Dylan King '16 (Walnut Cove), and Vinit Ranjan '16 (Cary) earned a trip to Washington, D.C., to compete in the National Science Bowl April 28 – May 2.
"The format is like the old television quiz shows," says team advisor Sam Wheeler, a physics instructor at NCSSM, with two teams of four students competing against each other with buzzers as a moderator reads the questions. The questions cover wide-ranging topics from biology and chemistry to math, physics, even space science. Because the U.S. Department of Energy's Office of Science manages the National Science Bowl, the competitions often include questions about renewable energy, nuclear energy, and other related topics. The Department of Energy releases the previous year's questions online so that students can prepare and practice in advance of the competitions.
Wheeler is impressed with the work ethic of this year's science bowl team. "Rishi, our captain this year, was on the A team last year, so he had the experience of making it to the nationals last year. He has done a great job managing the team. The students are very professional, they know what they have to do and that they're part of a team. And we're happy to have Angela, it's nice to have a female student on the team."
Wheeler inherited the quiz bowl team from science instructor Leslie Brinson when she retired from NCSSM. Brinson attended the full day of regionals competition last week at NCCU, so Wheeler named her "co-coach." 
Update, May 3:
The NCSSM team placed ninth at the National Science Bowl in Washington, DC, earning $1,000 
Share this post.