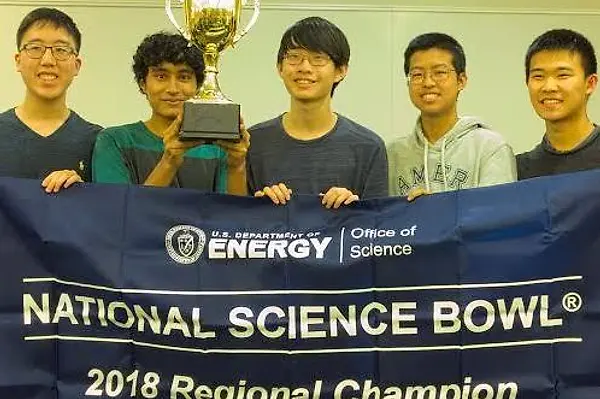 news
Science Bowl team wins regionals, advances to nationals
NCSSM is the Regional Science Bowl Champion for the third year in a row.
A team of science bowl contestants from North Carolina School of Science and Mathematics won the North Carolina High School Regional Science Bowl Competition in late January. The team now heads to Washington, D.C., in April to compete in the National Science Bowl competition.
The Regional Science Bowl competition was held January 27 at North Carolina Central University, where the event was hosted for the 22nd year in a row. NCSSM's team at the competition was made up entirely of juniors–Edward Feng (from Cary), Albert Gong (Chapel Hill), Anirudh Hari (Cary), Hahn Lheem (Fayetteville), and Dylan Yang (Charlotte). Team advisor Sam Wheeler, a physics instructor at NCSSM, accompanied the team to the competition, where two teams of four students compete against each other with buzzers as a moderator reads the questions. The questions cover wide-ranging topics from biology and chemistry to math, physics, even space science. Because the U.S. Department of Energy's Office of Science manages the National Science Bowl, the competitions often include questions about renewable energy, nuclear energy, and other related topics. The Department of Energy releases the previous year's questions online so that students can prepare and practice in advance of the competitions.
NCSSM faced off with the Simon G. Atkins Academic & Technology High School in Winston-Salem to advance to the final match against William G. Enloe High School in Raleigh. "By the fourth round," writes Campus Echo Online reporter Aaliyah Bowden, "Enloe and NCSSM were tied 2–2. Teammates and coaches sat in the audience waiting on the winner, anticipation growing with every question answered. Enloe was originally in the lead before NCSSM kept up a steady answer streak by correctly answering ten-point bonus questions and four-point toss-ups questions along the way."
Team member Anirudh Hari says of the match, "(Enloe) was tougher than any other rounds we'd had before. I'm just really proud of our team for pulling it off." This is NCSSM's third regional win in three years.
A series of 113 regional middle school and high school tournaments are being held across the country from January through March. Winners will advance to represent their areas at the National Science Bowl® held from April 26 to April 30 in Washington, D.C., for the final middle school and high school competitions. 
The top 16 high school teams and the top 16 middle school teams in the National Finals will win $1,000 for their schools' science departments. Prizes for the top two high school teams for the 2018 NSB will be announced at a later date. 
Share this post.