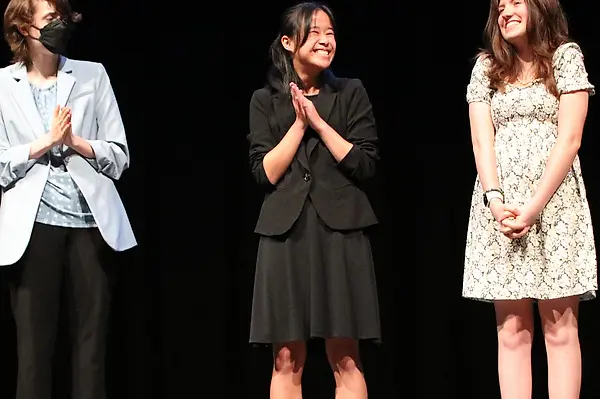 news
Scholarship, book award, and writing award recipients recognized in ceremony
These NCSSM-Durham seniors were recognized May 19 at a scholarship awards ceremony held in the Durham campus's John Friedrick Educational Technology Complex auditorium.
"We're so very proud of all that these students have achieved," said NCSSM's chancellor, Dr. Todd Roberts, after the ceremony. "What we saw at this event is just a very small portion of what students throughout NCSSM are accomplishing every year. We're honored to have had the opportunity to help these students continue to grow over the past two years, and look forward to seeing all that they will do in the future with the opportunities they have been given by these awards. I also want to thank the organizations and their representatives who attended the event to recognize these students."
ECU Scholars
Sophie Davis
UNC-Chapel Hill Morehead-Cain Scholars
Ja'Khari Bryant
Lydia Owens
SECU People Helping People Scholarship
Cate DeVane
NCSU Goodnight Scholars
Dria Epley
Jack Fetkovich
Kayla Ruff
Carter Schrag
Duke/UNC-CH Robertson Scholars
Gaby Hinckle
Burger King Foundation
David Kim
NCSSM Alumni Scholarship
Grace Amantea
Melody Lee
Clare Meehan
Kim and Song Family Scholarship
Lynda Rios
Erika Chan
Virginia S. Wilson Scholarship for Interest and Excellence in the Humanities
Erin Chen
Sophia Sang
Dr. Christy Shaffer Scholarship
Ria Jain
Several students also received university "book awards," offered by a number of prestigious universities each year to high school juniors who embody the spirit of intellectual curiosity that underlies the core missions of America's universities. (Book award recipients from NCSSM-Morganton were recognized during an awards ceremony on the Morganton campus.)
Prize Book of Harvard Alumni Award
Maria Foust (DUR)
Annabella Botta (MOR)
Yale Book Award
Amy Okonkwo (DUR)
Kimberly Gómez-González (MOR)
Columbia University Book Award
Riziki Chabeda (DUR)
Nadège Sirot (MOR)
Wake Forest University Book Award
Piper Walls (DUR)
    Seven Skinner (MOR)
Dr. Jon Miller Writing Awards celebrate the creation of literature at NCSSM and those students who have shown exceptional talent in their respective genre.
Non-fiction
1st place – Vanessa Tang (DUR)
2nd place – Aislin Eberhardt (DUR)
3rd place – Cindy Rubio Malo (DUR)
Poetry
1st place – Netra Parikh (DUR)
2nd place – Catherine Hawting (DUR)
3rd place – Victor Chin (DUR)
Short fiction
1st place – Keya Mahajan (ONL)
2nd place – Quint Johnson (DUR)
3rd place – Lauren Mills (ONL)
Honorable Mentions
Zoya Das (ONL)
Jiyu Hong (ONL)
Ansley Jones (ONL)
David Kim (DUR)
Ethan Nipper (MOR)
Emberleigh Pauley-Brown (DUR)
Riana Victoria (DUR)
Zoe Wilcox (ONL)
Ganning Xu (DUR)
While NCSSM students garner an extraordinary number of scholarships each year, the small fraction of total scholarship awardees recognized at the ceremony represented only those whose scholarship grantors requested the opportunity to present the awards publicly, as well as students receiving scholarships offered through the NCSSM Foundation.
(DUR) indicates NCSSM-Durham student
(MOR) indicates NCSSM-Morganton student
(ONL) indicates NCSSM-Online student