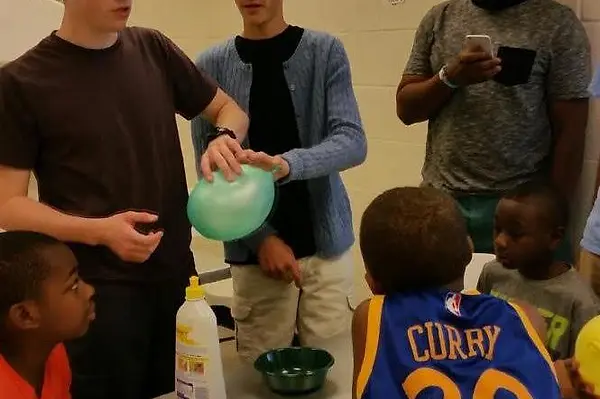 news
Ryan Steed '17 takes science on the road with summer camp for kids
Ryan Steed '17 performs science experiments with kids in his hometown as part of the WhyScience summer camp he developed.
Senior Ryan Steed may have been off campus for the summer, but he didn't entirely leave science and math behind. For the second year in a row, Steed spent the summer bringing his love of science to others through a science camp for kids in his hometown of Burlington, NC.
Steed developed the WhyScience camp last summer while volunteering at the Boys and Girls Club in his community. The camp, which focuses on demonstrating the real-world impact of science to kids, conducts 30-minute experiments with elementary-aged kids to get them interested in scientific concepts like density or mass.
The inspiration for the camp, he says, began at NCSSM. "I joined a club that performs simple science demonstrations for two local elementary schools weekly, and I saw a great opportunity to bring the same concept home to Burlington," he told the Burlington Times-News. So he asked the Boys and Girls Club if he, along with his brother and sister and a couple of other students, could start doing science lessons with the kids. The club said yes, and this summer, the camp expanded to include other sites around Burlington as well, with a focus on locations that support kids and parents in underserved communities.
For Steed, the camp is all about showing kids the real-world applications of science in a fun and interesting way. "My biggest goal was to convince kids they could learn about science on their own, and enjoy doing it," he says. In its second year, WhyScience has been great for everyone involved, Steed says. "It was a lot of fun for me and the kids. We all had a really fun and productive time." Sessions included making quicksand, balancing forks with toothpicks, and playing "sink or float" with objects like peeled oranges and regular oranges, followed by much discussion on the "why" behind it all.
Steed is back on campus now for his senior year, but has kept the longevity of the camp in mind. Next summer, while Steed prepares for college, his younger brother, Michael, will take over the camp. In the meantime, Steed was able to reach a total of 285 kids over the course of this past summer, and hopes each of those kids will have taken a little something with them from their session. "My favorite parts," Steed says, "were when kids mentioned to me their plans to replicate the experiments at home, and even some improvements they planned to make!"
Share this post.