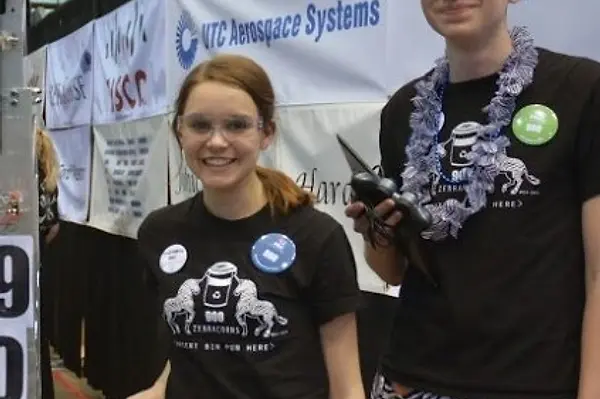 news
Robotics team wins for robot, character
A group of Zebracorns pose with this year's robot at the NC FIRST Robotics regional competition in Raleigh.
With a six-foot tall, 117-pound robot built in just six weeks, the Zebracorns/Team 900 captured top honors at the NC FIRST Robotics regional competition in Raleigh on March 21, 2015.
The Zebracorns team is based at North Carolina School of Science and Math and brings together students from NCSSM, Durham School of the Arts, Riverside High School, Voyager Academy, and area homeschool. This program gives NCSSM students the chance to work alongside students and teachers from local high schools. The experience builds connections and provides a real-world, hands-on learning experience for students. The team has been an official FIRST Robotics team since 2002, and exists as a partnership between NCSSM and Durham Public Schools.
The Zebracorns joined forces with FRC Team 1225, the Gorillas, and FRC Team 2059, the Hitchhikers, to win the North Carolina regional competition. Supported by a team of mentors including NCSSM alumni, faculty advisor Joe LoBuglio, and other passionate community members, the Zebracorns were pitted against 54 other teams from North Carolina, Maryland, New York, Pennsylvania, South Carolina, and Virginia. Despite finishing the qualification rounds ranking 30 of 55 teams, the Zebracorns were selected by the number 1 alliance for the final rounds because of the Zebracorns robot's unique ability to manipulate game pieces with a claw and triple-extending arm. The alliance won the final match with a score of 72-65.
This year marks Team 900's second annual win at the North Carolina regional competition. In addition to winning the regional round, the Zebracorns were recognized with the Gracious Professional award, given to the team that best encourages high-quality work, emphasizes the value of others, and respects individuals and the community.
"The most gratifying part of advising the Zebracorns isn't seeing the very cool robot on the field," says faculty advisor Joe LoBuglio. "It is seeing these very bright and confident students helping other teams. Walking through the pits, you'll see our students in their zebra-striped pants helping other teams with programming, providing spare parts, and doing whatever they can to make sure as many teams as possible are fielding their robots. It's great that their efforts were recognized by FIRST with the Gracious Professionalism Award."
This is not the first time the Zebracorns have won additional honors at a competition. During the Myrtle Beach Regional competition in February, the Zebracorns won the Creativity Award for their unique strategy and original means of execution. To attend the FRC World Championship in St. Louis in late April, the team refined its software and sensors in hopes of showing off an advanced vision processing system. The team's participation in the competition was made possible in part by the NCSSM Foundation, which funds transportation and other associated costs for Team 900.