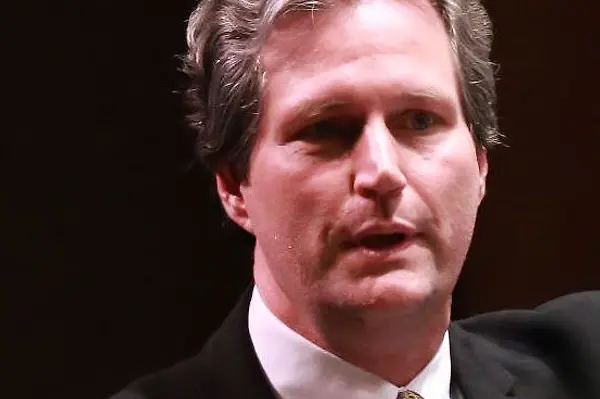 news
Riggs is semifinalist for Grammy teaching award
Phillip Riggs joined the NCSSM music faculty in 2008. Under his direction, the wind ensemble has doubled in size. Last year he helped launch the first NCSSM jazz festival.
Two organizations are recognizing Phillip Riggs, a music instructor at North Carolina School of Science and Mathematics since 2008, this fall for his exceptional teaching and leadership in music education.
The Grammy Foundation and Recording Academy have named Riggs one of 25 semifinalists for the national Music Educator Award. Riggs was selected from 213 quarterfinalists, U.S. music teachers from kindergarten through college, in public and private schools,. Those names were selected from more than 4,500 teacher nominations. The foundation will name 10 finalists in December, and one winner will be selected from those 10 to accept the award and attend the GRAMMY awards in Los Angeles in February along with a $10,000 honorarium and a $10,000 grant for his/her school.
Closer to home, Ronald Reagan High School in Forsyth County is inducting Riggs into its Hall of Fame on October 9 as part of the school's 10th anniversary celebrations. Riggs served on the School Improvement Team in the winter of 2005 that begin planning for Reagan High's opening in the fall of 2005. He served as the school's first fine-arts coordinator and band director until June 2008, when he joined NCSSM.
"Opening Reagan was an exciting team effort," Riggs remembers. "That first fall we had maybe 30 band members, and hardly any of the students had been in a marching band before. I've had several band directors call me since to ask advice about opening new schools. It's an experience I'm so glad I did, but I'm too old to ever want to do that again," he says, laughing.
"We had so many decisions to make about our performing arts program, and Phillip's previous experiences and successes were so important to me," says Stan Elrod, Reagan High's founding principal, who will be inducted into the school's hall of fame along with Riggs. "He was responsible for coming up with the first Reagan Fight Song, the music for the first Alma Mater, and overseeing the performing arts program. Obviously his success is being rewarded by him being chosen as the first teacher at Reagan High School to be chosen for the school's inaugural hall of fame."
Moving to NCSSM meant the chance to work with highly talented students — and not having to travel every weekend with a marching band for the first time in two decades. "I'm still gone every Saturday," he notes, "I'm just judging now, and not traveling with three busloads of kids."
Riggs has served in regional and state music education leadership posts for much of his career. He is a past president of the North Carolina Band Directors Association, served as chair of the state's High School All-State Band  for 10 years, chaired the NC Music Educators Association's technology committee, then created an NCMEA mentor committee for new teachers, which he has worked on the last three years. "When we started the committee, the average music teacher taught for 2.8 years and got out. They're the only one in their building doing what they're doing, and they need support. I think we've made a lot of progress in that area."
In his time at NCSSM, the wind ensemble has doubled in size roughly 40 to more than 80 students. The jazz program used to meet one night a week and now meets as a regular elective class during the school day. "The admissions staff tell us that one of the most popular questions is, 'Do you have a marching band?' So we're starting a blast band, to give the students an opportunity to continue to explore the marching band activity." 
A jazz festival that Riggs launched last year "exceeded my expectations," he says. "The incentive was mostly outreach, trying to target younger programs and offer them the opportunity to perform for clinicians in an inviting environment. We had 16 groups from maybe 14 schools last year, we're hoping for 20 to 25 this year."
At NCSSM, Riggs recognizes the extra dedication his students must make to participate in music. "For our students, there's so many incredible opportunities offered here that aren't offered at their home schools. So to continue to be involved in music here is more difficult. Fortunately, we do get students who get the bigger picture. Playing a musical instrument and being part of an ensemble takes time to develop individual skills, then come together as part of an ensemble community. Our challenge, in an age of instant gratification, is to make students realize it's worth the wait."
Riggs doesn't really enjoy the limelight of his recent awards. But he was deeply touched to learn that it was a former student who nominated him for the Grammy award. "She's now a middle school band director. She's a young mom with two little kids, her husband is also a band director. So for her to take time to do that, it's priceless."