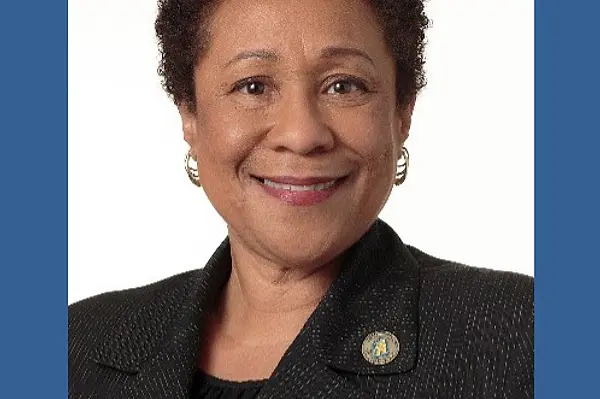 news
Returning to her points of origin
Dr. Tonya Smith-Jackson '82
Just north of Roanoke Rapids, tucked between the county seat of Northampton County and the Virginia border, sits the tiny town of Gaston. It's where Dr. Tonya Smith-Jackson '82 is from. Her parents and grandparents, too.   The second oldest of six wouldn't stay there long, however. With her father in the Air Force, Smith-Jackson spent the vast majority of her earliest years outside North Carolina, on or near Air Force bases ranging from the cold and snow of North Dakota to the heat and humidity of the Philippines.   But as her father neared retirement from the service, the family returned home to its agricultural and ancestral roots prior to Smith-Jackson's ninth grade year, settling on a small farm near Gaston where they began to grow cucumbers. Though her father has since passed, Smith-Jackson's mother — now 81 — still runs the farm, growing a few reasonably managed acres of produce.   For a moment, those cucumbers nearly derailed the plans fate had for Smith-Jackson's future as part of a trailblazing approach to public education. By the time she was old enough to apply to be part of NCSSM's very first class, she had under her belt two years of experience hand-harvesting the cucumbers on her family's farm. In her opinion, she was the best pickle picker in the family. So when her mother talked to her about the new school in Durham she had heard about, Smith-Jackson balked.   "All I could think of was the farm," she says. "What were they going to do without me?"   Her mother "saw me hesitate," Smith-Jackson says. "She knew what I was thinking about, and she said, 'Don't let that get in the way. Your future is very important, so give it some thought.'"   On Tuesday, Aug. 16, North Carolina School of Science and Mathematics will virtually welcome Smith-Jackson back to deliver the school's convocation address, addressing NCSSM's students via Zoom. As a graduate of the school's first residential class in 1982, the research engineer and interim provost and executive vice chancellor of Academic Affairs at North Carolina Agricultural and Technical State University will likely strike a particular chord with the student body, as in the audience this year will be the inaugural class at NCSSM-Morganton.    It won't be the first time Smith-Jackson has spoken to NCSSM students; she was chosen to deliver the student address at NCSSM's very first graduation ceremony in 1982.  
The courage to leave the familiar
A post-application invitation to interview at NCSSM arrived rather late in the family's roadside mailbox while Smith-Jackson was away at a Beta Club Convention in Raleigh. Her mother rang the hotel where Smith-Jackson and her classmates were staying with the news that she needed to be in Durham the next morning. "I was like, 'What? I'm at a Beta Club convention!'" Smith-Jackson recalls saying into the phone. "I have things to do!"   At 7 the next morning she was in the back of her parents' car, on the way from Raleigh to Durham. The interview in Durham eliminated any lingering concerns Smith-Jackson may have still had about leaving the farm. NCSSM was where she wanted to be.   Just a few weeks later, she was in the back of the car again, drifting in and out of sleep in the backseat, as snippets of a common conversation topic between her parents in the front seat faded in and out like a weak radio station. The family was on the way to move her onto campus in Durham, and "they were talking," Smith-Jackson recalls, "about how I had grown up so fast."  
No equivalent
NCSSM was unlike anything Smith-Jackson had experienced before, or since. That's a significant declaration, given her accomplishments. Before assuming her current role as interim provost and executive vice chancellor of Academic Affairs at NC A&T – her professional home since 2013 – she was the chair of and taught in the university's Department of Industrial and Systems Engineering. She has also held leadership roles in a number of engineering initiatives at A&T. For several years prior to A&T, she taught and led in the engineering program at Virginia Tech, was a program director with the National Science Foundation and a scholar-in-residence at the U.S. Consumer Product Safety Commission, and has served in a variety of teaching, research and consulting capacities for such organizations as IBM and Ericsson. She continued to spend time abroad as well, thanks to her husband's career in the United States Army.   None of it has compared to NCSSM. "I will tell you, when I look at every place I've been, my two years at Science and Math were still the most transformative years of my life," she says. "Part of it probably was the fact that I learned to be on my own. But also, we were in an environment where everybody cared about learning. Everybody cared about achieving. And when you're around that, it makes you want to work hard."   As significant as the experience turned out to be, Smith-Jackson's first few weeks in residence in no way foreshadowed what was to come. NCSSM was so new that the school was still being created around its students, much as aspects of the Morganton campus are being completed as the first class begins its studies there and the Durham campus embarks on major renovations to the cafeteria and residence halls. To this day, Smith-Jackson recalls clearly the smell of fresh paint and the constant buzz of construction. "There were paint buckets and tools everywhere," she says. "I was like, 'Good Lord! Are we really ready? Is this going to work?'"   It did. The noise of construction faded as the months passed, but that kinetic energy to create and achieve passed on to the students.     That kind of drive was needed. From the very beginning, NCSSM established a tradition that it continues to this day: surprising students with its rigor. Students like Smith-Jackson who were accustomed to breezing through their courses back home were suddenly challenged in ways they had never encountered before. Even as a small child, Smith-Jackson had been a voracious reader who enjoyed school and took it far more seriously than many of her peers; the regular deliveries of her Weekly Reader books were more like events than normal delivery of mail, and a day out sick from school was near tragic. "I was the student who would cry if I got an A-minus," Smith-Jackson says. "That lasted up until I got to Science and Math."   The unprecedented challenge of the entire experience would have been enough to deter some. For Smith-Jackson, it wasn't much of an issue after those initial, brief pangs of homesickness dissolved. Growing up in a military family had instilled in her the ability to adapt to change and make new friends in new locations fast.    That's not to say that there weren't challenges. Take physics, for instance (she received a D on her first exam, but credits the support of her favorite instructor, the late John Kolena, for getting her back on track). Or chemistry, which would continue to flummox her even into college. But those childhood tears over an A-minus were soon replaced with a gritty resolve.   Athletics and involvement in cultural activities were Smith-Jackson's outlets. As though through an act of interpersonal osmosis, playing on NCSSM's women's basketball team helped increase her confidence in the classroom. Participating in African Dance and the gospel choir and reading "Things Fall Apart" by Chinua Achebe during Special Projects Week (a forerunner to today's January Term) instilled in her a confidence in who she was beyond the classroom.   "That's what I loved about NCSSM," she says. "We got the message there very early that the authentic self was appreciated, and that, no matter where you're from, you can embrace your culture, you can be yourself and still gain an education and be a scholar."   So positive was Smith-Jackson's experience that her twin sisters followed in her footsteps, graduating from NCSSM in 1988.  
Just everything
The biggest problem that Smith-Jackson faced in her high school and college years was a good one to have: she "loved everything." From language and history to math and medicine, she was intrigued by it all. At UNC-Chapel Hill, she changed majors three times (starting out as pre-med before finally,
finally
accepting that, as it was at NCSSM, the required chemistry just wasn't her strength) before graduating with a degree in psychology. With such an eager mind, settling on a single direction was hard, but psychology let her explore the world from a number of academic angles.   By the time graduation came around, Smith-Jackson was exhausted, a downside perhaps of an intense and innate curiosity about everything. Entering the workforce might give her the chance to catch her breath.   That's when two of Smith-Jackson's mentors at UNC who understood and appreciated her wide range of interests (which had grown during college to include coding) talked her into considering graduate school in industrial engineering. It was, they felt, a field that encompassed in varying degrees nearly everything Smith-Jackson loved.   They were right. "I had no idea at the time that there was something called industrial engineering that combines engineering and psychology," she says. She went on to earn a master's degree in psychology and industrial engineering and a Ph.D. in psychology/ergonomics at North Carolina State University.   It's been the right fit ever since. "I love industrial engineering," Smith-Jackson says. "All we do all day is integrate people, technology, and the environment. It's a great discipline for people who love everything."  
Home again
Whether personally or professionally, the integration of various and diverse components has been a steady theme in Smith-Jackson's life. From the cultural immersion of the Philippines to the cucumber fields of Northampton County to the classrooms and administrators' offices she has frequented in her career, Smith-Jackson makes it a point to share with every student she meets that not only is it okay to acknowledge the complexity and diversity of one's own identify and experience, it's perhaps the only way to truly extract from life the fullness of one's self. No matter where one goes, she says, or what course one pursues in life, "your core goes with you."   Smith-Jackson's core has seen the world. All along, however, she has steadily worked toward aligning her geographic and personal poles. For her, North Carolina has remained the North Star, and Gaston the anchor.   "My whole goal all along was to come back to North Carolina," Smith-Jackson says. "My parents deserve a huge amount of thanks for allowing me to go off to the 'big city' to go to school," she says. "But I can tell you this, too: I also owe a debt of gratitude to Gov. Jim Hunt [who helped found the North Carolina School of Science and Mathematics] and the state of North Carolina. I was educated with taxpayers' dollars, and I was very aware of that when I was at NCSSM. It mattered to me that the state was investing in me and in my career and ultimately the opportunities for my family. I didn't want to wait to retire and then come back. I wanted to spend my years before retirement doing everything I could for my state of North Carolina. But when I do retire, I'm going back to the farm, back to Gaston. I'm going back to my place."