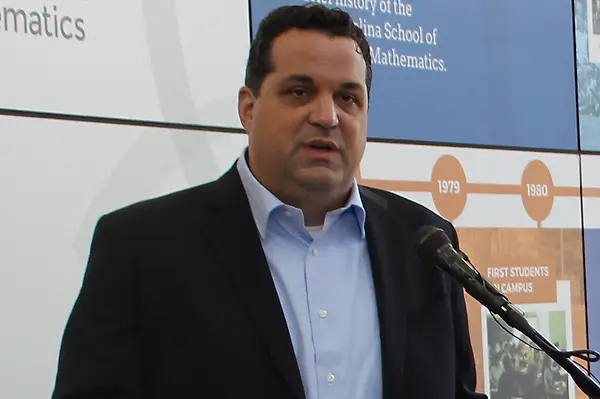 news
Record $2-million gift launches AI program at NCSSM
Thomas F. Looney, Chair of the NCSSM Board of Trustees; Karen LeVert, Chair of the NCSSM Foundation; Carl Ryden; wife Ashley Ryden; NCSSM Chancellor Todd Roberts; and UNC President Margaret Spellings
Unprecedented Public High School Artificial Intelligence Program Will Prepare North Carolina Students to Be Leaders of the Future Workforce
A $2 million gift to the North Carolina School of Science and Mathematics from alumnus and entrepreneur Carl Ryden '89 and his wife, Ashley — the largest private gift in the school's history — will launch a program putting NCSSM on the leading-edge of public schools in America for learning about artificial intelligence and its place in society, NCSSM announced Thursday.
"Artificial intelligence is becoming increasingly important in our lives," Ryden said during a ceremony in Bryan Lobby to launch the program. "Algorithms help us choose who to be friends with on social media, who to connect with on LinkedIn. They probably helped most of you get here today and will help you get home. They tell you what the right answer is on Google, whether it's the right answer or not. AI is shaping our society in ways I don't think we begin to understand … We have algorithms shaping history, algorithms shaping politics, algorithms shaping how we interact with one another and how we interact with the world around us." 
The Ryden Program for Innovation and Leadership in Artificial Intelligence launches with the goal not just to teach students how to design and use AI but to shape them as leaders who understand this powerful technology's merits and the ethical considerations it raises. The Ryden Program will place a strong emphasis on ensuring students understand how to merge humanity with machine learning — and how to use AI to solve complex, macro problems affecting society.
"We absolutely need to build leaders who are capable of driving that future in a way that gets us to a better place as a society," Ryden said. "And I think the kids here and the faculty here have earned and deserve the chance to shape that future. I am incredibly humbled I could be a help in that." 
Ryden, a member of the IBM team that developed the first Thinkpad laptop and co-founder and CEO of Cary, N.C.-based PrecisionLender, a provider of applied banking insights technology to commercial banks worldwide, credited NCSSM with setting him on that path from his roots in rural eastern North Carolina.
"The school fundamentally changed the trajectory of my life," said Ryden, who has remained closely involved with NCSSM, teaching an entrepreneurship course every Monday night and helping to launch the school's fabrication laboratory. "It's not a debt I can ever repay. This school was an equity investor in my future, and whenever I have a chance to give back and pay it forward, I will take every opportunity to do so."
The Ryden Program will have physical space at both NCSSM's Durham, N.C., campus, as well as its Morganton, N.C., campus, which will open in 2021. Beyond the students who will have access to the AI curriculum and makerspace tools on campus, the curriculum will be available online, and its output will also be open-source, ensuring students and educators from around the globe can also benefit.
"I'm so proud that the Ryden Program is making content open source," said UNC System President Margaret Spellings. "This is a huge step toward democratizing artificial intelligence education for all students and all educators as well. It's true to NCSSM's mission of making educational opportunities and content available far beyond the walls of this school."
Dean of Engineering and Computer Science Joe LoBuglio has been named interim Executive Director of the new program, NCSSM Chancellor Todd Roberts announced, and three to four new hires will be announced soon, including an AI curriculum architect. 
"We believe that NCSSM is uniquely positioned to address the fundamental questions and challenges presented by AI — particularly related to ethics and entrepreneurship," Roberts said. "A component of our mission is to 'inspire innovation for the advancement of humankind,' with which the Ryden Program squarely aligns. We couldn't be more thrilled to accept this gift from Carl, and our students cannot wait to embrace all that the Program has to offer."
LoBuglio was also enthusiastic about the opportunity.
"It gives me great optimism to work with these students who are eager and capable to tackle complex issues in a broad variety of disciplines," he said. "It is not just this one gift but (Ryden's) ongoing support of wisdom and time that will make this program a success.
NCSSM Board of Trustees Chair Tom Looney summed up the school's gratitude, saying, "Carl has an incredible passion for the students of this school, and also alumni who have graduated from this school and gone on to very successful careers. You have inspired the students, you've inspired the alumni, you've  inspired the faculty, the staff and the Board of Trustees. Sir, we salute you this morning — thank you."
Share this post.