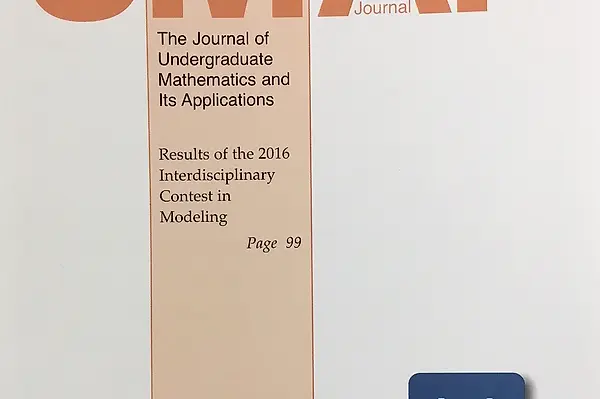 news
Recent graduates hailed for innovative solutions to global issues
Two NCSSM teams used math modeling to tackle real-world problems such as immigration and water scarcity.
Six recent graduates of North Carolina School of Science and Mathematics have been published in the latest issue of the journal Undergraduate Mathematics and Its Applications. The work of the two teams, completed while at NCSSM, was recognized by a team of judges in the 2016 Interdisciplinary Contest in Modeling.
James Chapman, Tejal Patwardhan, and Vibha Puri were recognized for their paper, "Where's My Water? Global Water Scarcity and Haiti's Water Crisis." Judges said the submission "was unlike any other seen by the judges this year" and received the designation of "Outstanding." 
The paper aims to tackle the problem of water scarcity by developing three different models that could be applied globally, using Haiti as an example of how those models might work. Judges called the students' approach to the problem of water scarcity "tremendous," and hailed the team's "understanding of the problem as a whole," praising their paper for its multidisciplinary approach, including historical background of Haiti, as well as cultural aspects that may affect the solution. "When applied to Haiti, the team really understood the challenges of a water distribution network in such a nation," reads the judge's report. "Overall, this was the most unique modeling the judges had seen, and the incorporation of such tailored innovative solutions was superior."
A second team made up of Anna Hattle, Katherine Yang, and Sicheng Zeng was also recognized for their modeling solution/analysis of the current Syrian-European refugee crisis. Their paper, "ICM-RUN to Safe Countries," models refugee immigration movements and policies. The team even developed a new measure for the capability of a country to host refugees, called "creative" by the judges. The team also set themselves apart by being "one of the few teams that studied the negative effects of delays and dynamic obstacles." The team was awarded the Rachel Carson Award for their "outstanding policy modeling and interdisciplinary problem solving." 
Share this post.