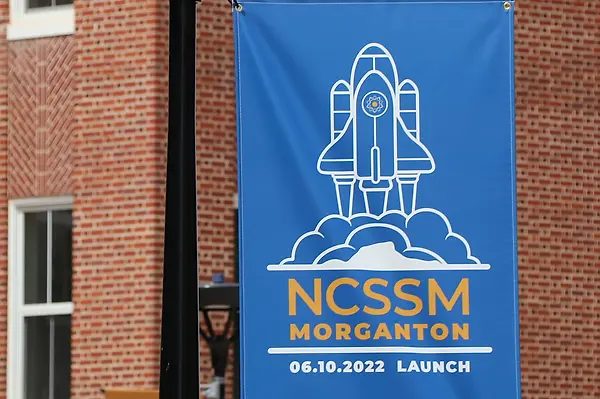 news
Reach of NCSSM extends with new second campus in Morganton
The South Mountains anchor the horizon beyond NCSSM-Morganton.
The long-awaited expansion of North Carolina School of Science and Mathematics to a second location in Western North Carolina has become a reality. Supporters from throughout the state gathered Friday on the ridgetop campus in Morganton with views of the South Mountains for the school's grand opening ceremonies, and by Sunday evening, the first group of summer program students had moved into the residence hall.
Nearly 600 people celebrated the opening of NCSSM-Morganton, touring the facilities on a bright and breezy day before gathering beneath an expansive tent to hear from administrators, legislators, regional partners, and key NCSSM constituents who played a role in bringing the campus to life. Many former leaders of the institution were present including Chuck Eilber and John Friedrick, NCSSM's first and second chancellors.
"It's quite amazing that we're here," said a grateful Todd Roberts, NCSSM's current chancellor, "and [it's] only because this was always envisioned to be a public-private partnership. It has really helped steer us through these challenging times, the level of private support we've had. I'm thrilled to say we've raised more than $12 million privately to fund this campus and have over 300 donors who have contributed to making this dream a reality."
NCSSM's chancellor, Dr. Todd Roberts, addresses attendees at the grand opening of NCSSM-Morganton.
The school would never have been a possibility, however, without the support of North Carolina's taxpayers. All totalled, the state provided $85 million to support construction of the new campus.
"We owe a debt of gratitude for the state for 42 years supporting this institution in a bipartisan way, and now [they are] doubling down on their investment," Roberts said. "Ten other states have schools that were modeled after us…and none of them, to this point, maintain that opportunity at no cost to the students of their state. They've done that, [and now] they're doubling down on it."
Though ground was broken in 2019 on underused acreage on the eastern ridge of the North Carolina School for the Deaf, the origins of the Morganton campus can be traced as far back as the school's founding in Durham in 1980. From the very beginning, the unofficial plan – should the idea for such an innovative and unique educational experiment as NCSSM prove viable – was for the School of Science and Mathematics to scale in future years to meet the need for instruction.
After nearly 35 years of extraordinary success, an expansion was promoted by a wide coalition of NCSSM and UNC System administrators, including community representatives from possible expansion sites in the western region of the state, and a bipartisan group of legislators in Raleigh. In 2016, the proposal for a Morganton campus was put to the people of North Carolina by way of the Connect NC bond referendum. It was approved.
Thanks to that commitment, modern new facilities now stand next to revitalized historic buildings on part of an 800-acre state property a half-mile south of Morganton's quaint downtown. 
Brenda Cline, who lives in nearby Hickory, was on hand for the grand opening. Cline taught at the North Carolina School for the Deaf from 1969-73, frequenting buildings on what is now the NCSSM campus. As the capacity of the school shrank, Cline saw buildings fall into disuse and poor repair before NCSSM assumed use of its portion of the School for the Deaf campus.
"I am delighted that this space is being used, especially for these bright young minds," she said, standing in the lobby of the new residence hall building. "You know, around here and Hickory, we've lost a lot, the furniture and textile industries. This is the perfect gateway for Western North Carolina to rebuild. I think it is just a marvelous use of this space."
A renovated Goodwin Hall grounds the new Morganton campus in a storied history.
Dr. Jabbar Bennett '92, Chair of the NCSSM Board of Trustees, previewed for attendees what incoming students can look forward to.
"When I arrived on the Durham campus back in August 1990 I had no idea about the profound impact that the school would have on my life," he said. "I am pleased to say that I achieved my academic goals, but I'm more grateful for the personal development, emotional intelligence, and social awareness that I gained along the way.
"It was a time of introspection, individual maturation, and collective growth," Bennett continued. "We began to think about who we were at that time, and we began to think about who we aspired to be, and the change we wanted to make in the world. Today marks a new chapter in the storied history of the North Carolina School of Science and Mathematics, a history full of early challenges and unlimited future opportunities for our students, the city of Morganton, Durham, and the state of North Carolina."
A few months after Bennett graduated from NCSSM-Durham, Ralph Hise '94, who today is the North Carolina Senate Deputy President Pro Tempore and a stalwart champion of getting NCSSM-Morganton built, arrived on the Durham campus straight from his home in Western North Carolina wearing "boots and a belt buckle the size of a small plate," he recalled. Like Bennett, he considered his time there invaluable.
"When I came in, the school had probably no idea what to do with me, and I had no idea where I was in that process," he said, "but it was an incredible experience."
As a legislator and an alumnus, Hise worked hard to promote NCSSM's Morganton expansion. In additional remarks to those gathered, he shared his admiration for those at home and in the state's legislature who made the campus a reality. "Quite literally the community of Morganton and the surrounding areas are really the only community in the state that were the one[s] standing up and saying we want this campus here," he said. "We knew this campus could be here. We knew we could support this. And I'm glad [it's now] part of Western North Carolina. I'm glad the General Assembly has chosen to support it."
The NCSSM-Morganton project has been supported by community partners in the region since its inception, and many were on hand to celebrate the grand opening. "It's been incredible to see the community reaction to this opportunity," said Kevin Baxter, Vice Chancellor and Chief Campus Officer for NCSSM-Morganton. "It is like nothing I've ever experienced – there's just something in the water here. We are blessed, and we cherish these relationships."
"I have been around this project from the very beginning of this project," said Morganton City Manager Sally Sandy. "Today we are looking at the representation of the intersection of economic development and community development, and that's really cool to a manager."
Tim Moore, North Carolina's House Speaker, praised the efforts of all those involved – particularly those from the region – and promised the state's continued support of the school as a whole.
"What I do want to say is that the entire western delegation from North Carolina really leaned in on this project; you don't come and create a new campus like this – just every now and then," he said.
"This is an absolutely transformative project, not only for Western North Carolina but for so many young people…. This is an opportunity where North Carolina not only is producing the best and brightest for the world, but also through the program with the university system and tuition to retain those students to stay here when it comes to higher ed as well. This is something that's going to pay dividends for many, many years to come.
"Just know this: this project, this campus, this entire mission of the School of Science and Math is something that has complete support by our General Assembly. We're very proud to see this."
Just two days after the grand opening, a number of students from throughout the state converged on the campus for a series of summer academic camps, making them the very first residents of the new facilities. Though not intended as symbolic, the students still represent the truest intention of NCSSM to be a resource for public education for all of North Carolina, and not just those accepted into the school's residential program.
Two months after the grand opening, NCSSM-Morganton will finally become home to its first class, the Class of 2024. Like the NCSSM Class of 1982 that was the first to graduate from NCSSM-Durham, the NCSSM-Morganton Class of 2024 will forever be known as trailblazers in an ongoing exercise in innovative secondary education that has served for decades as a blueprint for similar institutions throughout the nation and world.
Though NCSSM is now one institution with two physical campuses, it will continue to operate as a single entity, leveraging the Morganton location to further the mission that has always propelled the school to achieve unparalleled success. A number of things will remain the same regardless of location, such as building a residential community of learners, building lifelong friendships, and a core curriculum featuring the teaching of history and literature together in the context of American Studies, while others, such as an emphasis on data science in Morganton, will differ slightly from one campus to another. 
There is one difference, however – proudly pointed out by Sen. Hise as he reflected on his own NCSSM experience – that will forever differentiate the Morganton campus from its older sister in the Piedmont. "After spending two years on the Durham campus," he said as his thoughts wandered to the South Mountains on the near-distant horizon, "nobody got a view like this."
– With additional reporting by Bryan Gilmer and Margo Metzger.