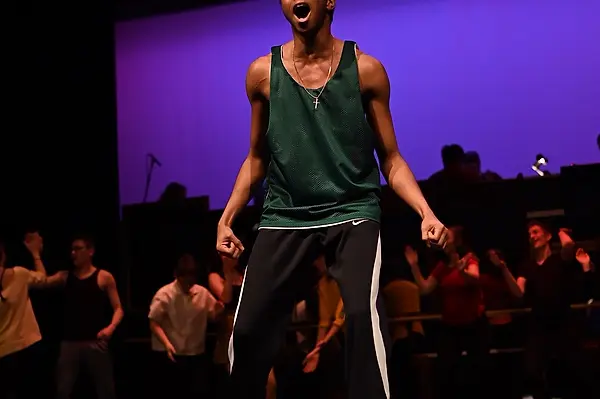 news
Q&A with student co-director as Promethean Players prepared for "A Chorus Line"
(L-R) Caroline Thacker '20, Kaia Spero '20, and Rebekah Glover '19 rehearse for A Chorus Line. Pictured below (L-R): Trevor Pharr '19 as Mike Costa, and Austin Torain '20 as Richie Walters. Photos by Joseph Brentjens '19.
North Carolina School of Science and Mathematics' Promethean Players performed "A Chorus Line" Friday and Saturday, Feb. 1 and 2, 2019, at 7 p.m. and Sunday, Feb. 3, 2019, at 3 p.m. in the Educational Technology Complex Auditorium. Before opening night, Student Co-director Sophia Israel (who teamed up with Co-directors Jordan Watts and Joseph Brentjens, Stage Manager Elizabeth Redding and Assistant Stage Manager Kat Peters) offered her perspective on the challenging production. For more information on NCSSM's drama program and the Promethean Players, visit drama.ncssm.edu.
Q: For those who don't know, tell us about the show that is "A Chorus Line."
"A Chorus Line" is kind of a meta musical; it's about a group of dancers auditioning to be in the chorus line of a new musical. Once the director character, Zach, has chosen his top 17, he asks them each to tell him about their lives because he wants to get to know them not just as dancers but as people. So we get to see each of the characters represent themselves and their story. Some of the stories are emotional; some are funny, but we get to see the cast in process for this fictional musical, and then we get to see them perform together at the end. 
Q: How challenging is this to put on for a high school theater troupe?
It's challenging. Everybody essentially needs to be a triple threat. Everybody needs to be able to dance, everybody sings, and everyone needs to be able to act. Everyone really rose to the challenge. It looks great. All the choreography was either done by Mr. (Adam) Sampieri (drama instructor and Humanities Department Chair) or four student choreographers, and we have a student pit orchestra with a couple dozen musicians. Students have not only been on stage but behind the scenes. There were people who auditioned to be in this show who I've never seen audition before because they wanted the dancing solos. You're going to see some really experienced ballet dancers with solos who don't have musical theater background.
Q: It sounds like rehearsals must have been pretty intense!
Definitely true! Auditions began in November; rehearsals began in December, and we've had daily rehearsals since December, including Fridays and over the weekend. Winter break was a little bit of an obstacle, making sure everyone didn't backtrack on all the choreography we'd learned, but we stressed that they needed to practice at home. Plus it's winter, and people have been sick off and on, and they still came to rehearsals and just mouthed their words to save their vocal cords. With tech there has been a lot of fun lighting and sound.
Q: Is the choreography challenging?
It was for me! We've had rehearsals where some of the actors have had to miss for various reasons. So I and my fellow student directors try to stand in for blocking, and we don't know the choreography. In the practice recordings we can see how we all look trying to dance without knowing what the steps are. Pretty hilarious.
Q: So at what point is the production as things stand today?
We are about to have our final tech and dress rehearsal tonight. Everything's looking really great, I think. The lighting's getting there, the costumes look great, and I think the actors are really finding their stride now. The pit orchestra is here now, and we've rehearsed with them three times. It's really different singing with a recording vs. a live orchestra.
Q: Tell us about the backstage chaos at the end of the show.
We have a quick change of wardrobe where we're helping dress almost two dozen actors into full tuxedos and tails with top hats, and some of them have to get dressed in about 15 seconds backstage. What you do is button the shirt except for top few buttons so they can just slip it over their head, step into the pants, put your arms into the jacket, plus for the women there are cummerbunds and the men vests. You'll get to see everybody in the opening and everybody in the finale, a big number to send you home singing along.
Share this post.