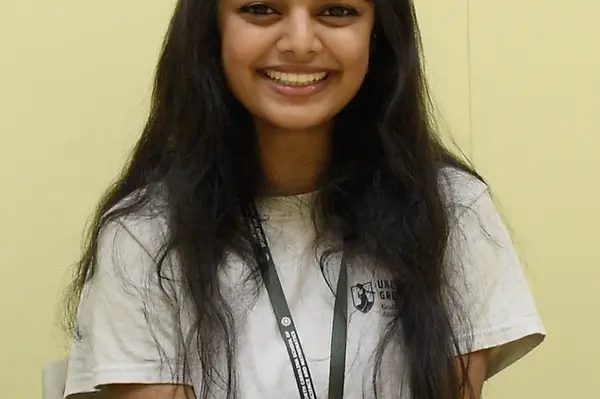 news
Q&A with Anika Suman
Read more stories about students' experiences in SRIP 2022.
Anika Suman, an NCSSM online student from Greensboro, North Carolina, is participating in the Summer Mentorship as part of the Summer Research & Innovation Programs (SRIP) at NCSSM. Suman is working with a mentor in the Joint Department of Biomedical Engineering at NC State University.
Can you tell me about what you're doing in Mentorship and what your specific project is?
My project is in biomedical engineering. We're comparing two prosthetics, a typical passive prosthetic and a powered prosthetic, which involves neuromuscular control from signals from the muscles in the upper thigh.
So, this is an ankle prosthesis. Essentially there was a study that was completed earlier where the amputee subjects are moving from a sitting to a standing position. There are multiple trials, some with the powered prosthetic that was built in the lab, and some with the passive prosthetic – so, I'm basically comparing the differences between the two and seeing the benefits of the powered prosthetic.
What's the difference between the power prosthetic and the passive?
So passive is sort of static, like if you just imagine a stick below the foot. But a powered prosthetic, it sort of forms a circuit with the upper thigh, so the muscles that are still there – the residual muscles. Those muscles are still producing signals, so those signals can then sort of talk to the circuit that is in the powered prosthetic, and that allows it to understand what the muscles, or what the brain really wants the leg to do. The signals can be decoded to move the powered prosthetic in a more natural manner.
OK, So what would you say has been the best part so far about your project?
I got to use cool software that's industry-level. It's only licensed by NC State – well, and other colleges as well.
But it's something that I could have never had access to, and just learning things like gap filling, and the motion trackers when they were tracking the subject, and building this human body that follows that motion and calculates all the joint angles and torques and everything.
Using that software was cool because that's something that only grad students are able to use, I think, typically. And also expanding my knowledge as a programmer.
That sounds awesome! Was using that software intimidating at first?
Yeah, for one point, my mentor was like "you can do it!"
Like, he showed it to me once, and then I was like, "Oh, I don't want to mess anything up," but I just practiced with it and looked stuff up online.
What would you say has been the biggest obstacle?
Probably that software. It was very advanced. There were a lot of things going on in that interface, so just learning how to navigate myself and not break it.
What made you gravitate to this project?
I wanted to do something [with] programming, so I was just looking into anything with programming applications. So, biomedical engineering seemed like a good topic that would include programming in terms of data analysis, but also allow me to step out of my comfort zone. It wasn't just coding, it let me maybe go into medical and explore that field a little bit.
Has your experience helped guide you to where you might want to go career or college-wise?
For sure. If anything, it definitely showed me what biomedical engineering was. And it opened that pathway; before I didn't know what it was properly at all.
What would you say to students who are thinking about applying for the Mentorship Program?
It is a really good experience. Going into it, I thought I'd just be like a shadow intern or something like that.
But they give us a whole project, or we can come up with our own project in some cases. I literally feel like I'm doing grad-level work. It's crazy how much experience we're getting as a high school student.
Is there anything else that the NCSSM community should know about the Mentorship Program?
Honestly, aside from the internship, the actual program itself: all the social aspects, all the karaoke nights, and everything are so fun.
I mean, I've loved my internship, but the after part is so much fun, like, I would never miss out.