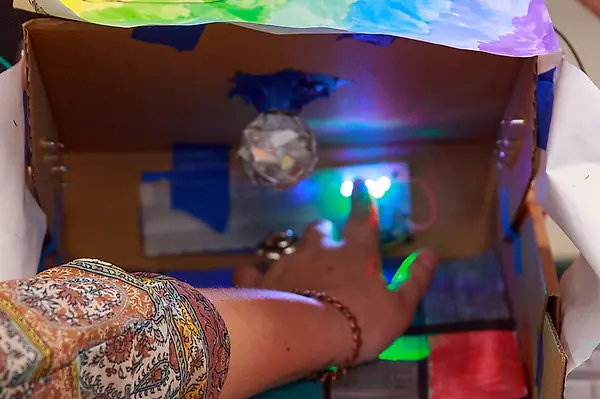 news
Physics 'disco' brings technology, Travolta to the classroom
Physics 307 students used Arduinos and LEDs to create "physics disco" displays.
NCSSM physics students have been working on an assignment involving technology, tools, and a little bit of disco. We stopped by a class to take a closer look.
"The Physics 307 students recently completed circuits projects in which the goal was to wire and light a display or model disco using both traditional lights as well as LEDs programmed with Arduinos," explains Instructor Jackie Bondell. She, along with fellow physics instructors Zo Webster and Julia Kohn, designed the lab project as a fun way to help students explore the topic of circuits. 
"The final projects are excellent," Bondell says. The students presented their projects to each other during class, and also decided to share them with the entire school during campus trick-or-treating. Visitors to the physics floor enjoyed candy as well as light displays — including, of course, a disco ball and John Travolta.  
Share this post.