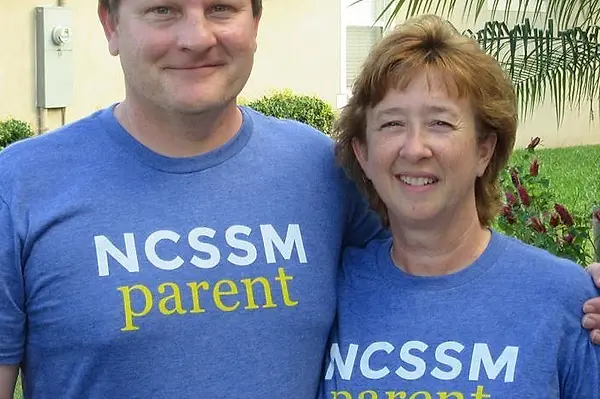 news
Parent giving challenge draws in new donors
Matthew and Paige Mizak of Cary are wearing their Unicorn pride!
A month-long parent giving challenge wrapped up at the end of February with 113 families participating, including 77 new family donors, raising a total of over $19,000 for North Carolina School of Science and Mathematics.
A generous senior parent offered $2,500 in a toward inspiring family donors, offering to match each family's donation of $25 in February up to 100 families. "The charitable support of families is essential to our students' experience," says Lauren Carr, development director at NCSSM. "We absolutely want to maximize opportunities like this one to increase the impact of each gift." Although coming a little short of the 100-family goal, the anonymous donor for this challenge has given the full match amount because of such great participation, bringing the total amount raised to $19,209.35.
NCSSM relies on private donations to help sustain successful programs and fund new learning opportunities for students. Much of that support comes from NCSSM families — from parents, grandparents, siblings of current students, and alumni of both residential and online programs. While NCSSM has a solid base of supporters among families, challenges like this one are critical in helping inspire other parents and families to support the school, says Carr.
As set out in the school's Strategic Plan, Carr says, "we aim to increase charitable giving from many of our key constituent groups. Beyond increasing dollars raised, we are committed to building that broader base of donors, especially among our two fastest growing donor groups, families and alumni." This year's participation goal for families is 710. The February challenge brought us 77 families closer to our goal.
Broadening the school's donor base helps NCSSM in many more ways than just financially, and the impact on students is great.  "Our students and alumni readily testify to the transformative effect of the NCSSM experience — which since 1980 has been made possible by charitable support from friends, families, employees, and now, alumni," says Brock Winslow '86, vice chancellor of institutional advancement and NCSSM parent. "In fact, NCSSM simply would not exist and operate today without the generosity of our donors. So if you want to make an extraordinary impact on young people who will in turn make a positive difference for our state, nation and world, make a donation of any amount to the NCSSM Foundation."
Learn more about how your gift makes an impact at NCSSM.
Click here to make your gift to the NCSSM Foundation.
Share this post.