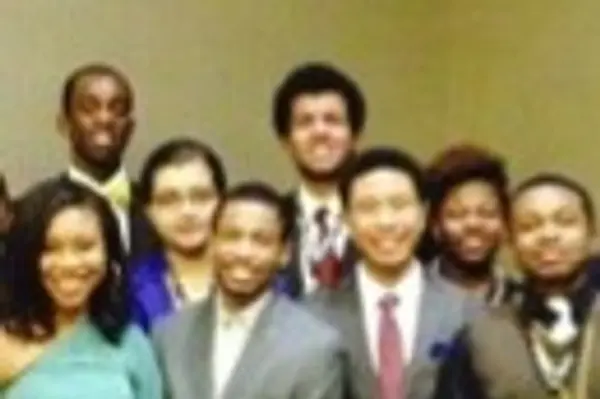 news
NSBE chapter wins competitions, inspires engineers
NCSSM's NSBE chapter at the fall regional competition.
North Carolina School of Science and Mathematics' National Society of Black Engineers (NSBE) Jr. Chapter brought home a bevy of prizes from the group's 41st national convention in Anaheim, California this spring.
The Try Math-a-Lon (TMAL) team of Margaret Bertoni '15, Sayo Eweje '15, Sope Eweje '15, Liam Riley '15, and Maury Jackson '16 took first place in the Upper Division High School competition. This follows a sweep at the regional competition, where NCSSM's two teams took first and second place. In the three-part TMAL competition, students take an individual written test, a team written test, then — based on their test performances — the top teams participate in a quiz-bowl style math competition.
NCSSM also garnered prizes in the Technical Innovation Competition, with Daniel Magley '15 winning Best Abstract and Technical Paper; Keilah Davis '15 taking second place in Graphic Design; and Ebube Chuba '15 and Miles Williams '15 taking first-place team presentation in the Ten80 Student Racing Challenge. The racing competition, in its second year, is a multi-faceted engineering design and entrepreneurship competition with students modeling a  professional motorsport teams. "As the motto for our Ten80 team states, these NSBE pre-college initiative competitions enable students to 'take learning beyond the classroom,'" explained advisor and NCSSM Dean of Engineering and Technology Ershela Sims. "In addition to engineering content, students learn about the design life cycle, gain skills in teamwork and collaboration, innovation and invention, as well as oral and written communication."
NSBE's mission is "to increase the number of culturally responsible black engineers who excel academically, succeed professionally, and positively impact the community." Since the chapter's inception at NCSSM, hundreds of students have graduated and pursued engineering in college. "Two NCSSM alumni from the class of 2014 are not only studying engineering at ECU, which was not the field they originally thought they would go into, but they also started a NSBE chapter at ECU this past year (and one of them is president)," says Sims. "At nationals this past March, I learned that another former NCSSM student was just elected as a national officer for 2015-2016 and that brought such a smile to my face. I enjoy running into former students at the regional and national conferences, hearing about how they are doing in engineering school and watching them become leaders and live out the NSBE mission."
"It's really amazing that the juniors, seniors, and our club sponsor[s] care so much about the competition and the larger vision of the organization, to increase the number of culturally responsible black engineers who excel academically, succeed professionally and positively impact the community," says Ebube Chuba '15, current NSBE chapter president. "I'm proud that our NSBE chapter is doing exactly that. We had a lot of fun in California, but we also knew that the impact of our work goes far beyond the competition."
Chuba is proud of the team's growth and effort this year. "The team has worked really hard. We were constantly meeting and improving our skills in various disciplines of engineering," he says.
"NSBE works hard to offer an array of competitions ranging from radio-controlled auto racing to mathematics to individualized research projects," says advisor and engineering instructor Lynn McGee. "I am very proud to be associated with such a talented group of future engineers who continue to bring home the gold."
NSBE projects cover a wide range of subject matter but are also hands-on, team-oriented, and collaborative. "This organization is one of the few that reaches out to students of all ages and backgrounds," McGee says. "It is always a pleasure to see students being mentored by more experienced students as they engage in engineering activities while building a network of colleagues across the nation."
Share this post.