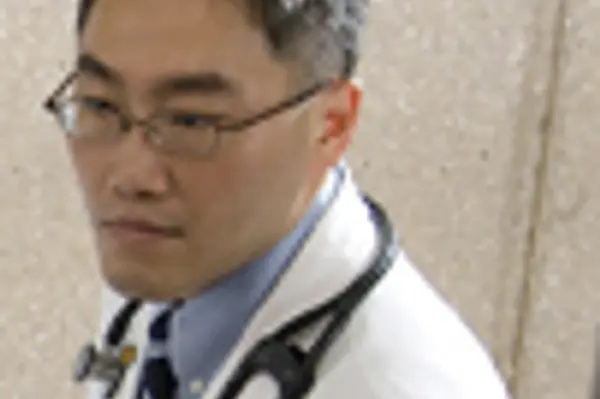 news
N&O: Physician Huang '85 is Tar Heel of the Week
David Huang, right, greets the arrival of a patient at the UNC Comprehensive Stroke Center.
The Raleigh News & Observer named David Huang '85 as its Tar Heel of the Week on October 10. Huang is associate professor of neurology in the UNC School of Medicine and director of the UNC Health Care Comprehensive Stroke Center, which he helped establish. He has earned several awards recently, including awards from the NC Stroke Association and the American Heart Association.
Huang told the newspaper that he thought his medical career would be devoted to research – seeking to understand and cure the neurological problems that cause strokes in the same way that his father had studied cancer and AIDS. But he came to find greater satisfaction in the hands-on work of helping patients. And his firsthand experience with strokes instilled in him another passion – making sure life-saving treatments were available to everyone who suffers a stroke.
Over the years, he has worked with state policymakers to strengthen regulations governing the treatment of strokes. As a member and fellow of the American Heart Association, he is also a national advocate for life-saving standards for preventing and treating strokes – the third-leading cause of death in North Carolina.