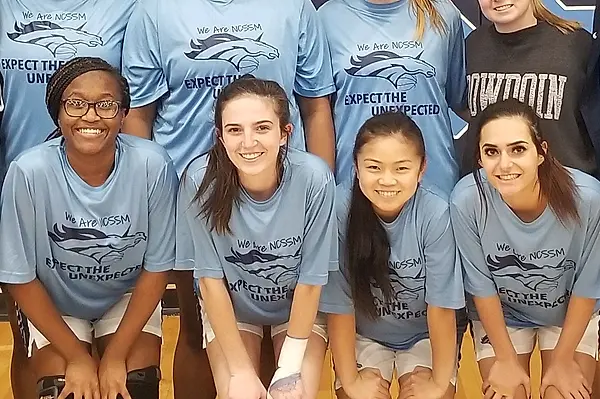 news
NCSSM women's basketball team is off to a 23-0 start
Members of the 2018-2019 women's basketball team
Note: The Jan. 29, 2019 women's basketball game will start at 5 p.m. at home. The men will tip off after the women's game ends, around 6:30 p.m.
NCSSM women's basketball is undefeated deep into the season with a 23-0 record and is on track to win its first-ever regular season conference championship.
"This is the best ever," says Greg Jarvis, NCSSM Director of Physical Activity & Wellness. "We've never had a [regular season] conference championship in women's basketball."
Sparking the Unicorns' magical run are seven returning seniors — Laila Barnes, Cora Brown, Kylah Davis, Shannon Hunter, Anna Kuzma, Hannah Matthews, and Aneesha Manocha — from last year's team that finished second in the conference and made it to the second round of state playoffs.
Head coach Taurean Newton, in his third year with the team, credits the experience of these returning players and the team's diligence in the off season for their success so far. 
"We had a lot of experience coming back, and that helped us transition into this year," he said. "We had high expectations with how the season ended last year. I think the players came in focused, motivated, ready to play."
At the end of last season, the team set themselves a few goals for this year: Win the regular season conference championship, beat Bartlett Yancey High School, and advance beyond the second round of state playoffs. (Last year they lost three times to Bartlett Yancey and came in second to them in the conference.) 
Now, with only four games left in the regular season, the Unicorns are in first place in the Mid-State 2A conference. On Jan. 8 they beat Bartlett Yancey 59-15. And if they hold onto their first-place conference standing, they'll be assured a No. 1 seed in state playoffs.
To explain their success this year, athletic director Jarvis points to the team's balanced composition. 
"We have some shooters, and then we've got players who can put the ball right back up again if they miss, which is really good."
On Jan. 14, senior center Laila Barnes scored her 1,000th point in a game against Falls Lake Academy. She is the daughter of two NCSSM alumni, Maurice Barnes '91 and Ajiri Smith Barnes '90. 
After a recent win at Reidsville, Rockingham Now wrote that Laila was "virtually unstoppable in the post" and "equally impressive blocking shots and pulling down offensive and defensive rebounds."
Come support the Unis
The team's next game is Tuesday, Jan. 29 at 5 p.m. at home against cross-town rival Durham School of the Arts (DSA), and Coach Newton urges students and staff to come support both the women's and men's teams. 
"We'd love to have students and staff come out," he said. "We'd love to have a crowd."
Friday, Feb. 8 will be Senior Night and Alumni Night for both the women's and men's teams. Alumni are invited to come cheer on the Unis at home against Cummings. There will be a reserved section for alumni. Women tip off at 6 p.m., with the men's game following about 7:30 p.m. 
Admission is free for faculty, staff and students. Admission for family and visitors is $6 for both games.
See schedule and results here.
Share this post.