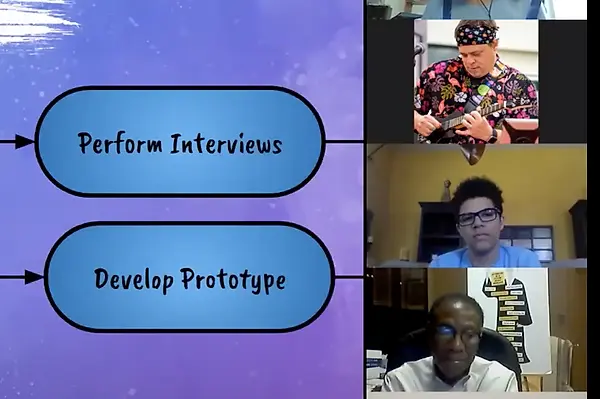 news
NCSSM summer programs reach more than 1,100 students
Nearly 250 NCSSM residential and online students participated in the Summer Research & Innovation Program (SRIP) this summer, working remotely from across the state of North Carolina. Residential student Sarah Motteler '21 studied Java user-based recommender systems as part of SRIP's Summer Research in Computer Science course.
As summer academic programs throughout the country canceled amid the pandemic, leaders of six NCSSM summer programs found ways to shift them all to virtual formats to challenge, enrich, and prepare some 1,100 students.   NCSSM's summer experiences reached a diversity of students, with certain programs focused on inspiring those from underrepresented groups, such as Black, Hispanic, and Native American students, to consider STEM pathways. And though the school always strives to expand students' horizons by offering a global perspective, the stay-at-home model challenged summer program participants to take a closer look at the world right outside their own door.    "Before COVID, some would have said we can't deliver an NCSSM experience without the signature 'living and learning community' component," said Melissa Thibault, NCSSM's Vice Chancellor for Distance Education and Extended Programs. "But now we know students can leverage the passion of mentors and instructors at a distance, expanding the potential for collaboration well beyond the Triangle and opening up the possibilities for students to see, perhaps for the first time, that their rural community or hometown and its surrounding economic and natural resources are assets, expanding the scope of partnership and opportunity statewide."   Though unexpected at the beginning of the year, the transition from in-person to remote instruction proved a valuable learning experience, instructors and students said.   Virtual research experiences helped students discover, grow, and develop said Katie O'Connor, Vice Chancellor for Academic Programs at NCSSM: "We are enthusiastic to take what we have learned from this innovative transition to implement for future summers to expand the number of NCSSM students we serve."  
Here's a look at how six NCSSM summer programs adapted to meet the challenges imposed by the pandemic:
Summer Bridge students presented findings from their one-week study of lichen under the direction of NCSSM biology instructor Dr. Erin Quinlan.
Summer Bridge
NCSSM has for several years offered the
Summer Bridge
program to provide rising juniors in the residential program the opportunity to experience NCSSM's unique and rigorous approach to mathematics, science, and the humanities and get a headstart on what might otherwise, due to differences in preparation, be a challenging transition. Though typically an extended residential offering, this year's program was moved to remote instruction and shortened to nine days.    While the program was shorter, it was no less powerful. From their introduction to NCSSM's inquiry-based program in mathematics, to their analysis of lichen in the science program, to their humanities course where they encountered NCSSM's interdisciplinary approach to the humanities, students had multiple opportunities to sample NCSSM's broad curriculum.    Della Crawford, a Wadesboro native from Anson County Early College, was a bit uneasy as she anticipated her first days as an NCSSM student. "Bridge has been instrumental in my transition to NCSSM," Della says in a post-program video recorded from her home. "Bridge has helped build my confidence so much. Not only was I academically challenged, but I had the opportunity to meet so many intelligent and kind people. Being in that environment where you're challenged but also supported by your peers was really helpful."   As has been the case since 2014, the Summer Bridge program was supported in part by generous donations from chemistry instructor Bob Gotwals and his mother, Ruth Gotwals.    
Students in NCSSM humanities instructor Jason Lineberger's Summer Leadership experience immersed themselves in the District C collaborative problem solving process, working to find ways for the Uptown Shelby Association to attract more businesses owned by people of color. At the end of the week, the students pitched their ideas to the Association and local leaders.
Summer Leadership and Research Program
Another program that helps incoming juniors get a jump-start on their NCSSM life is the
Summer Leadership and Research Program
, which introduces underrepresented minority students nearing their debut in NCSSM's residential or online program to the wide range of opportunities for academic and personal growth at the school. This summer saw a record number of participants, all of whom chose to focus on one of five available virtual research topics, from a hypothetical zombie apocalypse (a timely public health exploration) to the role of forensic science in criminal justice. Students also joined online discussions with Ph.D. candidates of color as well as faculty and staff of NCSSM.   Rising junior Rochelle David, from Wake Young Women's Leadership Academy in Raleigh, participated in the biodiversity track, spending the week in her own backyard, where she investigated the role that pH levels in exposed foods play in attracting flies.    "My experience with the Summer Leadership and Research Program at NCSSM was definitely a one-of-a-kind experience to be part of," the aspiring wildlife biologist and conservationist said through email. "Being in this research course helped me get back outside and learn more about life all around my community. If I could, I would do it all over again."   
In her SRIP showcase video, Tara Hinton '21 discussed her research on how the restoration of Black churches in rural Western N.C. could contribute to building inclusive narratives of the region.
Summer Research & Innovation Program
Thanks in part to the addition of incoming juniors (a program first) and the generous support of Burroughs Wellcome Fund, NCSSM's
Summer Research & Innovation Program (SRIP)
also saw the most participants in its history with nearly 250 NCSSM residential and online students from all across the state engaging in two- to five-week experiences. Switching from the in-person research experiences typically hosted by NCSSM instructors and off campus with researchers around the Triangle to an all-remote program was an incredible feat given the number of students, instructors, and mentors involved in 11 different programs across the academic spectrum, said Sarah Shoemaker, NCSSM's Director of Mentorship and Research: "It was a bit of a miracle."   Engaging in innovation was not limited to SRIP students but was also embraced by the SRIP faculty as they rapidly transitioned nine research programs within SRIP to virtual formats and added two new programs to serve the original 174 rising seniors and an additional 70 incoming juniors. Students participating in the Glaxo Summer Research Program in Biology and the Engineering Research and Development program received research kits in their mailboxes, which allowed them to remain hands-on. Students in the Summer Mentorship program benefitted from mentors' willingness to offer virtual research opportunities. A
short course on computational science and COVID-19
, with daily presentations and almost 20 computational labs, was also offered during SRIP.   Tara Hinton, a senior from Smoky Mountain High School in Webster, N.C., participated in NCSSM humanities instructor Dr. David Cantrell's Summer Research in Humanities program, conducting independent research on how the restoration of Black churches in rural Western N.C. could contribute to building inclusive narratives of the region.    "Despite being online," Tara said of her summer work, "I explored new ideas through a multitude of mediums and analyzed and interpreted a wide range of texts, but, more importantly, I learned to practice the art of listening — to engage humbly and compassionately with the world through research, to direct natural curiosity to truly listen to the lived experiences of others and, in doing this, open my heart and mind to new connections."   Program participants shared their final projects with the larger community in the virtual
Summer Research & Innovation Showcase
.  
Students in NCSSM physics instructor Charlie Payne's "Quantum to Cosmos" Summer Accelerator course gathered on Zoom to welcome guest speaker Jackie Bondell, live from Australia. Formerly a physics instructor at NCSSM, Bondell works at Australian research center OzGrav and shared cutting-edge information on gravitational waves. Bondell showed a video of family and friends performing a "socially distanced version of a gravity well demo," using tightly stretched cloth to create a 2D model of the 4D fabric of space time.
Summer Accelerator and Early Accelerator
NCSSM's
Summer Accelerator and Early Accelerator
programs, which typically include a week on campus at NCSSM-Durham or Brevard College in Western N.C. (with overnight stays for older students), went completely online this summer. NCSSM offered 49 one- to three-week courses — more courses than any summer before. From early June through late July, more than 600 rising 5th- through 12th-grade students from six countries, 17 U.S. states, and 61 N.C. counties studied topics including epidemiology, the power of fermentation, math puzzles, and video game creation.   "One of the challenges was how do we still make this the Accelerator experience that people are used to?," said Julia Fiore, NCSSM's Outreach and Summer Programs Coordinator. "We really wanted to make sure that the students had that sense of community" and got to interact with each other outside of class.   So, while there were no trips to Durham Bulls games this summer, student life staff hosted yoga, brain games, scavenger hunts, trivia, drawing games, and more — all over Zoom. And Fiore credits NCSSM's Teaching, Learning and Curriculum (TLC) team for providing great training to instructors, some of whom had never before taught online. In Shannon Hardy's "Design for Change: Environmental Justice" Early Accelerator course, fifth- and sixth-graders learned about the Design for Change framework and discussed problems in the world that they wanted to solve. Then in small groups, they chose a goal to work on for the week — from improving air quality to ending racism — connected their goals to the United Nations' goals for sustainable development, conducted interviews, and thought about local solutions.   
Early Accelerator student MJ (lower right) speaks with Rev. Dr. William J. Barber II, whose son, William J. Barber III, graduated from NCSSM in 2009.
One student, MJ, was so inspired that later in the summer he arranged a conversation about ending racism with Rev. Dr. William J. Barber II, a national social justice figure and president of Repairers of the Breach and co-chair of the Poor People's Campaign, inviting his classmates to listen in on Zoom.    When MJ asked Barber, "What can we do as children to end racism?," Barber smiled and told them, "I knew you were going to ask a hard question. … I want to encourage you and other students to never lose your idealism when you look at the world. You all know that you all play together, you study together, and you know that we don't have to be divided by race. And I want you to hold on to that even as you grow because there are going to be systems and forces that will try to teach you otherwise. … Your generation will have the opportunity, and you have it now, to say to this world, 'We're all friends; we're all family; we're all one human race, and it's timeout for 400 years of racism."   And in NCSSM humanities instructor Dr. Graham Culbertson's "Ethics in AI" Accelerator course, an abbreviated version of a class he'll be teaching in NCSSM's residential program in the spring, students learned that artificial intelligence is ethically complicated. After reading about and discussing ethical dilemmas, they wrote and acted out skits to debate the use of AI in hiring processes and in critical medical decisions.   Dr. Amanda Martyn revealed that despite this summer's obvious challenges, there was joy in the virtual classroom. Of her "Epidemiology and Public Health" Accelerator course, she wrote, "I had a fantastic experience with the students. While COVID-19 got in the way of this being more personal and interactive, I think the students coped well… They were all attentive, eager to participate and enthusiastic about the material, which is a breath of fresh air for an instructor."   Proceeds from Summer Accelerator and Early Accelerator programs are used to support tuition-free programs including Summer Bridge and Step Up to STEM.  
Pam Diggs (pictured top left), Program Manager for Community and Diversity Engagement at Blue Cross NC, and Khaylah Epps (middle left), Program Manager Associate at Blue Cross NC, joined a career panel discussion with Step Up to STEM students.
Step Up to STEM
The theme of this summer's
Step Up to STEM
program was — most appropriately — "Curiouser and Curiouser: STEM Investigations in a Topsy Turvy World." The one-week program, open to underrepresented minority (URM) students from across the state, aims to help students build skills in science, math, and communications through exciting, real-world subjects. And for the second summer in a row, the program welcomed not only rising ninth-graders, but also last summer's participants, returning for a second year as rising 10th-graders.   During Step Up to STEM's opening ceremony, alumni shared experiences and advice. Among them, Isaiah Hamilton from rural Camden County, NCSSM Residential Class of 2020, told the younger students: "I saw my trajectory really shape up when I first attended Step Up to STEM. The courses were really embracive, and they encourage you to be a free thinker and be autonomous in your learning … and that's something that I really had never experienced prior."   Of his plans to double major in biology and political science at Duke and become a surgeon, Hamilton said, "I think a lot of those aspirations, or just higher education goals, really stem back to Step Up to STEM, no pun intended."   While the 9th-grade cohort rotated between math and forensic science courses, the returning students chose between two topics — fake news in pop culture, or viral genetics and food insecurity in the time of COVID-19. With mornings spent in class, the students also attended afternoon activities, including escape room icebreakers, sessions on NCSSM and college admissions, and a panel discussion with URM professionals.   During afternoon career panels, employees from Credit Suisse, G1 Therapeutics, Lenovo, Red Hat, and Blue Cross and Blue Shield of North Carolina answered students' questions. In one Zoom breakout room, Israel Dias, a product engineer with Lenovo, joined the panel from the company's Morrisville data center, taking students on a virtual walking tour of the data processing machines around him, while Jennifer Salinas, head of global litigation for Lenovo, shared her advice on what it takes to become successful in the U.S.   These panels were a chance for students to seek advice from someone who might understand what it's like aspiring to be a first-generation college graduate, to ask about technical certifications, or to learn the difference between the work of a social worker and that of a Blue Cross program manager working on health disparities. And many of the students were eager to stay in touch with the panelists afterward.   Funding from Blue Cross NC and Red Hat supported Step Up to STEM's transition to an online format, including training and support for instructors, purchasing and mailing supplies for virtual labs, and supporting evening enrichment activities, and also enabled the program to purchase a lab coat for each participant.
Summer Ventures in Science and Mathematics
NCSSM's Distance Education and Extended Programs Division continued to coordinate the
Summer Ventures in Science and Mathematics
program, providing admissions services, program enhancement, administrative coordination, evaluative services and communications support. The no-cost, state-funded program hosted by universities throughout the state serves academically talented N.C. students who aspire to careers in STEM fields.    This summer, 204 rising juniors and seniors from the mountains to the coast conducted independent research under the virtual guidance of program faculty members based at Appalachian State University, UNC-Charlotte, UNC-Wilmington, and East Carolina University.    "It was difficult to translate the hands-on experiences that Summer Ventures is known for into an online format," says Lori Tyler, Director of Summer Ventures at Appalachian State, who, along with faculty member Scott Taylor, marked her 30th year with the program. "I have to commend and fully acknowledge all of the hard work and effort that the research faculty and student life instructors expended this summer. The overall online program exceeded my expectations and I was pleased by the quality of engagement among the faculty, staff, and students."   Pranav Kosuri, a junior from Green Hope High School in Cary, conducted research on the effects of dopamine on neurological disorders through Appalachian State.    "Academics aside, the camp did a great job at matching the closeness that an in-person camp would have," he said. "The balance between working on projects and having fun was nicely managed. I think Ms. Lori did a great job organizing the camp and it is truly something that I will never forget."   ~ ~ ~   Summer 2020 was unusual. The ability of the NCSSM community to respond was not. Schools, mentors, students, and families throughout the state all came together in new configurations to ensure the continuity of the NCSSM experience.    "This year, summer programs students built their community of peers, developed as scholars, and experienced discovery, all without setting foot on campus," Thibault says. "What remained a constant was supportive and inspiring programming and access to their peers who aspire to solve problems, pursue answers, and remain curious."  
Beatrice Moss, Assistant Director of Communications, contributed to this story.
Share this post.