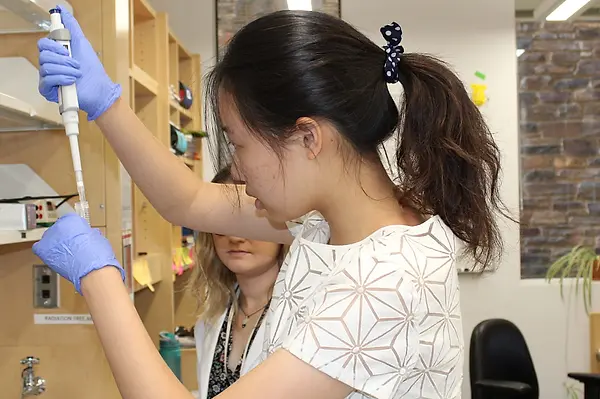 news
NCSSM Students Gain Full-Time, Professional Research Experience During Summer Mentorship
Read a Q&A with Carly Hester, Summer Mentorship student. Read a Q&A with Anika Suman, Summer Mentorship student.
Read more stories about students' experiences in SRIP 2022.
This summer, Tochukwu Aniekwensi spent five weeks researching hydrodynamic systems that have analogous qualities to quantum mechanics under the guidance of the Director of the Physical Mathematics Laboratory at the University of North Carolina at Chapel Hill, Dr. Pedro Sáenz.
"[This research is] novel because it's conceptualizing quantum mechanics in a different light," said Aniekwensi. "Through what we can see with the human eye, which can lead to a better understanding of what the quantum world really is and what it can be."
Aniekwensi is taking part in the North Carolina School of Science and Mathematics' Summer Mentorship, part of the Summer Research and Innovation Programs (SRIP).
During Summer Mentorship, NCSSM residential and online students live on the Durham campus while they participate in research at partner universities and laboratories full-time for five weeks.
Summer Mentorship enables high school students to get real-world, professional lab experiences that most do not have access to until well into their undergraduate or graduate careers.
"We teach students about research, communication, and self-efficacy," said NCSSM Instructor of Mentorship and Research Dr. Josh Fuchs. "There's a lot of confidence-building because, for most of the students, this is their first time doing research and definitely their first time in a professional research environment."
Dr. Charles Parker works as the director of the Nanomaterials and Thin Films Lab at Duke University. A graduate of NCSSM, Class of 1992, Parker has served as a mentor for NCSSM's mentorship programs for a decade. He says that the biggest takeaway for students is confidence-building and resilience.
"The thing that's most rewarding is helping students develop resilience to failure," he said. "There's a joke – 'they call it research because it doesn't work the first time. Otherwise, they'd call it search.' At the end, they usually have something that they're proud of from a work-product standpoint. But more importantly, they've learned something about themselves and how they work."
This summer, Parker mentored Scarlett Francini, who worked in his lab to develop a Graphical User Interface (GUI) to enable testing of a miniature mass spectrometer underwater in the Duke Marine Lab.
"My overarching assignment is to be able to determine the methane calibrations for what the mass spectrometer will encounter, so that when a sample is tested from the water we will be able to identify methane," said Francini. "This summer I worked on developing a GUI that interacts with the gas delivery system, which allows us to test samples."
Parker described a moment that illustrates the growth students gain through the mentorship experience. When Francini encountered an issue getting the gas into the system, they worked together on a troubleshooting process. Parker and Francini collaborated on a list of all the possible things that could be going wrong, and then Francini worked on her own to prioritize the likeliest issues and found the solution on her own.
"At the beginning of the summer she learned about the different parts of the system, how they worked together, and what her role in the system would be," said Parker. "And by the end of the summer, she was able to say, 'Okay, this is a priority. These are the things we should try first because the solution will probably be here.' It's the process of going from not knowing to understanding well enough to be able to contribute in a real way."
"This really opened my eyes to what being a researcher is like," said Francini. "[I learned] my capabilities as a researcher and the understanding of what working in a lab is….You can take away a lot from this experience more than just technical skills that you learn. Whether that is learning about the research experience or communication or the mentor-mentee relationship."
Aniekwensi drew resilience from passion and dedication.
"The biggest takeaway from my summer mentorship is that research is not a linear process in any regard," he said. "There are constant ups and downs, periods of steady results and progress, and other periods where there are serious setbacks. But, I have learned that as long as you stay dedicated to the process and project, you can push past any setbacks you may face."
For NCSSM students who are considering applying to take part in mentorship, the consensus from students and mentors is to go for it.
"I would say apply," said Dr. Briana Simms, post-doctoral associate in the department of Biomedical Engineering at Duke University, who served as a mentor this summer. "And that doesn't mean just go for this. No matter what it is in life that you want to apply for, apply for that thing…The worst thing anybody can ever say to you is no…It's a unique opportunity for junior scholars to really dive into a field that they're interested in, and really get some hands-on learning experience and really get to see people that do this every single day and what their day-to-day job looks like…Not many high school students get to say that they went and did research, let alone at Duke University, or at UNC or NC State or any of the other partners."
Aniekwensi says that those considering mentorship should ask questions and use the program to make connections. "Try and communicate with…mentors and peers as much as possible and build friendships with these people," he said. "What stands out to me is the passion present in my lab. I feel that this genuine interest in the field rubs off on me so that I myself have become dedicated to a project and garnered a level of commitment that the other people in the lab have."
Explore the Durham-hosted Mentorship Program