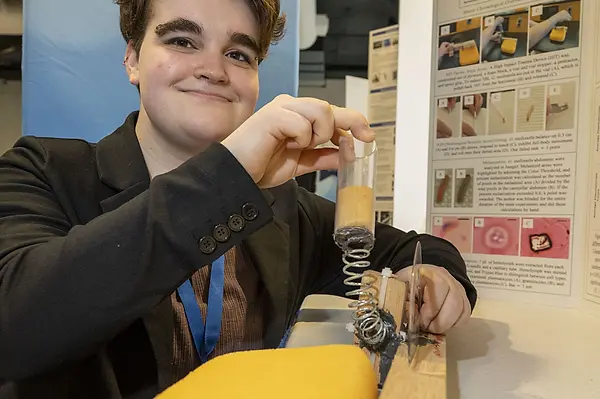 news
NCSSM senior places fifth in national science and math competition
NCSSM-Durham senior Linden James has been named one of 10 winners in the 2023 Regeneron Science Talent Search competition, finishing fifth out of nearly 2,000 students from throughout the United States, its territories, and four other countries who entered the competition months ago. A previous round of the competition saw 11 NCSSM students named Scholars, placing them among the top 300 students. Linden and three other NCSSM seniors – Kamisi Adetunji, Angela Chen, and Ozioma Obi – were among the 40 named Finalists who spent a week competing in the final round in Washington, D.C.
The competition is owned and produced by Washington, D.C.-based Society for Science and is the nation's oldest and most prestigious science and math competition for high school seniors. In addition to the top-five finish, Linden's research into using a thyroid hormone to treat traumatic brain injuries in humans – using a caterpillar as the model organism – also garnered a $90,000 scholarship award.
"To me, science means applying my curiosity and exploring the nuances of an issue close to my heart," says Linden, who identifies as non-binary. "I am hopeful that my achievement will inspire future young, queer scientists to challenge themselves and make the world a better place."
"The Regeneron Science Talent Search Gala was the culminating event of a fantastic week for our four Regeneron finalists," said NCSSM Chancellor Todd Roberts. "Congratulations to all of the finalists for their amazing work and to Linden for a fifth-place finish! Congratulations, too, to our scholars' faculty mentors for their incredible support in what has been a historic year!"
Maya Ajmera, President and CEO, Society for Science and Executive Publisher, Science News, and a 1985 graduate of NCSSM herself, praised the winners in a press release. "Congratulations to the winners of the Regeneron Science Talent Search 2023," she said. "These young leaders are the stewards of our future. I am in awe of their creativity and conviction."
Over the last 10 years, North Carolina has had 99 students named Science Talent Search Scholars. Of those, 78 have been NCSSM students. Only two other schools over that timeframe have had more. In fact, NCSSM as a school has bested 43 entire states with its number of Scholars in the last decade.
"The finalists' ability to engage with others, to share their curiosity, to challenge the limits of their knowledge, and their desire to make the world a better place is what makes them all winners," said Amy Sheck, NCSSM's Dean of Science.
Sheck praised Linden and Linden's mentor, NCSSM biology instructor Dr. Heather Mallory.
"Linden's brilliance, vision, and work ethic are widely acclaimed in the NCSSM community. Dr. Mallory, an ecologist and evolutionary biologist who started teaching Research in Biology in 2020, is a wonder who has only just begun!" she said. "There is no denying the synergy that comes from putting talented and motivated students in a classroom with a teacher who is trained as a scientist."
"Linden was everything a finalist should be: a brilliant scientist, a well-rounded student, and an empathetic human who works daily to improve their community," Mallory said. "They don't just talk about making the world a better place, they take action to do so. I am so grateful to have had the opportunity to work with Linden, and I could not be happier for or prouder of them!"
To the surprise of some, Linden's career plans don't involve bench science. "People have been asking me why I intend to pursue a career in policy over a career in the lab," they said. "In my opinion, these two fields aren't as different as they might seem. The critical thinking skills, knowledge, and confidence this experience has awarded me will aid me in any field I choose to pursue. In that sense, I will always be a scientist."
Learn more about the students' projects in the 2023 Regeneron Science Talent Search Virtual Public Exhibition of Projects.