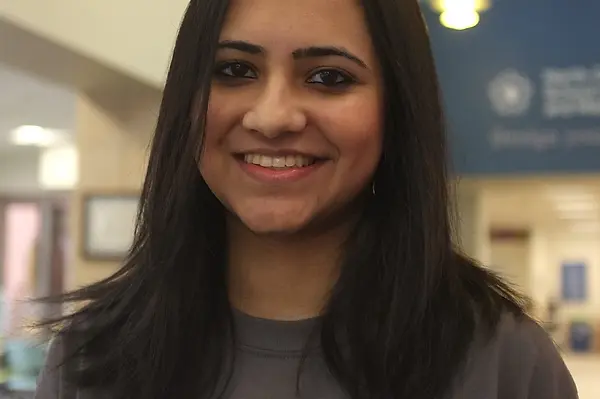 news
NCSSM senior Navami Jain selected as Regeneron Science Talent Search finalist
Navami Jain '19
NCSSM senior Navami Jain was off campus, searching desperately for the site of a college admissions interview that started in less than ten minutes, when the same unfamiliar number kept calling her phone. In a slightly panicked state, she answered. "I had no idea who was calling, so I was like, 'I only have two or three minutes to talk.' "
That was more than enough time; on the other end was Maya Ajmera '85, president and CEO of Society for Science & the Public and publisher of Science News, calling to tell Navami that she was one of 40 finalists chosen from nearly 2,000 participants in the Regeneron Science Talent Search, which the Society organizes. Along with national acclaim, each finalist is awarded at least $25,000.
"I was so shocked," Navami says. "I just stopped walking."
Devoted to science since middle school, Navami began her award-winning research into converting agricultural waste products into fuel-grade ethanol in India, where she spent summers with her grandmother and grandfather, a retired biochemist. The summer before her freshman year at Myers Park High School in Charlotte, Navami interned in a biochemistry lab where researchers were trying to repurpose India's plentiful sugar cane waste into biofuel. Immediately she was hooked on the process of scientific discovery.
Two years later, that passion for scientific research led her to NCSSM.
"One of the major factors that drew me to NCSSM was the different research opportunities, the prospect of continuing what I had started that summer in India," Navami says. "You're given the funding and the space to pursue any research project you're interested in."
Navami spent her junior year in NCSSM's Research in Chemistry course with Chemistry Chair Dr. Michael Bruno, refining the idea she had formulated in India. The following summer, she began her research in depth during NCSSM's Summer Research program and continued it into the school year during the second half of the Research in Chemistry course.
"I'm impressed with the amount of mental effort Navami put into this project," says Bruno. "It was her design, all her effort. Typically, many of the finalists have done their work with mentors at universities with university resources. But Navami took an honestly complex project and crafted it into a project that was attainable in a high school lab. That's not an easy thing to do. "
Ajmera was impressed as well. "As an alumna of the North Carolina School of Science and Mathematics and the Science Talent Search, I was elated to be able to call Navami myself to share the good news!" Ajmera said. "She is poised to be a future leader in the scientific community."
"I'm super nervous," Navami says of the upcoming STS finals to be held in Washington, D.C., March 7-13, where 10 students will be recognized for their work, "but I'm also really grateful to my mentors; Dr. Bruno has guided me throughout this entire process in Research in Chemistry, and my family, my parents, and my brother [who was also in the RChem program when he was a student at NCSSM] have also been really supportive."
Navami made it to her college interview just in time, her mind still spinning with the news that she had just beaten incredible odds to become a Regeneron finalist. But she couldn't celebrate just yet, not with that big college interview right in front of her. "I tried to block it out as much as possible," she said.
And block it out she did, at least until the interview was over. Then she called her mother. "Mom," she said, "I just got a call from Maya Ajmera. . . ."
Share this post.