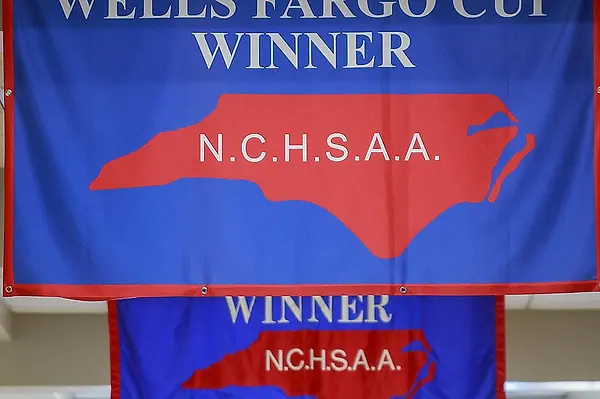 news
NCSSM second in Wells Fargo Cup standings as spring season begins
NCSSM has a History of strong finishes in the Wells Fargo Cup.
"Athletic powerhouse" may not be the first thing to come to mind when one thinks of NCSSM. The school mascot is a unicorn, after all. No one gets rolled by a unicorn. Except that, well, sometimes they do. NCSSM's current second place standing in the race for the Wells Fargo Cup proves it.
The Cup, presented by the North Carolina High School Athletic Association (NCHSAA) along with sponsor Wells Fargo, recognizes the North Carolina high schools with the best overall interscholastic sports programs in the 1A, 2A, 3A and 4A classifications. Individual teams receive points on a sliding scale for top eight finishes in state championships in their given sport. The school with the highest cumulative number of points in each classification at the end of the year claims the Cup.
NCSSM has a history of strong finishes in the program, typically coming in with a top-five position in its division. Since joining the 2A classification in 2013-2014, NCSSM has one second place and one fourth place finish to go along with its current second place position (out of 99 high schools). As a 1A school in years prior, NCSSM finished fourth in 2012-2013,  second in 2010-2011, and shared the Cup with a tie for first  in 2011-2012.
NCSSM offers 21 varsity sports (24 are offered in the NCHSAA), including diving, a sport not as common among other schools in the 2A classification. And a large portion of NCSSM students are athletes. Nearly 150 out of 680 students on campus participate in athletics each term, with perhaps as many as 250 students playing on at least one team each year.
Teams at NCSSM have to coalesce very quickly, says Athletic Director Greg Jarvis, as the school serves only juniors and seniors. Because students live and study together on campus, however, teammates have the chance to bond almost immediately. That sense of family, along with a sense of motivation common among many NCSSM students, leads to success on the fields of play, he says.
As for winning championships, "It's not their first priority," says Jarvis. "Most of our students play sports as a form of stress relief. You have some students who excel individually in team sports, and so they may push hard to win an individual championship, but really, it's not who we are. It's academics first and foremost here."
While fall is typically NCSSM's strongest athletics season — soccer and cross country teams have each won state championships in recent years — the spring season is now underway and finds NCSSM within striking distance of the division leader.  If history is any indicator, it's sure to be an exciting end to the race for the Cup.
Keep up with NCSSM Athletics on their website, Facebook, or Twitter.