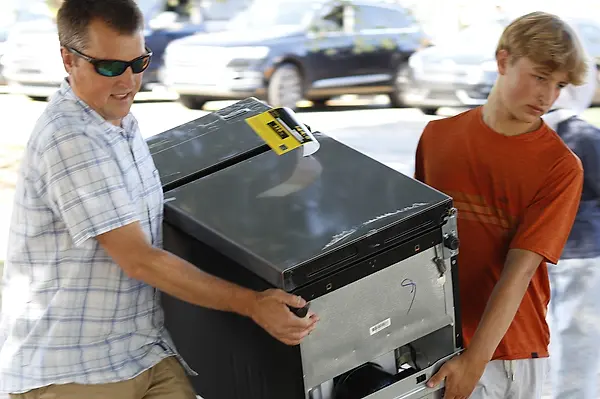 news
NCSSM Residential juniors arrive on Durham and Morganton campuses
Incoming NCSSM Residential students and their families criss-crossed North Carolina on Saturday, Aug. 11, no doubt passing each other on the state's highways as they traveled to Durham and Morganton for Junior Move-In Day. Around 350 students arrived in morning and afternoon shifts in Durham, while some 150 made their way to the Morganton campus.
The scene on both campuses was one of energy and activity, with faculty, staff and senior leaders lending hands and helping new students find their rooms.
Sam Kowalak, from Hendersonville, NC, took a brief break from squaring away items in the dorm room in Durham he'll share with two other students. "I was nervous in the beginning," he said, "but you know, meeting everybody and everything now, I'm just getting more and more excited to be here and be a part of it."
Across campus, Kaylee Evans, of the Haliwa-Saponi tribe in Hollister, NC, stepped over and around boxes and luggage as she made her way into the hallway.
"It's been a little nerve-wracking," Kaylee said as new hallmates she had yet to meet squeezed by with boxes and bags of their own. "I'm starting to feel a bit more comfortable, though, as we unload things."
With the South Mountains a picturesque backdrop in the distance, NCSSM-Morganton's newest arrivals marked another first for the campus: a fully enrolled student body. This doubling of enrollment since the campus welcomed its inaugural class in fall 2022 will allow NCSSM-Morganton's academics, student clubs, athletics teams, and an even greater sense of community, to fully flourish.
Claire Slusser, an NCSSM-Morganton junior from Mooresville, NC, best framed expectations for all NCSSM students for the coming year: "I'm excited," she said. "For what, I don't know, but I'm excited!"