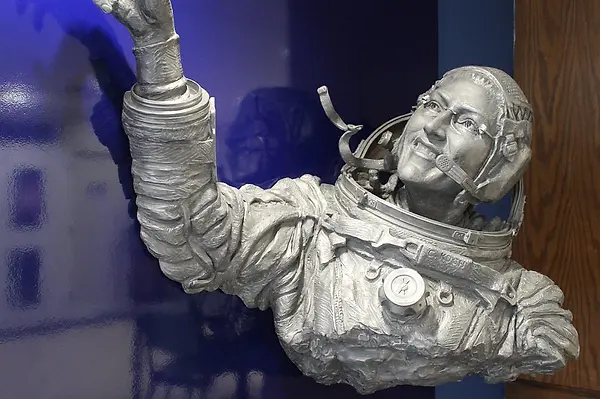 news
NCSSM recognizes alumna with unveiling of sculpture
The sculpture of Christina Koch, gifted to NCSSM by Wofford Sculpture Studio, resides in the school's Bryan Lobby.
NASA astronaut Christina Hammock Koch '97 is without question NCSSM's highest-flying and most well-traveled alumnus. Alongside the school's most recent Board of Trustees meeting, she was recognized for her accomplishments with a formal unveiling of a sculpture of her in a space suit displayed in the Bryan Lobby, which serves as the main entrance of the NCSSM-Durham campus. As a trustee, Koch was on hand, along with her mother and several other immediate family members, to receive the honor.
While a student at NCSSM, Koch had pink hair. Today, that pink-haired teenager is a nine-year NASA veteran and one of 18 individuals on NASA's Artemis Team, the initial cadre of astronauts training for NASA's 2024 moonshot. In time, the final group of moon-goers will be selected from this team.
Prior to being named an Artemis astronaut, Koch spent nearly 11 months working as flight engineer on the International Space Station, arriving there in March of 2019 and returning to Earth in February of 2020. The 328 days she spent orbiting some 240 miles above the Earth was the longest continuous time in space by a woman. Koch circled Earth nearly 5,250 times.
The monument was created by sculptor Wesley Wofford who, along with his wife, Odyssey, run Wofford Sculpture Studio. They gifted the sculpture to the school in appreciation of the education their son Sawyer '18, and daughter Avery '20, received at NCSSM.
NCSSM's chancellor, Dr. Todd Roberts, spoke briefly to recognize Koch and the sculpture's creators. "We are happy to be able to honor Christina with this incredible sculpture commemorating her record-setting time on the International Space Station," he said. "We are honored, too, that the amazing artist Wesley Wofford, his wife Odyssey, and their children were so inspired by Christina and what she and the school do to inspire North Carolinians that they wanted to give back to the school in such a meaningful way."
"An incredible opportunity," is how Odyssey describes their children's experience at NCSSM. "For them, it was like being given a golden ticket for your future. We are just so grateful for the education and the support they received while they were there. And so, we were trying to think of a way that we as a family, with our business, what we could do, just to show our gratitude and our appreciation for that school."
Koch expressed to the trustees and guests her sincere gratitude and said she hopes that her likeness serves not to mark any particular professional achievement but will stand as an inspiration to have the courage to follow one's aspirations, even through doubt, mistakes, and injustice. Failure, she noted, was just as much a part of the journey as success.
It took nearly a year to create the piece. Throughout the process, Wesley worked closely with Sawyer, who used his skills as a robotics engineer to create digital models and 3D-printed forms of various parts of the sculpture that were later used to create molds for the sculpture casting. Odyssey scoured the internet, researching information about various components of the sculpture, particularly facets of Koch's Russian-made Sokol launch suit (Koch rode to the space station on a Russian Soyuz rocket). Surprisingly, Odyssey found one of the space suits for sale online and communicated with the owner to get technical specifications for reference.
The sculpture for Koch's face, however, was crafted by Wesley entirely by hand from clay. In close consultation throughout the process with Koch's mother, Barbara, Wesley closely studied public images of Koch available online and family photos shared by her mother to create a likeness that accurately reflected Koch's features expressing a sense of wonder and joy.
"It's technically interesting," Wesley says of the process, "because it's a collision of science and math and art."
Before the ceremony concluded, Wesley and Odyssey presented Koch with a miniature replica of the full-sized bust on display in the Bryan Lobby. "Kids look to you in awe. I look to you in awe," Wesley remarked to her. "You're a modern-day Neil Armstrong."
Koch's mother took a few moments after the ceremony to reflect on her daughter's path to space. It was difficult, she said, to watch so many years ago as Koch left home in Jacksonville, NC, for NCSSM in Durham. Years later, she watched again as Koch left Earth for the space station. Perhaps most challenging, she said, was standing outside at night as Koch passed overhead in the bright-shining space station, moving across the night sky at more than 17,500 miles per hour. "It was difficult to comprehend," she says, "that my daughter was present in that little speck of light."
Click here to see photos from Wofford Sculpture Studio of the sculpture in progress.