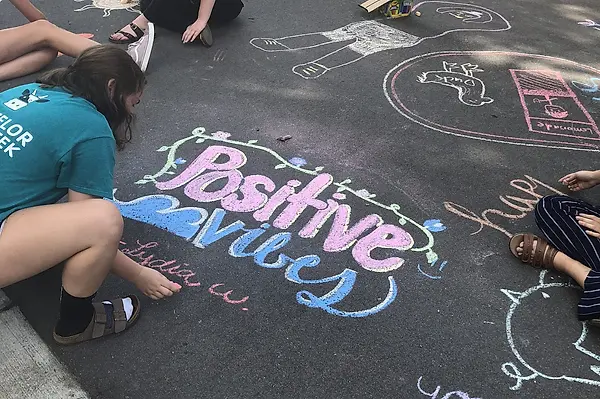 news
NCSSM reaffirms commitment to student health and well-being
Students participate in a health and wellness event on the NCSSM-Durham campus, August 2018.
For veteran NCSSM counselor Gina Burger, the 2015-2016 academic year stands out as the year things changed.
For 12 years, Burger had been working with NCSSM's students to help them arrange their academic course load, plan for college, and address personal issues that often arose from the typical stresses of life at an academically intense residential school.
But in 2015-2016, the need for acute mental health services seemed to take off.
There had been no seismic shifts in life at NCSSM, yet students began showing up in larger numbers with concerns beyond a bad grade or a difficult roommate.
"It was," Burger says, "a really challenging year."
Six years on, NCSSM is now better positioned than ever before to support students' mental health and wellbeing. A recent grant of nearly $100,000 from the UNC System will provide the school with even more resources to meet students' mental health and wellness needs.
Higher stakes
Why was 2015-2016 so pivotal? Neither Burger nor her colleague Lori Newnam,  the dean of counseling at NCSSM, have much beyond anecdotal explanations. Newnam, however, is able to speculate fairly confidently about the general origins of what she sees as a nationwide trend.
For starters, a positive reason: People in need everywhere are now more willing to seek help. "There has been, for a number of years now, a lot of effort to really reduce the stigma associated with mental health," Newnam says. "People who are, or have been, suffering in silence are now willing to talk about it, and the greater community is more willing than ever to help them." 
Burger agrees. "Here at NCSSM, counseling has gotten support from everyone," she says. "Families, the NCSSM Foundation, academic programs, the administration, they've all been very supportive and open to the students' needs."
One factor closely linked to an increase in mental health needs is social media, and its effects on depression. Being so plugged into the world around them allows students ample opportunity to be overloaded with unsettling information and unrealistic social comparisons.
Adding to that for many high school students is that the college application process has become more competitive than ever, with admissions rates at universities throughout the country going down. "That made everything – every test score, every grade, every extracurricular activity – much higher stakes in the student's minds," Newnam says. 
Underpinning it all, Newnam says, is a growing body of research indicating a general decrease in young people's ability to manage an ever-increasing level of stressors. 
The NCSSM community responded to evidence of these trends on campus. With help from the NCSSM Foundation, individual donors and the school, additional counseling staff were brought on board to meet the growing demand for mental health services. That allowed the counseling office to adopt a specialized approach to care. Where a smaller number of counselors in the past had worked incredibly hard to be all things to all people, the counseling office now has four faculty members focused on college, academic, and personal counseling, and two additional counselors addressing almost exclusively mental health needs. Outside therapists (Newnam emphasizes the point that though NCSSM's counselors are highly qualified front-line responders, most are not certified mental health therapists) have also been contracted to provide additional support.
But as fortunate as NCSSM's counseling office was to have access to additional resources –  more fortunate than most high schools, Newnam acknowledges – the pandemic presented schools everywhere with perhaps the greatest challenge they have ever faced in caring for students.
For Burger, it's like 2015-2016 all over again.
"For the last two years," she says, "kids everywhere have missed out on normal life. Those two years were part of a critical development stage in their lives and they kind of just missed out on it. Things they would have learned, skills they would have learned, experiences they would have had are somewhat delayed right now."
An opportunity to serve
When schools finally began reopening for in-person instruction earlier this year, students were suddenly thrust back into a world that now felt different than before. Many struggled to meet it head-on.
NCSSM's current residential juniors were getting their first taste of high school as ninth graders when the pandemic shut down in-person instruction. For many of them, Burger says, the introduction to the rigors of NCSSM this fall was a particular shock. 
The sudden plunge back into in-person instruction could be likened to leaping from the highest Olympic diving platform without having mastered the very basics of swimming.
In March 2021, NCSSM Student Government hosted "Spring Initiative," a weeklong program filled with activities and events for students (like chalk art, coffee, donuts, dancing, singing, and yoga). The theme was "Spring Into Self-Care," centered around mental health and holistic wellness.
There are other challenges facing students all across the country as well. The pandemic upended the financial stability of countless families, adding yet another level of stress for many students.
But as dire as it may sound, recent events have provided schools around the country with an opportunity to better serve. 
One of the first things NCSSM did to relieve pressure was alter the school's daily timetable. Classes now begin at 8:30 a.m. instead of 8 and end early on Tuesdays and Thursdays to allow students more flexibility in managing their time. Additional academic support days (days when daytime classes are suspended to give students time to work on and complete outstanding assignments) were added to the calendar, and the weekly expected course engagement hours were reduced slightly.
It's the UNC System grant, however, that will provide the most critical support to students seeking mental health services. Of the 12 proposal-based grants made to UNC System schools, NCSSM's was the largest, being funded in its entirety. It's a testament not only to the continuing need at NCSSM, but also to the school's skill in planning and implementing a program promising positive results.
"Since we don't generate revenue to support expanding mental health support services in a way that UNC System campuses do through a health services fee, we've had to be very strategic in seeking and securing those types of funds," says Terry Lynch, NCSSM-Durham's Vice Chancellor for Student Life & Chief Campus Officer. "We've been very fortunate to receive private donations to support the school's Counseling Services in recent years, and we're very excited about the opportunity this grant provides us."
Meeting the need
While NCSSM is currently contracting with three psychologists, the plan is to secure services from as many as 10 mental health providers so that any student in urgent need, or any student with barriers to accessing services, will be able to get the help they need quickly. Without NCSSM acting as a concierge of sorts, students could be forced to join waiting lists due to the overwhelming general demand for appointments or, in the worst-case scenario, completely miss out on the help they need.
For mental health services to make the biggest difference, it's important that clients feel comfortable with their provider. A mental health crisis can be a culmination of various external stimuli and often include issues rooted in cultural or social circumstances. That's why NCSSM will be paying special attention to contracting with a diverse group of providers that can provide a more personalized approach by connecting with students through shared experiences.
Effective and timely communication is also a key component of effective services. That presents a particular challenge for students whose immediate family members are non-native English speakers. To remedy that, NCSSM will also be contracting with translators who can provide immediate assistance with written or verbal communications between staff members and the families of students.
Students won't be the only ones benefiting from the resources provided by the grant. NCSSM's counselors are human, too, and not immune to many of the same stresses experienced by the school's students. Adding capacity will ease some of the additional weight currently borne by the counselors.
"Burnout in the mental health field is real," Newnam says. "That's not to say that other people's jobs aren't challenging. But I can only speak to our work, and in our work we're often talking with students about significant depression, anxiety, trauma, or family issues. We're talking to them sometimes about life or death situations. Those types of things, you know, are heavy topics to talk about, so you need to have a supportive team that has the hours and energy to give to our students, and to each other. If we're not at our best, then we can't give our best to our students. 
"If someone says, 'I need help,' whether that's a student needing a personal intervention or a fellow counselor needing help with a caseload, then we want to make sure there are people who are there to help them. And we're lucky to have a really good team. The need, though, continues to grow, and we need to always be ready to meet it."