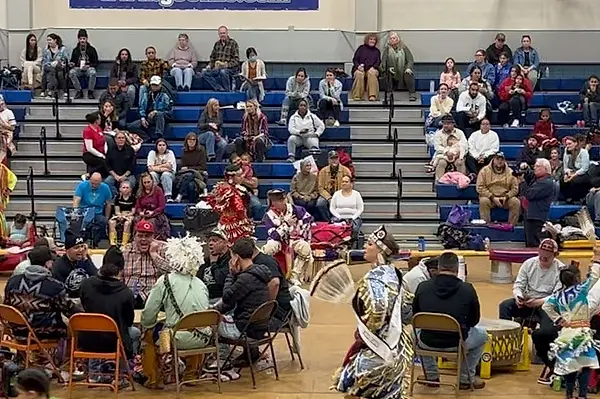 news
NCSSM Powwow draws some 1,000 participants
Dancers and singers perform during the 31st Annual Native American Powwow at NCSSM.
Nearly 1,000 people were on hand recently for the 31st Annual Powwow held Feb. 4 on the North Carolina School of Science and Mathematics – Durham campus. The event brought together Native American dancers, musicians, and artists from throughout the Carolinas and Virginia to reaffirm intertribal brotherhood and sisterhood and share with the larger community the rich history and contemporary aspirations of Native American people. By all accounts, it was the best-attended powwow at NCSSM in a number of years, both in terms of spectators and participants.
The event opened with a Grand Entry with over 100 dancers clad in a wide range of traditional and modern dance regalia proceeding into the school's Charles R. Eilber Physical Education Center to the steady rhythm of Smokey River, the event's Southern Host Drum consisting of 16 singers of the Coharie tribe from Clinton, NC. Red Clay, the Northern Host Drum of 10 singers of the Haliwa-Saponi tribe from Hollister, NC, followed with the Flag Song honoring both the American flag and the Eagle Staff — the traditional flag of Native American people. A Veteran's Song honoring all those who have served in any branch of the U.S. military also was played.
Throughout the rest of the afternoon, the dancers continued to perform, with each of the event's five drums taking their turns accompanying the performances while the singers sang traditional songs. Intertribal and exhibition dances featured different styles and categories such as the traditional dance, the grass dance, and the shawl dance. Specialty dances like hoop dances, smoke dances, round dances, and two-steps were woven into the dance program, with audience participation encouraged.
Olivia Richardson '09 of the Haliwa-Saponi tribe has regularly participated in the powwow at NCSSM since she was a student at the school and helped organize this year's event. She was recognized for her contributions to the powwow over the years with an award.
Attendees also took a moment to remember and acknowledge the leadership of Tribal Elder and former Chairman of the Occaneechi Band of the Saponi Nation, John "Blackfeather" Jeffries, who passed away Jan. 24.
Jeffries served as a chairman of the Occaneechi Band of the Saponi Nation from 1995 to 2000 and served on the tribal council until 2020. He was also a highly respected member of the NCSSM Powwow community and had been active in the event for many years.
"We are thrilled each year to host a Native American powwow, and this year's event had an amazing turnout," said NCSSM's chancellor, Dr. Todd Roberts. "It has become such an important event for our community over the past three decades, and I want to thank all of the participants this year for sharing and celebrating our state's amazing Native American community and culture on our campus."