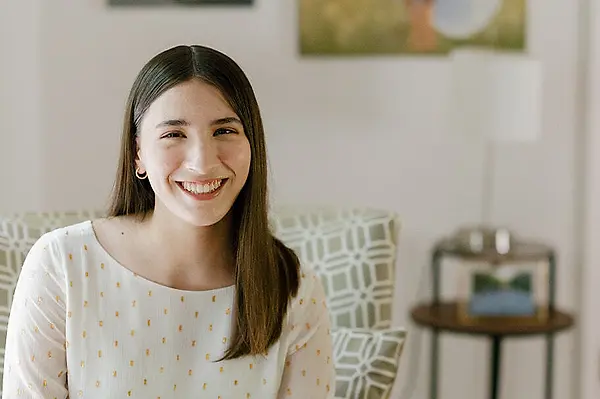 news
NCSSM Online opens doors for 2023 alumna
On the second day of her summer internship at Earth University's campus in Guácimo, Costa Rica, 2023 NCSSM Online alumna Sophia Fratta stepped out of her dorm and into the tropical heat. Around her, monkeys chattered and birds sang in the palm and banana trees as ubiquitous as the pines back home in Chapel Hill.
A small waiting golf cart took her a short distance to a nearby research field where cacao trees grew. There, gathered beneath the shade of the short but broad-canopied trees, a university employee plucked a cacao pod, cracked it open, and handed it to her. If the heat and humidity and the monkeys and the banana trees had made Sophia's brief experience so far seem like she "was dreaming," digging into the cacao pods made it real. "It was like, 'Wow, I'm really here!'" she says. And NCSSM Online played a part.
Costa Rica is the most recent stop for Sophia. Born in France, the freshly-minted high school graduate spent her earliest years in Montreal, went to middle school in Italy, then moved with her family to the United States as she was about to start high school, finally landing in Chapel Hill the summer before her sophomore year. Throughout, her parents homeschooled Sophia and her two sisters, which, with all the moving due to her father's job in renewable energy, seemed the most logical way to achieve some measure of educational continuity. And though her parents always provided Sophia with the option of enrolling in a more traditional academic setting, she chose to remain in homeschool instead.
Early on, Sophia's mother researched curriculum, acquired textbooks, arranged field tips, and taught, supported by the local homeschooling community. But as Sophia grew older, she began to assume more responsibility for her studies. By middle school, she was enrolling in online and in-person courses taught by certified teachers and often proceeding at her own pace through science textbooks provided by her mother.
While Sophia excelled in her courses, finding opportunities beyond the school day was challenging. With no built-in guidance counselor support system like those found in traditional settings, Sophia and her mom had to put forth additional effort in search of extracurricular opportunities.
Sophia began taking art classes in nearby Morrisville and on her own found writing contests to enter her work into.
"Finding those opportunities was a little difficult," she says. "You need to put a little more time into it.
Though writing had always been of primary interest to Sophia, plants and plant biology began to pique her interest in middle school. It wasn't until discovering NCSSM Online that she got to fully explore that budding interest.
NCSSM Online seemed a natural fit for Sophia. Already she was accustomed to the online environment from her previous online classes through homeschooling. Too, the independence and motivation she had developed as a homeschool student fit perfectly with the demands of NCSSM's curriculum. Most promising, though, was the access she now had to advanced courses in life sciences and to a stream of extracurricular opportunities that flowed in via NCSSM faculty and NCSSM newsletters.
"After becoming part of the NCSSM Online program, suddenly it was so much easier to find out about things," Sophia says. "They have this counseling newsletter that goes out monthly. And it's just all these wonderful opportunities, right? They're just there."
In that newsletter Sophia found out about the National Security Language Initiative for Youth, a highly competitive and application-based language study program funded by the US. State Department's Bureau of Educational and Cultural Affairs created to promote immersive language experiences among young Americans. Sophia was selected for one of its merit-based scholarships and will be taking a gap year to study Mandarin in Taiwan before enrolling in Duke University in the fall of 2024.
It was also through NCSSM Online that Sophia found her way to the farms and fields of Earth University in Costa Rica, a private, agricultural science-focused non-profit university. During an honors classical genetics course in her first semester in NCSSM Online, Sophia learned from her instructor, Jon Davis, about a research paper competition presented by the World Food Prize Foundation Global Youth Institute. The paper Sophia wrote on mitigating an invasive plant pathogen in Colombia won several awards in increasingly competitive Global Youth Institute competitions. After winning at the international level, she was eligible to apply for the World Food Prize Foundation-sponsored Borlaug-Ruan International Internship, a study abroad and internship program that sends students to leading agricultural research and development organizations around the world in Africa, Asia, Latin America, and the Middle East. Selected students get to "complete original research projects alongside World Food Prize and Nobel Laureates, and work with acclaimed international researchers and practitioners in the field to improve food security and solve the most pressing agricultural, nutritional, health, economic, and environmental problems around the world." The research farm where Sophia is interning over the summer produces a number of crops, including pineapple.
Sophia is now working alongside Earth University faculty researching how agroforestry and soil management methods affect coffee plant growth. "The goal," Sophia says of their work, "is that, by understanding which tree species coupling provides the optimal amount of shade and which method of fertilization keeps the soil healthiest in the long term, we might be able to come up with a method that could help guide farmers growing coffee in lowland areas."
Twice a week, from early morning until around noon, she goes into the fields before returning sweaty and dirty to the university's air conditioning where she analyzes all the data she has collected and, along with her mentors, thinks about how to translate it all into a coffee-growing manual.
There have been times, Sophia jokes, where thermal shock in Costa Rica's sticky climate seemed like a real possibility, but she wouldn't give up any part of the experience so far. "Everything is so starling green all the time," she says, "and you have all these bright green leaves that are bigger than my face, and you're sweaty and you're tired. But it's this wonderful, wonderful place to be. I really love it. And I just think about how special and how improbable that was for me to ever have been in that class with Mr. Davis, and now I'm in Costa Rica, and I'm doing all these wonderful, interesting things."
There's plenty of summer left for Sophia in Costa Rica, and a lot to look forward to after that. And though her path to this moment in her life has been somewhat circuitous, she emphasizes NCSSM Online's role as a pivot point that's allowed her to fully embrace the direction she wants to go in life.
"NCSSM opened up a lot of doors for me," she says. "This internship and then the Language Scholarship for my gap year, I don't think I would have been able to do on my own for sure.
"And then, I mean, career-wise I knew going into high school that I wanted to do biology and plant sciences in college, but I wasn't really sure what I could do with a degree like that. But being able to talk to teachers at NCSSM about that has given me, I think, a better idea of what my life after college could look like. And so I feel much more secure in that. And I don't know if I would have had that sort of security, that knowledge, if I had not gone to NCSSM."