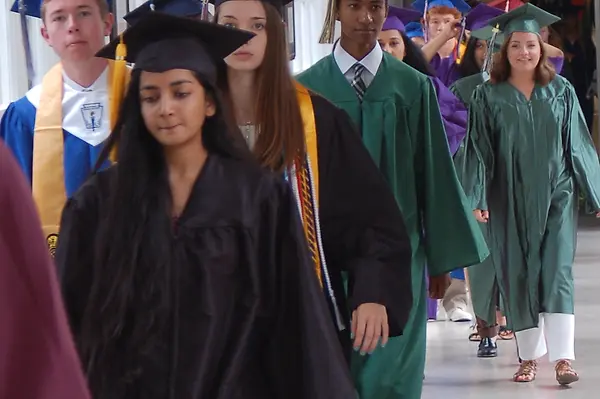 news
NCSSM Online honors 138 'exceptional' seniors
The 138 members of NCSSM Online's Class of 2016 certificate earners. Their rainbow of graduation gowns represent their home high schools across North Carolina.
"Completing the NCSSM Online program is a lot like belonging to a secret society," Distance Education Director Ross White told the students gathered Sunday for the 2016 NCSSM Online Recognition Ceremony. "A lot of your peers at home probably didn't even know that you were leading a double life as an NCSSM student, and those that knew probably didn't understand it … when they were headed out to have fun, you sometimes had to decline, saying 'Not tonight, I have a webinar.'"   The Recognition Ceremony celebrated 138 talented, motivated students from across North Carolina who chose to complete online courses in STEM subjects and the liberal arts over the last two years while also completing their regular curriculum at their home high schools. As White told the audience, the online Class of 2016 includes student body presidents, more than 40 National Honors Society members, more than 25 AP scholars, Eagle Scouts, and 10 all-conference, all-state, and all-American athletes. Combined, the students have accepted more than $5.3 million in scholarships.   Two students were selected to address their peers. Jasmine Jackson of Warrenton and Warren New Tech High School told her classmates that they have the skills and confidence they need to succeed, as well as a network of NCSSM alumni. "We took those extra courses not to benefit our GPAs but to benefit our overall academic journey," Jackson said. She is headed to the University of North Carolina – Chapel Hill in the fall.
Read more about Jackson
  Jackson was also one of three students awarded the Golden Catalyst, recognizing seniors who made exceptional academic growth and performance as well as significant contributions to the NCSSM community. Also earning the Catalyst were Anna Louise Cherry of Northeastern High School in Elizabeth City and Jack Ryan McCluskey of Mount Airy and Mount Airy High School.   Student speaker Kristen Rogers of Walnut Cove and South Stokes High School reflected on the opportunities that NCSSM Online has given her, from presenting research findings to building strong relationships with faculty members and meeting a new best friend. Having accepted being a "nerd" when that's far from normal in high school, Rogers noted that "normal" means average, nothing she wants to aspire to, she realizes now. "Don't ever let anyone make you doubt who you are," Rogers said. She was offered two full-ride scholarships: the Morehead-Cain scholarship to UNC-Chapel Hill and the Nancy Susan Reynolds Scholarship to Wake Forest University. She chose to attend Wake Forest.  
Read more about NCSSM Online
NCSSM Online awarded its Golden Catalyst honor to Class of 2016 students (from left) Jack McCluskey of Mount Airy High School, Mount Airy; Jasmine Jackson of Warren New Tech High School, Warrenton; and Anna Cherry of Northeastern High School, Elizabeth City.
Browse more photos from the 2016 NCSSM Online Recognition Ceremony 
Share this post.