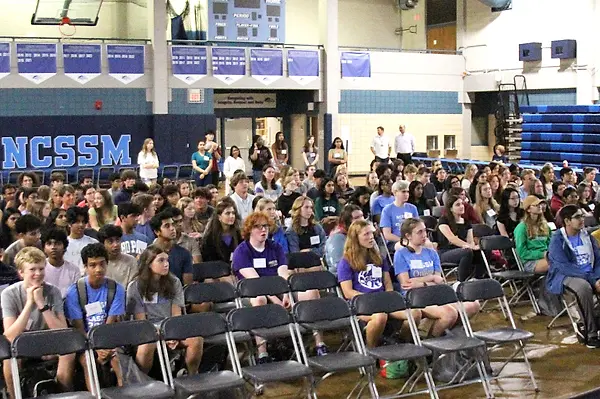 news
NCSSM Online holds orientation for 2023-2024 students
More than 200 NCSSM Online students were on the school's Durham campus Friday, Aug. 4 for a full schedule of orientation activities that included an ice-breaker, a student panel session on how to navigate the Online program successfully, visits to classrooms to meet Online instructors, and afternoon social activities. Students traveled to Durham from as far away as Graham County on North Carolina's border with Tennessee, and Pamlico County on the state's Atlantic shore. Around 480 students total have signed up for the Online program this year,  
J.T. Erle, a senior from Union Pines High School in Moore County, was back for a second year of NCSSM Online programming. The kinds of classes available through the Online program, he said, were hard to find elsewhere.  
"My favorite course from last year was 21st Century Media Studies," he said. "We studied everything under the sun, and it was one of the best courses I've ever taken." J.T. plans to take three more courses this year.  
Allison Pratt, a rising junior from SandHoke Early College High School in Raeford, is new to the Online program. Already invested academically in her home school, Allison said she found the Online program and its curriculum attractive as her interests lie in aerospace and astronomy.  
"NCSSM Online gives me a lot more opportunities to work toward that," she said, "a lot of chances to do STEM research, and more people to network with."  
Orientation is the very first part of a series of on-campus activities through the year designed to bring Online students, staff, and faculty closer together. "Really, the goal for today is to create community," said Elizabeth Moose, NCSSM's Dean and Instructor of Humanities, who helped organize the event. "We are thrilled that they are part of the NCSSM family. They do us proud, and we are lucky to have them with us."