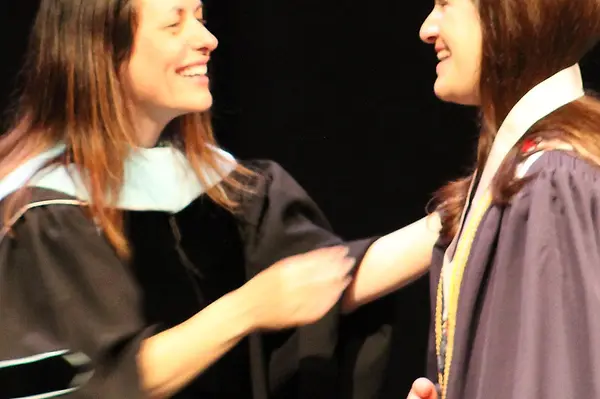 news
NCSSM-Online Class of 2019 honored in solemn ceremony
One hundred fifty-six high school seniors from schools throughout North Carolina earned recognition during a ceremony Saturday for successfully completing the North Carolina School of Science and Mathematics-Online program. The class represented nearly 100 schools from more than half of the state's counties.
While 2019 marks the 10th year of NCSSM-Online, it's also a year of firsts: the first online class to have an online seminar course and the first to have their own yearbook. The Class of 2019 also created the Online Student Champion Award which honored NCSSM Online instructors Jon Davis and Dr. Amanda Martyn.  
Combined, the students have accepted $4.2 million in scholarships. The class includes 27 National Merit Scholars, six Goodnight Scholars, nine Presidential Merit Scholars, two Park Scholars, three Jefferson Scholars, and three Levine Scholars.
In his address to the students, NCSSM Chancellor Dr. Todd Roberts acknowledged the particular dedication required to successfully manage the demands of being enrolled in two separate schools at once.
"It takes an extremely motivated, self-directed, and incredibly driven individual to be successful in our online program," he said. "Most of you have taken the very rigorous courses we offer in our online program over and above your normal load of courses at your home high school. You have been involved in . . . countless other activities at NCSSM while doing the same in your home high schools. You have been the most involved class to date in NCSSM's online program.
"Challenging yourself through the courses in our online program has, I hope, benefitted you in  many ways," the chancellor continued. "The new opportunities for learning you have had have not only increased your competitiveness in the college admissions process, but have helped prepare you for success once you get there … With virtual learning becoming more a part of every student's education, your hard work and experience in our on-line program has given you, I believe, a leg up in understanding how to successfully navigate and take advantage of the learning opportunities you will experience as you continue to pursue your education."
Alison Grace Andrews of North Lincoln High School was one of two student speakers. She recalled how early struggles led to the discovery of new passions she had not anticipated.
"Never before had I been pushed so hard for excellence in a course," she said. "Never before had I struggled to master a math formula or simply fathom attempting computational chemistry. . . . Yet, through my own perceived failures I was pushed towards finding my strengths and identifying new fields of study.
"I was led toward international relations and political thought," she continued. "I was driven toward the sciences and agricultural technology. Together, I have found a career path to serving others on a global scale. And that quite excites me!"
Alison will attend North Carolina State University.
Chibuike "Chibby" Kelechi Uwakwe of Ralph L. Fike High School delivered the second student address. Like Alison, Chibby's time at NCSSM was marked by new opportunities made possible by changes in personal direction.
"I made achievements in areas that I had not even considered," Chibby said. "I did not know that I would participate in biomedical engineering research at Duke University . . . through NCSSM's Summer Research Internship Program. I did not know that I would find a passion for inspiring high school students from rural areas like myself to reach further academically and pursue programs through NCSSM as an online ambassador. . . . Finally, I definitely did not realize that I would become so invested in this program that I would come during my summer break to help foster the ambition in the next class of online students as an online orientation advisor."
Chibby, who will study at Harvard University, feels well-positioned to continue exploring opportunities as they arise, he said: "My time in this program has encouraged me to embrace the sheer serendipity of life."
Dr. Melissa Thibault, NCSSM's Vice Chancellor for Distance Education, delivered the final thoughts of the ceremony, noting the teamwork that brought the students to their present milestone. "We could not have done it," she said, without the support of the students' teachers and counselors at their home schools, their friends and family, and the faculty and staff at NCSSM. "It's been a privilege to work with you and your families these past two years," she told the students. "You've worked hard, exhibited bravery, dedication and tenacity, and you should be proud."