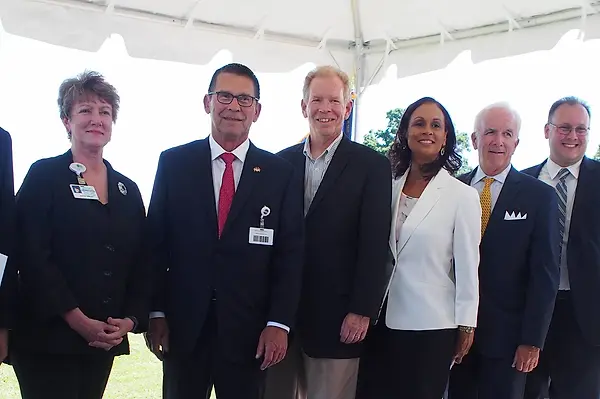 news
NCSSM-Morganton Receives Unprecedented $5 Million Gift from CHS Blue Ridge
NCSSM leadership team accepts $5M gift to NCSSM-Morganton from CHS Blue Ridge leaders.
The North Carolina School of Science and Mathematics (NCSSM) announced today a $5 million gift from Carolinas HealthCare System Blue Ridge at the groundbreaking ceremony for the school's new campus in Morganton. The gift conveys naming rights for a state-of-the-art comprehensive student wellness and activities center at NCSSM-Morganton. This is the largest gift in the 40-year history of NCSSM, an internationally recognized leader in high school STEM education and a member of the 17-campus University of North Carolina System. CHS Blue Ridge, a community healthcare system with hospitals in Morganton and Valdese, has been serving families in the community for nearly 113 years and sees this gift as a way to support the future prosperity and well-being of the region.
"The new school represents a significant investment in our community," said Kathy C. Bailey, President and CEO of CHS Blue Ridge. "We feel the school will bring new families and jobs to the area which will enhance the quality of life for those in our community including our own employees."
"The board felt very strongly about this donation and we worked hard to make it happen," said Mike Bridges, Chairman of the CHS Blue Ridge Board of Directors. "We are committed to improving health, of course, and economics plays a large part of that. We want to make this a successful venture for Burke County."
NCSSM Chancellor Todd Roberts was honored to accept the gift on behalf of NCSSM-Morganton on Friday. "We are extremely grateful to CHS Blue Ridge for its investment in our new campus and steadfast commitment to the Unifour region," Roberts said. "This extraordinary gift represents the largest private donation in our school's history and will help bring the NCSSM experience to hundreds more students each year."
NCSSM-Morganton promises academically-talented students from anywhere in North Carolina the opportunity to study advanced classes with top instructors and mentors in science, technology, engineering, and math. Recognizing the contributions NCSSM has made in its four decades of educating business leaders, entrepreneurs, and even an astronaut, stakeholders from across the state see NCSSM-Morganton as a catalyst for economic development. The school is forging innovative partnerships in the western part of the state that are helping to develop the campus and curriculum through monetary donations.
"With the advent of NCSSM-Morganton, our university system reaches into new territory by adding a campus in the Unifour region," said Dr. Bill Roper, Interim President of the University of North Carolina System. "NCSSM is known nationally and internationally as a world-class teaching institution and this new campus will further our mission to bring transformative results for our entire state and its citizens — empowering students, spurring innovation, and enriching the surrounding communities."
CHS Blue Ridge's $5 million gift represents a significant step toward the $10 million goal to support construction of the new Morganton campus. The gift also puts the total raised for the new campus at more than $7 million since 2018. The groundbreaking ceremony for NCSSM-Morganton provided the perfect backdrop against which to celebrate this leadership gift among the many others that have made a major impact on the fundraising goal.
"Since day one, NCSSM-Morganton has benefited from an incredibly passionate cross-section of champions and investors who span all sectors and represent local, state, and national connections," said Kevin Baxter, Director of Western Campus Planning. "Today's groundbreaking ceremony illustrated this support as more than 500 partners and friends braved the heat to celebrate and commemorate the start of construction for the campus that will open in fall 2021."
NCSSM offers an innovative and immersive growth experience for North Carolina's brightest minds. The new campus will provide living and learning space for 300 academically-talented students from across North Carolina and increase distance education and summer learning opportunities for many more, extending NCSSM's world-renowned academic programs beyond its original home in Durham. NCSSM is the only high school among the 17 campuses of the UNC System and will be the first program of its kind anywhere with two physical locations.
For more information about the development of NCSSM-Morganton, including information about the capital campaign, visit ncssm.edu/morgantoncampus.
###
**
Images will be available in this folder
following the groundbreaking event.**
Access the groundbreaking event program here
.
About NCSSM: The North Carolina School of Science and Mathematics is a world-class public high school with statewide reach offering students the skills and knowledge to design their own future. Specializing in science, technology, engineering, and math, we challenge talented high school juniors and seniors from across North Carolina through a residential program on our historic campus in Durham — and beginning in 2021, on our second campus being built in Morganton. Our extensive online program and summer offerings extend our impact to every corner of the state and to younger students. We give back to our communities through the time, talents, and resources of our world-class educators, dedicated staff, and students. Founded in 1980 as the first of its kind, NCSSM has become the model for 18 such specialized schools around the globe. Our 11,000-plus alumni include local and global leaders in medicine, technology, commerce, education, and the arts, a community of problem solvers who build a brighter future.
About CHS Blue Ridge: Carolinas HealthCare System Blue Ridge (www.carolinashealthcareblueridge.org) is a not-for-profit community healthcare system, providing advanced healthcare and wellness services from more than 35 locations across a three-county region of Western North Carolina. The system includes hospitals, a wellness center, home health care, and a continuing care retirement community. Nearly 120 primary care physicians, physician specialists and extenders in the Blue Ridge Medical Group combine with other physicians on the Medical Staff to serve patients in the region. CHS Blue Ridge provides graduate medical education programs for medical school graduates and students in osteopathic medicine. CHSBR is affiliated with Atrium Health (www.Atriumhealth.org), one of the nation's leading and most innovative healthcare organizations, providing area residents with ready access to more specialized care when needed.