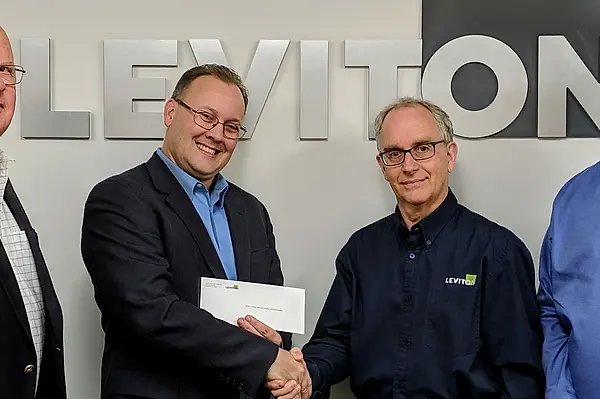 news
NCSSM-Morganton Receives Major Gift to Name Leviton Engineering Lab
Representatives from NCSSM-Morganton visited Leviton in Morganton on Monday to accept a gift of $250,000 for the new campus opening in 2021. (L to R) Lamar Smitherman, Industry Relations Associate, NCSSM-Morganton; Kevin Baxter, Director of Western Campus Planning, NCSSM-Morganton; Glenn Privette, Director, Human Resources, Leviton North Carolina; Tim Lockard, Senior Director of Operations, Leviton North Carolina.
Representatives from the North Carolina School of Science and Mathematics (NCSSM) gathered April 2 with leaders from
Leviton Manufacturing Company
to celebrate the company's $250,000 donation to create the Leviton Engineering Lab at the school's new campus in Morganton. Leviton, an engineering giant with an innovative range of products for electrical, lighting and network solutions, has operated in the region for more than 50 years, and they see this gift as a way to support NCSSM's mission of growing future leaders and problem solvers in their industry and state. NCSSM's expansion to Morganton is creating new opportunities for businesses and individuals to partner with the institution to enable the innovative programming and infrastructure that is a hallmark of the NCSSM experience.  
Leviton's $250,000 gift to name a state-of-the-art engineering lab is the latest donation made during this fundraising period for the new NCSSM-Morganton campus, slated to open in 2021. NCSSM-Morganton promises academically-talented students from anywhere in North Carolina the opportunity to study advanced classes with top instructors and mentors in STEM fields with an added focus on data science. Recognizing the contributions NCSSM has made in its four decades of educating business leaders, entrepreneurs, and even astronauts, stakeholders from across the state see NCSSM-Morganton as a catalyst for economic development in the western part of the state and are helping to develop the campus and curriculum through monetary donations.
"For over 50 years, Leviton has been proud to be a part of Morganton and Burke County and has been dedicated to supporting the advancement of this community and Western North Carolina," said Glenn Privette, Director of Human Resources for Leviton. Tim Lockard, Senior Director of Operations added, "It is exciting to see and to be a part of the North Carolina School of Science and Mathematics' historic expansion to a new campus in our region. This school is vital to the development and future of our educational system and youth."
Kevin Baxter, Director of Western Campus Planning, was honored to accept the check on behalf of NCSSM-Morganton on Monday, and he is excited to see fundraising gaining momentum as the campus development continues.
"We are incredibly grateful to Leviton for their investment in our new campus and their ongoing commitment to the Unifour region," Baxter said. "This generous gift represents the largest private donation received to date for NCSSM-Morganton and speaks to the value that Leviton assigns to the mission and impact of our institution."
NCSSM announced a Barn Raising Campaign for the Morganton campus in fall 2018 with a goal of raising $3 million in private donations from regional stakeholders to support the construction of its new campus. To date, the NCSSM Foundation has recorded more than 100 gifts that total more than $500,000 in support of NCSSM's emerging campus in Morganton. Inaugural members of the NCSSM-Morganton donor recognition society will be celebrated during a special, invitation-only event connected to the campus groundbreaking on the evening of June 21.  
For more information about the development of NCSSM-Morganton, including information about the Barn Raising Campaign, visit ncssm.edu/morgantoncampus.