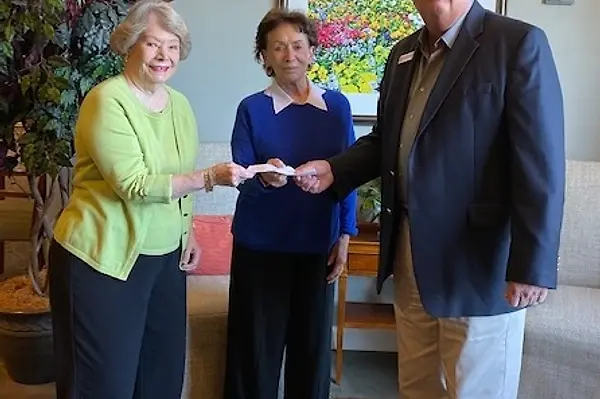 news
NCSSM-Morganton Receives Grant from Huffman-Cornwell Foundation
Mary Louise McCombs and Barbara Novell, co-chairs of the Huffman-Cornwall Foundation present the check to Lamar Smitherman, Outreach & Industry Relations Associate at NCSSM-Morganton.
The Huffman-Cornwell Foundation has pledged $50,000 to NCSSM to go toward the building of its second campus in Morganton. "The school is going to make a difference in so many students' lives and in the community. The foundation is pleased to support such a worthy cause" said Mary Louise McCombs and Barbara Novell, co-chairs of the foundation.   
The Huffman-Cornwell Foundation was founded in 1960 by Mary Louise Huffman, Mary Louise Huffman Cornwell, George Thomas Cornwell, Mary Louise Cornwell McCombs, Ann Cornwell Avery and Barbara Cornwell Norvell. The foundation tends to favor projects which are of benefit to the people in North Carolina and, more specifically, Burke County, North Carolina.
"One of the foundation's main priorities is education, and we think that NCSSM-Morganton is in one of the best things that has happened to Burke County," said Jerry Norvell, trustee for the Huffman-Cornwall Foundation. "We see the new campus as a game changer for our community, so we are happy to contribute."
The mission of the Huffman-Cornwall Foundation is to provide support to those who are working to improve the quality of life in Burke County, primarily through support of education, arts and cultural activities, faith-based activities and those supporting health and human services.   The Huffman-Cornwall Foundation grant is just the latest of many gifts to support NCSSM's expansion to Morganton. NCSSM is actively engaged in a capital campaign that includes a goal of raising $10 million in private donations to support the construction of the Morganton campus. To date, the NCSSM Foundation has recorded more than 250 gifts that total more than $7,000,000 in support of NCSSM's emerging campus in Morganton.