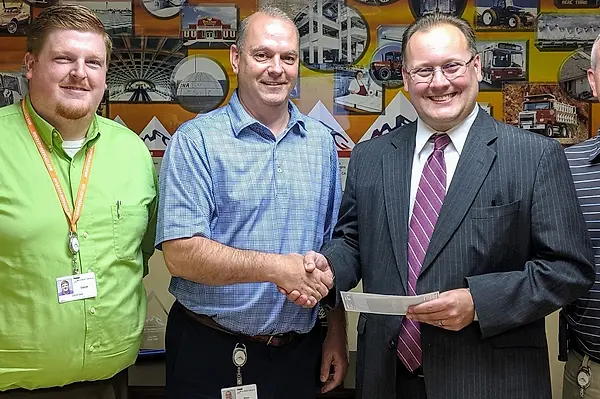 news
NCSSM-Morganton Receives Gifts from Molded Fiber Glass, MFG Foundation
L to R: Daniel Deal, Allen Finchum, Kevin Baxter, Geoff Messeneheimer
August 23, 2019 (Morganton, NC) —  The North Carolina School of Science and Mathematics (NCSSM) announces a donation of $35,000 from Molded Fiber Glass Companies (MFG) and the MFG Foundation to support the school's new campus in Morganton. Having operated in Burke County since 1994, MFG sees this gift as a way to support NCSSM's mission to enable a cutting edge learning experience for students attending NCSSM-Morganton.
"We are excited about what NCSSM stands for and the opportunities this will bring to the community in and around Morganton," said Allen Finchum, Vice President and General Manager at Molded Fiber Glass, North Carolina. "We look forward to seeing the development of this incredible project and working with the new school in the future."
MFG's gift is the latest contribution made during this fundraising period for the new NCSSM-Morganton campus, slated to open in 2021. The gift will help fund and foster hands-on laboratory learning with an emphasis on creativity, problem solving, and the practical applications of innovative technologies.
NCSSM's expansion to Morganton is generating new opportunities for people and businesses to partner with the institution to enable the innovative programming and infrastructure that is a hallmark of the NCSSM experience. NCSSM-Morganton promises academically-talented students from anywhere in North Carolina the opportunity to study advanced classes with top faculty and mentors in STEM fields with an added focus on data science. 
"We are so grateful to our neighbors at Molded Fiber Glass who have made a substantial investment in our new campus," said Kevin Baxter, Director of Western Campus Planning for NCSSM. "This gift is another example of their ongoing commitment to the growth and prosperity of our region."
NCSSM is actively engaged in a capital campaign that includes a goal of raising $10 million in private donations to support the construction of the Morganton campus. To date, the NCSSM Foundation has recorded more than 150 gifts that total more than $7,000,000 in support of NCSSM's emerging campus in Morganton.
For more information about the development of NCSSM-Morganton, including information about the capital campaign, visit ncssm.edu/morgantoncampus.
About MFG: Molded Fiber Glass Molded Fiber Glass Companies is headquartered in Ashtabula, Ohio and has operated in Morganton since 1994. MFG produces composite parts for a variety of industries, including wind energy, automotive, heavy truck, material handling, water treatment, construction, and defense. MFG was founded in 1948 and continues today as a family-owned and managed company. www.moldedfiberglass.com
About NCSSM: The North Carolina School of Science and Mathematics is a world-class public high school with statewide reach offering students the skills and knowledge to design their own future. Specializing in science, technology, engineering, and math, we challenge talented high school juniors and seniors from across North Carolina through a residential program on our historic campus in Durham — and beginning in 2021, on our second campus being built in Morganton. Our extensive online program and summer offerings extend our impact to every corner of the state and to younger students. We give back to our communities through the time, talents, and resources of our world-class educators, dedicated staff, and students. Founded in 1980 as the first of its kind, NCSSM has become the model for 18 such specialized schools around the globe. Our 11,000-plus alumni include local and global leaders in medicine, technology, commerce, education, and the arts, a community of problem solvers who build a brighter future.
www.ncssm.edu.