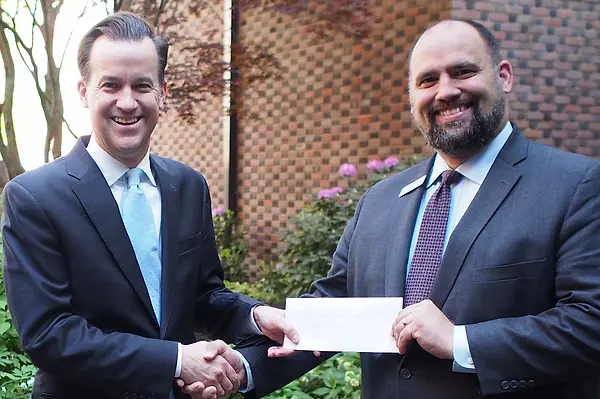 news
NCSSM-Morganton Receives Generous Grant from BB&T
L to R: NCSSM Director of Western Campus Planning Kevin Baxter, NCSSM Chancellor Todd Roberts, BB&T SVP/Foothills Market President Johann Louchez
The North Carolina School of Science and Mathematics (NCSSM) has announced a $100,000 grant from BB&T Charitable Fund to support the school's new campus in Morganton. Having operated in the region since 1995, BB&T has a long history of helping clients achieve economic success and financial security. The BB&T Charitable Fund sees this grant as a way to support NCSSM's promise of one institution with two congruent campuses that are part of one connected community of problem solvers and future leaders.
The grant is the latest contribution made during this fundraising period for the new NCSSM-Morganton campus, slated to open in 2021. The gift will help fund and foster interconnectedness and common identity between the campuses with an express aim to strengthen and develop young leaders. The enhanced communications enabled by the gift will also connect high-performing students, educators, and education policy makers throughout the state for learning, leadership development, and other shared experiences that support individual and community aspirations.
NCSSM's expansion to Morganton is generating new opportunities for people and businesses to partner with the institution to enable the innovative programming and infrastructure that is a hallmark of the NCSSM experience. NCSSM-Morganton promises academically-talented students from anywhere in North Carolina the opportunity to study advanced classes with top faculty and mentors in STEM fields with an added focus on data science.
"We're firmly rooted in the communities we serve. BB&T is proud to fund innovative education initiatives like NCSSM-Morganton, and we look forward to working with them to build a stronger and more dynamic community in the region," said Johann Louchez, SVP/Foothills Market President at BB&T. "This school is a catalyst for economic development in the western part of the state and critical to the development of future leaders in North Carolina who are also community minded."
"BB&T is among the most recognizable names in North Carolina and they have an established track record of generous investment in our state," said Kevin Baxter, Director of Western Campus Planning for NCSSM. "This investment in NCSSM's expansion to Morganton exemplifies their commitment to connecting communities and advancing leadership development throughout our state."
NCSSM is actively engaged in a capital campaign that includes a goal of raising $10 million in private donations to support the construction of the Morganton campus. To date, the NCSSM Foundation has recorded more than 150 gifts that total more than $1,000,000 in support of NCSSM's emerging campus in Morganton. Inaugural members of the NCSSM-Morganton donor recognition society will be celebrated during a special, invitation-only event connected to the campus groundbreaking on the evening of June 21.
For more information about the development of NCSSM-Morganton, including information about the capital campaign, visit ncssm.edu/morgantoncampus.