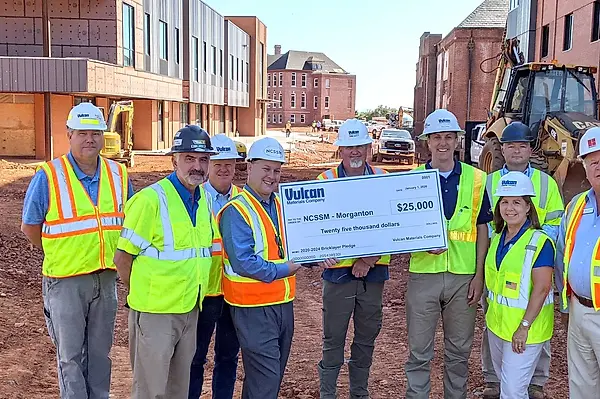 news
NCSSM-Morganton Receives $25,000 Gift from Vulcan Materials
The North Carolina School of Science and Mathematics (NCSSM) announced today a $25,000 donation from Vulcan Materials Company to support construction of the school's new campus in Morganton. 
Vulcan Materials Company is the nation's largest producer of construction aggregates and has supplied materials from its local quarry for the NCSSM-Morganton project which is slated for completion this summer. Vulcan is headquartered in Birmingham, Alabama and has 20 active quarry sites in North Carolina including the town of Morganton.  The company's local leaders see this gift as a way to support STEM education and positive economic impact not only for Burke County but also for North Carolina as a whole.
"We're thrilled to do our part to support NCSSM-Morganton quite literally from the ground up," said Sean Hawley, Vulcan Materials Company's Vice President & General Manager for North Carolina. " With our strong focus on geology and responsible land use, our values align with NCSSM's mission to provide advanced educational experiences in STEM and conservation for students. We feel strongly that this new school will bring incredible opportunities that will help our communities sustain economic success."
Vulcan Materials Company's gift of $25,000 is the latest donation made during this fundraising period for the new NCSSM-Morganton campus, slated to open in 2022 to its first class of residential students. NCSSM-Morganton promises academically-talented students from anywhere in North Carolina the opportunity to study advanced classes with top instructors and mentors in STEM fields with an added focus on data science. Recognizing the contributions NCSSM has made in its four decades of educating business leaders, entrepreneurs, and even astronauts, stakeholders from across the state see NCSSM-Morganton as a catalyst for economic development in the western part of the state and are helping to develop the campus and curriculum through monetary donations. 
"Vulcan has really stepped up with this generous investment in our new campus, not to mention their outstanding contributions as a core member of the construction team," said Kevin Baxter, Vice Chancellor and Chief Campus Officer for NCSSM-Morganton.
NCSSM is actively engaged in a capital campaign to support the construction of the Morganton campus. To date, the NCSSM Foundation has recorded more than 200 gifts that total nearly $10,000,000 in support of NCSSM's emerging campus in Morganton. For more information about the development of NCSSM-Morganton, including the capital campaign, visit ncssm.edu/morgantoncampus.
Share this post.