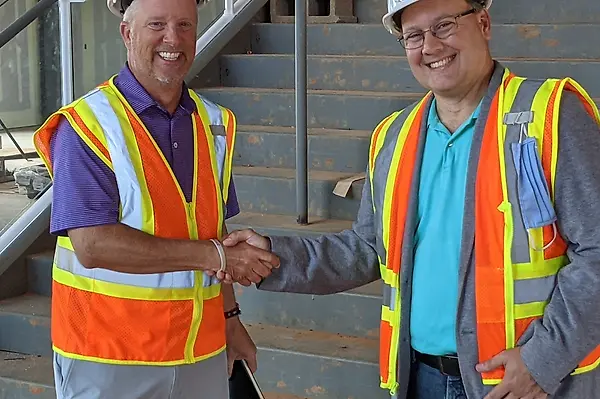 news
NCSSM-Morganton Receives $100,000 In-Kind Gift from Corning
L to R: Todd Dameron, Sr. Sales Engineer for Corning, and Kevin Baxter, Vice Chancellor and Chief Campus Officer for NCSSM-Morganton
NCSSM announced today a $100,000 in-kind donation from Corning Incorporated to support information technology infrastructure at the school's second campus, under construction in Morganton. In addition to the IT infrastructure, which will leverage Corning's industry-leading optical networking technologies, Corning will provide technical training and on-site engineering support for faculty and staff along with internship opportunities and leadership training for students.
Corning employs more than 4,500 in North Carolina, with a 50-year history of advanced manufacturing in the state. Its Optical Communications business operates facilities in Hickory, Newton, Winston-Salem, Charlotte, Concord and Wilmington. Local leaders at the company see the contribution as a way to support STEM education as well as economic development in North Carolina.
"Corning has a long track record of developing life-changing innovations through science and engineering, and STEM education is foundational to creating the innovators of tomorrow. We believe NCSSM's new campus will not only provide students with a strong education but also a wide range of opportunities," said Kevin Parker, senior vice president and general manager, Corning Optical Connectivity Solutions. "We look forward to a long and active collaboration built on our shared belief in the power of education as a transformative force in our local communities." 
NCSSM-Morganton is slated to open in 2022 to its first class of residential students. NCSSM-Morganton promises academically talented students from anywhere in North Carolina the opportunity to take advanced classes with top instructors and mentors in STEM fields with an added focus on data science. Recognizing the contributions NCSSM has made in its four decades of educating business leaders, entrepreneurs, and even astronauts at its Durham campus, stakeholders from across the state see NCSSM-Morganton as a catalyst for economic development in the western part of the state and are helping to develop the campus and curriculum through monetary and in-kind donations. 
"Corning's generous gift of $100,000 worth of products and technical services will offset the cost of implementing our IT infrastructure, which is critical for enabling our statewide educational outreach," said Kevin Baxter, vice chancellor and chief campus officer for NCSSM-Morganton. "We are also grateful for Corning's commitment to volunteer engagement in support of the student experience on the new campus."
NCSSM is actively engaged in a capital campaign to support the construction of the Morganton campus. To date, the NCSSM Foundation has recorded more than 200 gifts that total nearly $10 million in support of NCSSM's emerging campus in Morganton. For more information about the development of NCSSM-Morganton, including the capital campaign, visit ncssm.edu/morgantoncampus.
###
About NCSSM: The North Carolina School of Science and Mathematics is a world-class public high school with statewide reach offering students the skills and knowledge to design their own futures. Specializing in science, technology, engineering, and math, we challenge talented high school juniors and seniors from across North Carolina through a residential program on our historic campus in Durham — and beginning in 2022, on our second campus being built in Morganton. Our extensive online program and summer offerings extend our impact to every corner of the state and to younger students. We give back to our communities through the time, talents, and resources of our world-class educators, dedicated staff, and students. Founded in 1980 as the first of its kind, NCSSM has become the model for 18 such specialized schools around the globe. Our 11,000-plus alumni include local and global leaders in medicine, technology, commerce, education, and the arts, a community of problem solvers who build a brighter future. ncssm.edu  
About Corning Incorporated: Corning is one of the world's leading innovators in materials science, with a 170-year track record of life-changing inventions. Corning applies its unparalleled expertise in glass science, ceramic science, and optical physics along with its deep manufacturing and engineering capabilities to develop category-defining products that transform industries and enhance people's lives. Corning succeeds through sustained investment in RD&E, a unique combination of material and process innovation, and deep, trust-based relationships with customers who are global leaders in their industries. Corning's capabilities are versatile and synergistic, which allows the company to evolve to meet changing market needs, while also helping our customers capture new opportunities in dynamic industries. Today, Corning's markets include optical communications, mobile consumer electronics, display, automotive, and life sciences. www.corning.com