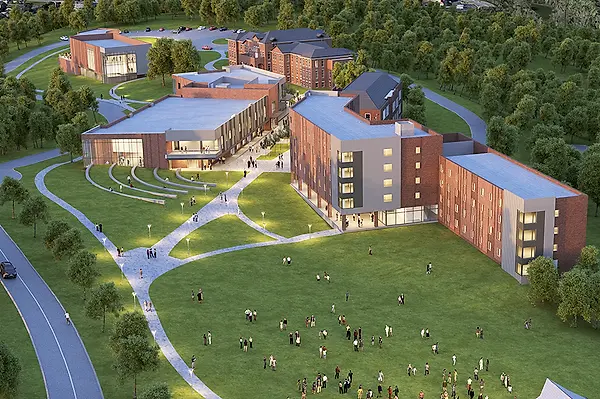 news
NCSSM-Morganton delays first residential class by one year due to state budget impasse
Guests view a model of the NCSSM-Morganton campus at its groundbreaking ceremony on June 21, 2019.
With no operating funding for the new North Carolina School of Science and Mathematics (NCSSM) campus being built in Morganton, the entry of the first group of residential students there is being delayed from August 2021 until August 2022, NCSSM Chancellor Todd Roberts announced today.
"Given the realities presented by the state budget impasse, the only option to avoid confusion and disappointment to the hundreds of students and families who may apply, and to the state and regional partners gearing up to support school operation, is to delay the first residential class by one academic year until August 2022," said Roberts. "This new target date assumes a state budget for the current biennium would be enacted by this summer and that a budget for the 2021-2023 biennium is enacted on time in next year's legislative session."
While $81 million in approved state and privately raised construction funding is being used to construct new buildings and renovate historic ones on a 62-acre ridgetop site adjacent to the NC School for the Deaf, opening the school also requires operational funding to begin hiring administrators, teachers, and support staff to ready the campus and its programs. The campus will eventually employ nearly 100 people, and all of those positions must be posted, go through a search and selection process, and onboard chosen candidates for orientation and training. Construction money cannot be used for recurring expenses such as paying staff salaries.
NCSSM officials had laid out a two-year timeline to complete this process, which would have begun July 1, 2019, if about $4.2 million in startup funding had been appropriated that spring as requested. The NC General Assembly passed an overall state budget containing that funding last summer, which was vetoed by Gov. Roy Cooper. Efforts to override the veto or enact mini-budgets that would have funded startup operations failed during October and January. It remains unclear when operating funding for the campus might be appropriated. The lack of funding and ongoing uncertainty make it impossible to enroll the first junior class of 150 residential students for August 2021, Roberts said.
NCSSM's Board of Trustees in February passed a resolution urging state leaders to enact a budget that will fund the Morganton startup hires, provide critically needed repair and renovation funds for the Durham campus, and meet other critical needs of the school. The UNC Board of Governors passed its own resolution in late January, and many other UNC System institutions have passed resolutions as well.
"We are feeling the effects of the state budget impasse throughout the UNC System," said UNC System Interim President Dr. Bill Roper. "NCSSM is not in a financial position to proceed with preparations to open their new campus on time, but we remain committed to establishing NCSSM-Morganton as soon as the budget impasse is resolved."
Meanwhile, NCSSM-Morganton construction continues using the capital funding approved by voters in the 2016 Connect NC Bond ($58 million), an additional legislative appropriation in 2018 ($15 million), and private fundraising ($8.3 million to date).
As NCSSM prepares to open the Morganton campus to summer programs in 2022 and the first residential class of high school juniors that August, the planning team is exploring opportunities to engage local, regional, and state partners in special programs and enrichment experiences using the new campus and buildings during the 2021-2022 academic year. 
"We truly regret that this delay is the reality," Roberts said. "However, we can't plan and operate a new residential campus without an operating budget. When that budget is put into place, we stand ready to open a new campus in Western North Carolina that will provide students opportunities to pursue careers in STEM fields and boost the state's economy — a campus that everyone in the state can be proud of."
###
North Carolina School of Science and Mathematics is a world-class public high school with statewide reach empowering students with the skills and knowledge to design their own future. Specializing in science, technology, engineering, and math, and embracing the fine arts and humanities, it challenges talented high school juniors and seniors from across North Carolina through a residential program on its historic campus in Durham — and beginning in 2022, on a second campus being built in Morganton. NCSSM's extensive online program and summer offerings extend its impact to every corner of the state and to younger students. Founded in 1980 as the first of its kind, NCSSM has become the model for 18 such specialized schools around the globe and is a member of the 17-institution UNC System. Its 11,000-plus alumni include local and global leaders in medicine, technology, commerce, education, and the arts — a community of problem solvers who build a brighter future. 
Share this post.