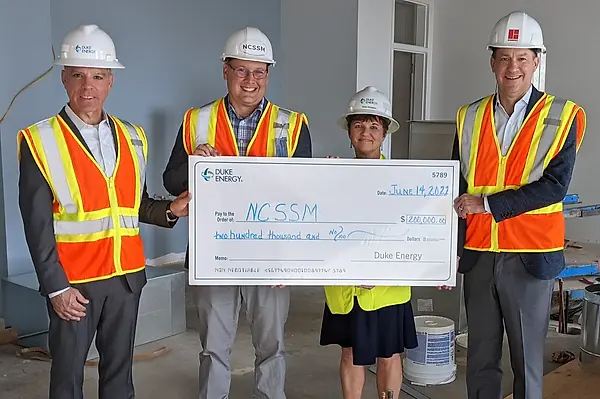 news
NCSSM-Morganton Awarded $200,000 from Duke Energy Foundation
Pictured L to R: Stephen De May, Duke Energy's North Carolina president; Kevin Baxter, Vice Chancellor and Chief Campus Officer for NCSSM-Morganton; Robin Nicholson, Duke Energy District Manager for Government and Community Relations; Todd Roberts, NCSSM chancellor
The North Carolina School of Science and Mathematics (NCSSM) announced today a $200,000 grant from the Duke Energy Foundation to support the science curriculum at the school's new campus in Morganton which will open in the fall of 2022.  The grant will help fund science textbooks for NCSSM-Morganton, the second campus for the STEM-focused high school serving academically talented students. An employee volunteer project to prep the textbooks will include book plates acknowledging they came from Duke Energy. 
"We are incredibly grateful for Duke Energy's investment in support of the science curriculum at NCSSM-Morganton," said Amy Sheck, dean of science at North Carolina School of Science and Mathematics. "It will fundamentally enable the education of the next generation of scientists and creative problem solvers."
Duke Energy, a Fortune 150 company headquartered in Charlotte, N.C., is one of America's largest energy holding companies and sees the grant as a way to support educational opportunities and economic development in the state. 
"NCSSM-Morganton will have a regional impact with top-tier learning opportunities for students," said Stephen De May, Duke Energy's North Carolina president. "We're proud to support STEM initiatives that strengthen the pipeline of highly-skilled workers who will lead us to a smarter energy future in North Carolina."
"The team at Duke Energy has been an engaged partner with our NCSSM-Morganton planning team from the very start," said Todd Roberts, chancellor of NCSSM. "We are thankful to count them among our early adopters and look forward to building on our strong relationship as we stand up our curriculum and welcome the first students next year."
To learn more about the expansion and development of NCSSM-Morganton, visit ncssm.edu/morgantoncampus.
###
About NCSSM: The North Carolina School of Science and Mathematics is a world-class public high school with statewide reach offering students the skills and knowledge to design their own future. Specializing in science, technology, engineering, and math, we challenge talented high school juniors and seniors from across North Carolina through a residential program on our historic campus in Durham — and beginning in 2022, on our second campus being built in Morganton. Our extensive online program and summer offerings extend our impact to every corner of the state and to younger students. We give back to our communities through the time, talents, and resources of our world-class educators, dedicated staff, and students. Founded in 1980 as the first of its kind, NCSSM has become the model for 18 such specialized schools around the globe. Our 11,000-plus alumni include local and global leaders in medicine, technology, commerce, education, and the arts, a community of problem solvers who build a brighter future. 
About Duke Energy Foundation: The Duke Energy Foundation provides philanthropic support to meet the needs of communities where Duke Energy customers live and work. The foundation contributes more than $30 million annually in charitable gifts, and is funded by Duke Energy shareholder dollars. More information about the foundation and its Powerful Communities program can be found at duke-energy.com/foundation.
Share this post.