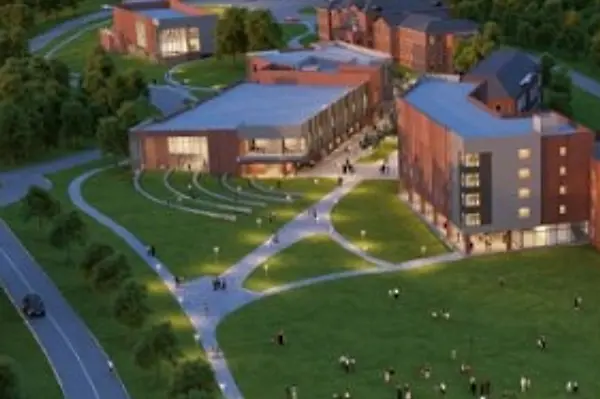 news
NCSSM-Morganton Announces Groundbreaking Ceremony on June 21
The North Carolina School of Science and Mathematics (NCSSM) is beginning construction on the school's new campus in Morganton. The groundbreaking ceremony, which is free and open to the public,  will take place June 21, 2019. Registration is required by a deadline of June 15, 2019 to allow for effective coordination of logistics and security for all who attend. More than 300 people have already registered to attend from across North Carolina and five additional states.
"We are incredibly grateful for the excitement and investment around our new Morganton campus which is poised to be a game changer for the Unifour region," said Kevin Baxter, Director of Western Campus Planning for NCSSM. "We are thrilled to break ground in Morganton, not only bringing the promise of NCSSM to hundreds more students, but also serving as a catalyst for economic development in Western North Carolina."
Construction on the residential high school is to be completed in time for the 2021-2022 school year, and will provide learning and living space for 300 more academically talented students from across North Carolina. Building on its legacy of innovation, NCSSM is extending its world-renowned academic programs beyond its original home in Durham. NCSSM is the only high school among the 17 campuses of the UNC System and will be the first program of its kind anywhere with two physical locations.
Construction of the NCSSM-Morganton campus is budgeted to cost $83 million. The state of North Carolina has demonstrated its commitment to this vision through appropriations totaling $73 million. This leaves a shortfall of $10 million required to complete this 21st century STEM campus. NCSSM has committed to raising the additional dollars required through a capital campaign, and already a tremendous spectrum of supporters have stepped forward to contribute to the cause. To date, the NCSSM Foundation has recorded nearly 200 gifts that total more than $1,000,000 in support of NCSSM's emerging campus in Morganton.
Contributors who pledge at least $1,000 before May 30, 2019 will be recognized among the inaugural class of the NCSSM-Morganton Donor Recognition Society and celebrated during a special, invitation-only event connected to the campus groundbreaking on the evening of June 21.  Qualifying gifts received after the deadline will be recognized at a special event in 2020 honoring the second class of the society.
For more information about the development of NCSSM-Morganton, including information about the groundbreaking and capital campaign, visit ncssm.edu/morgantoncampus.