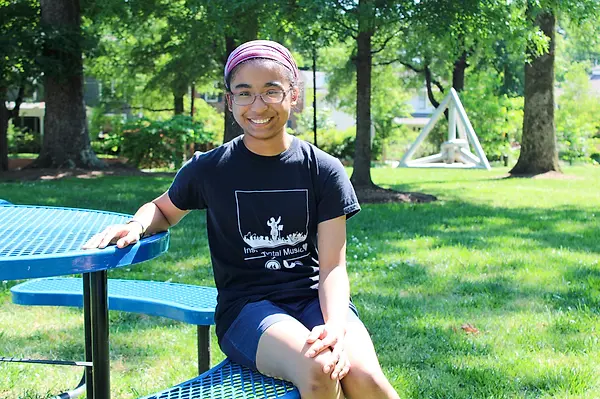 news
NCSSM lets students craft tailor-made science research experiences
Jolie Duquene, a 2023 graduate of NCSSM-Durham, spent nearly a year of her time at NCSSM researching ways to make commercial aircraft more like the miraculous (if occasionally annoying) flying machines called insects. The secret, Jolie learned, may lie, in part, in isolated regions of air called leading-edge vortices, or LEVs.
Heavy on physics, this type of science research is pretty sophisticated stuff for high school students, but a common sight on NCSSM's Durham and Morganton campuses.
In January of her junior year, Jolie began researching the effects of these vortices – which spin around a horizontal axis just above the surface of a wing as the air moves over it and create small pockets of exceptional lift – by feeding data into open-source computational fluid dynamics software on her laptop to mimic various scenarios that might enhance – or degrade – a wing's ability to derive additional lift from the air swirling just above its surface.
But harnessing these super-lifters is challenging. LEVs are incredibly short-lived, with a lifespan measured in the milliseconds. That's why insects (and birds, to a slightly lesser degree) with their blindingly fast wingbeats, are the only flying objects capable of fully exploiting these vortices before they dissipate.
Like many incoming students, Jolie was drawn to research possibilities such as this.
"I thought it was really cool how a high school was offering these opportunities for people to experience [higher level] research before college," Jolie said. "I mean, at my previous high school, I would not have considered doing research at all."
RSci: Research in Science program
Jolie's research is based in NCSSM's RPhys (Research in Physics) course which, along with RChem (Chemistry), RBio (Biology), and RComp (Computational Science, which for now is only available in Durham) courses, constitute NCSSM's application-based RSci (Research in Science) program. The RSci program is one of three course-based research opportunities at NCSSM that offer varying degrees of intensity to match a student's interests and motivation. From less intense projects that satisfy a student's curiosity to research that rivals that of college graduate students, NCSSM students are able to craft an individual approach to research that best fits their interests and passions. This menu of research opportunities is unmatched by any other public high school in North Carolina and is a big reason NCSSM is considered by many one of the best public high schools in the country.
Like the rest of the RSci courses, which typically enroll 6-12 students into each of the six sections across the program, Jolie's RPhys class began with a two-week term in January of her junior year, when she and her classmates learned basic skills such as reading scientific literature while bonding as a group of researchers. The course continued through her spring semester, and finished up during the fall semester of her senior year. All research in RSci courses is conducted in-house with NCSSM teachers serving as mentors. In Jolie's case, NCSSM-Durham physics instructor Jonathan Bennett served as her mentor. Occasionally, students reach out to university faculty or staff for feedback, training, and equipment, further enriching the students' experience.
Such a selection of courses does not exist by chance, says Amy Sheck, NCSSM's Dean of Science.
"The research programs at NCSSM are the result of years of deliberative discourse and planning by faculty and staff to determine how best to provide our students with the skills they need to do the work of professional scientists while at the same time challenging them to think deeply by tapping into their sense of curiosity," she says. "None of the research our students are doing here is simply for the sake of completing a research course or satisfying a graduation requirement. These opportunities are made available so students can do what they came here to do: satisfy their curiosity, advance their knowledge, sharpen their skills, and engage in real-world work that has practical applications and the potential to enhance the lives of each and every one of us."
That's exactly what it did for Jolie. "Coming here to NCSSM showed me how research is actually more accessible than I had originally thought," she said. "If you have an idea, you can go for it and do research on it."
REX: Research Experience courses
Ayanna Sharma, NCSSM-Durham '24, conducted research as part of NCSSM's Research Experience (REX) program, another of NCSSM's three formal science research programs. During the month-long January course, Ayanna worked under the direction of a biology faculty member. In addition to biology, NCSSM's science department also offers students the opportunity to dig deep into a project of their choosing in chemistry or physics. Though no application is required to participate in REX courses, the single sections in each discipline are first come, first served and are typically capped at 12 students each. Juniors or seniors may enroll, so if a section fills the first time around, there is still another chance for juniors during their senior year.
You don't even have to be a residential student to conduct NCSSM research. NCSSM Online offers a virtual, semester-long REX course in Chemistry and one in Computational Science during the academic year for students who remain enrolled at their home high schools.
Ayanna, who is interested in cardiology and hopes to become a surgeon one day, chose to do research with a classmate on how the hearts of zebrafish embryos are affected by ethylene glycol, a cardio-toxic chemical.
Over the course of the research, Ayanna and her partner donned white lab coats and spent upwards of four hours each day in one of NCSSM-Durham's wet labs, breeding and collecting and analyzing zebrafish embryos whose beating hearts were visible under the microscope.
"Basically, we monitored the hearts of the zebrafish after exposing them to the ethylene glycol to see what happened to them," she said. "The cool thing about zebrafish is that they have these regenerative properties, so they start healing themselves when they know something is wrong. We got to see that process happen under a microscope every couple of days. It was really cool."
Ayanna and her research partner had access to their own lab table in well-equipped labs where they could set up their research and instruments and maintain exclusive use of them for the duration of the project.
"I really want to go into biology," she says, "and NCSSM has neuroscience and immunology classes that I'm really interested in taking." Both of these courses are part of NCSSM's R* courses, the school's third and final course-based opportunity to conduct scientific investigations.
R* is for research
The R in NCSSM's R* courses stands for – guessed it – research. Instead of being solely focused on research (as in the RSci and REX classes), R* courses contain a research component and a group research project. Geared for curious students testing the research waters before committing to more intensive research, these courses may or may not have a prerequisite and have an open enrollment. Not surprisingly, they are among the most heavily enrolled and include courses such as Developmental Biology, Ecology, Aquatic Ecology, Immunology, Materials Chemistry, and Astrophysics. Quite often, these courses function as a springboard to careers in research, having revealed a student's interest in research they'd never previously explored.
As a junior, Jose Cuc-Reyes '23 enrolled in NCSSM-Durham's Environmental Science R* course. Jose had arrived on campus with a deep interest in the field, and he knew he'd probably be able to explore those interests a bit more at NCSSM than back at his rural home high school. Still, he wasn't fully aware of just how much opportunity there would be.
"Honestly, I was kind of shocked by how much research was going on on campus," he said.
Along with a classmate, Jose conducted research on how contaminants affect Daphnia magna, a type of water flea found in many lakes, ponds and small rivers. It was the first true research he had ever done. And unlike prior experiences in science, he was given a significant amount of freedom in choosing the work he wanted to do.
"I had been so used to, like, a straight curriculum where you had a checklist of exactly what you had to take to graduate," Jose said. "But coming to Science and Math, I had all this control over my education; I had all this control over things I knew I wanted to do. It felt very empowering because I was being given the tools to do things."
The Environmental Science course led to an Aquatic Ecology course, which in turn led to some clarity for Jose about future plans. He's expecting to pursue geosciences and environmental sciences in college, with a focus on volcanology and aquatics.
Diverse and authentic, even in the summer
The end of the academic year by no means signals a pause in students' research efforts. For students who simply can't get their fill of research during the school year, NCSSM's science department administers four three-week summer research programs; one each in biology, chemistry, and physics, which are available on both the Morganton and Durham campuses, and computational science, which is available only in Durham. These programs primarily enroll students from the RSci classes but sometimes accommodate additional students through an application process in coordination with NCSSM's Summer Research and Innovation Program, which also offers rising NCSSM seniors in both the residential and online programs valuable experiences in mathematics, humanities, and entrepreneurship.
The NCSSM Science Department was deliberate not only in creating a diverse selection of research opportunities, but in providing authentic experiences that connect students to the broader scientific community.
"We teach students to read the scientific literature to determine what is known, what is on the cutting edge, and what is unknown," says Sheck, NCSSM's science dean. "Science is never done in isolation and students must start their research career by standing on the shoulders of giants."
Everyday life
With such incredible work being done by NCSSM's students, it only makes sense to share the results of those efforts with others, just as academic and professional researchers do. Each year, a significant number of NCSSM students from across the science research spectrum enter their work into highly regarded research competitions and forums such as the Regeneron Science Talent Search, the International Science and Engineering Fair, the North Carolina Science and Engineering Fair, and the Conrad Challenge. The school's students fare very well in these events and distinguish themselves at the national and international levels. Most recently, 10 NCSSM seniors were among 300 students recognized worldwide as scholars in the prestigious Regeneron Science Talent Search. Of those 10, four moved on to the final round of competition, with one student taking fifth place nationally.
One of the most common refrains among incoming NCSSM juniors is that they chose NCSSM, in part, because they had maxed out the course selection at their home high school, particularly in the maths and sciences. For future NCSSM students looking to NCSSM for the same, Sheck assures them that they won't encounter the same problem in the labs at NCSSM. "We have so many ways to challenge students in the sciences," she says. "If you have the time and the interest and the work ethic, you can find the opportunity to take your work one step further."
Ayanna, the REX-Bio student studying zebrafish embryos, certainly agrees, so much so that a certain adjective kept popping up when summarizing her experiences so far. "It's just really amazing that we're able to do so much at such a young age," she said. "It's always so interesting, and the support that we get from the teachers here to do all this stuff is absolutely amazing. And honestly, it becomes like everyday life here. And then you step back and you take a look and realize that other high schoolers aren't doing this. This is really rare. And it's just absolutely amazing."